Father's Day RECIPES + WINE PAIRINGS!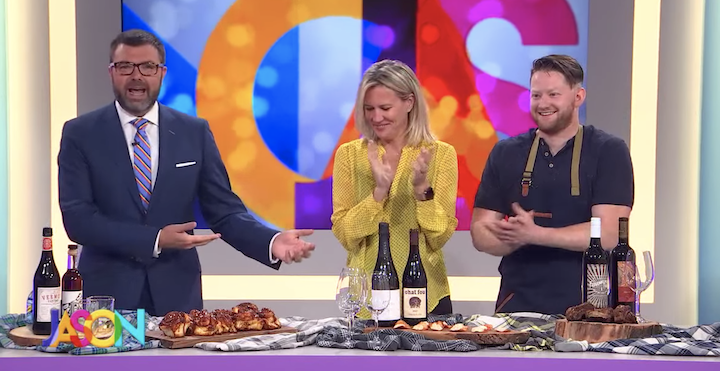 We're at it again!
Chef Corey of Create Catering + I were on Fox 9 sharing a mouthwatering variety of RECIPES + WINE PAIRINGS for Father's Day with our favorite local daytime TV host, Jason Matheson, of The Jason Show. Check out what we think you should be whipping up this coming Sunday to celebrate your dearest Daddy-O!
[THE LINE UP!]
Bacon-Bourbon-Maple Caramel Rolls
*I love pairing these to a delicious Vermouth, like I did in this segment! Pick something with some savory flavors! I used the Poe Vin d'Sange Vermouth from Napa, topped off with soda + one large ice cube (I added a leaf of basil inside my ice cube trays before freezing)!
Ingredients:
Dough: Makes 3 Dozen Rolls
30 Grams Yeast
200 Grams Granulated Sugar
100 Grams Buttermilk Powder
100 Grams Potato Flake
1300 Grams Warm Milk
150 Grams Sweet Cream Butter
150 Grams Butter Flavored Shortening
1600 Grams All Purpose Flour
60 Grams Salt
1 lb of Small Diced Cooked Bacon
Bourbon-Maple Caramel: Makes 2 Quarts
6 Cups Granulated Sugar
1 ½ Cups Water
3 Tbsp Corn Syrup
4 ½ Cups Heavy Cream
1 Tbsp bourbon
1 Tbsp Maple Extract
2 Tbsp Sea Salt
Method:
Dough
Whisk together the yeast, sugar, buttermilk powder, potato flake & warm milk in a mixing bowl
Attach the bowl to a mixer with a dough hook
Add the butter, shortening, flour and salt
Mix for 30 minutes until smooth
Proof in a warm place until doubled in size
Roll out into a rectangle brushing the whole surface with your bourbon maple caramel (once cooled)
Once the whole rectangle of pastry is covered in brushed caramel sprinkle the cooked bacon and roll up
Once rolled up cut into desired size pieces and placed into a baking dish with caramel in the bottom.
Let proof again until doubled in size
Bake at 300°F low fan for 30 minutes or until golden brown
Let cool before flipping the pan over and covering in more caramel
Caramel
In a heavy bottom sauce pot bring the sugar, water and corn syrup to a boil until amber in color
Remove from heat and stir in 3 cups of heavy cream and the bourbon (be careful, this will create a large amount of hot steam)
Once the mixture is cooled add 1 ½ cups heavy cream, vanilla and salt

Black Pepper-Molasses Baby Back Ribs
* The main two grapes that I generally use for stick PORK ribs are: Shiraz + Zinfandel. The wines I used in the segment are: Flegenheimer Bros 'Out of the Park' Shiraz ~ McLaren Vale, Australia and the Three Wine Co. Zinfandel blend — PURCHASE HERE!
Ingredients:
Rib Rub:
1 Slab Baby Back Ribs
2 Tbsp Sea Salt
½ tsp Ground Coriander
½ tsp Garlic Powder
1 tsp Onion Powder
4 Tbsp Brown Sugar
1 tsp Dried Thyme
½ Cup Red Wine
Sauce:
Small Shallot, Minced
1 Tbsp Canola Oil
1 Cup of Pork Rib Pan Drippings
½ Cider Vinegar
2 Tbsp Molasses
½ tsp Toasted Cracked Black Pepper
Salt to Taste
Method:
Ribs:
Day 1:
Mix all ingredients (except for the wine) for the rub together in a small bowl
Sprinkle the dry rub over the ribs, making sure that the ribs are well coated
Place the dry rubbed ribs in a pan, add the red wine and cover with plastic first, then foil
Place the ribs in the refrigerator and let sit overnight
Day 2:
Pull the pan of ribs out of the oven 1 hour before cooking, and let them come up to room temperature
Preheat your oven to 300°F
Place the ribs in the oven for 3 hours at 300°F
Pull the ribs out of the oven and allow them to rest before putting in the refrigerator
Cool the ribs down completely
Once they are cool cut them into 3-4 bone section to get them ready for grilling, put them aside
Whether you are using charcoal/ wood or a gas grill the ideal temerature to caramelize/ reheat your ribs will be 300-325°F
Clean the excess fat off of the "pork jelly" in the bottom of the pan with a spoon
Place the "pork jelly" into a container.
Sauce:
Place a 1 quart sauce pan on a burner over medium high heat
Add 1 Tbsp of canola oil and the minced shallot
Once the shallot starts to caramelize and the cracked black pepper, vinegar and "pork jelly"
Bring the mixture up to a simmer and while whisking add in the molasses
Salt to taste
Back to the Ribs
Place the 3-4 bone rib pieces on the grill evenly spaced
Cook each side for about 15 minutes (making sure that there are no flare ups)
You want the ribs to be caramelized and hot, once you pull the ribs off the grill, either dip your ribs in sauce or brush them using a pastry brush.

Smoked Paprika Potato Chips with Caramelized Onion Chevre Dip
*I'm not gonna lie, I'm a sucker for a good ole fashioned bubbly to cut the richness + fat of this textured dip — I showed the sparkling Keush from Armania within our display on air, but I am also a fan of slightly chilling a FRENCH Grenache to pair to something 'faux meaty' like this dip!
Ingredients:
1 Bag of your favorite salted potato chips
½ Cup of Smoked Paprika Chips Seasoning
¾ Cup Smoked Paprika
¼ Cup Granulated Sugar
2 Cups goat cheese
1 Cup Sour Cream
1 Cup Caramelized Onion
¼ Cup Demi Glace
Chives
Salt & Pepper to taste
Method:
Chips:
Dump your favorite salty potato chips into a bowl
Sprinkle the ½ cup of chip seasoning over the top while mixing the chips around
Dip:
Place the caramelized onion/ goat cheese into a food processor and mix together until blended
Fold the sour cream, demi and chives into the cheese-onion mixture and season to taste