Popsicle Sparkler Recipe for your 4th of July Fun!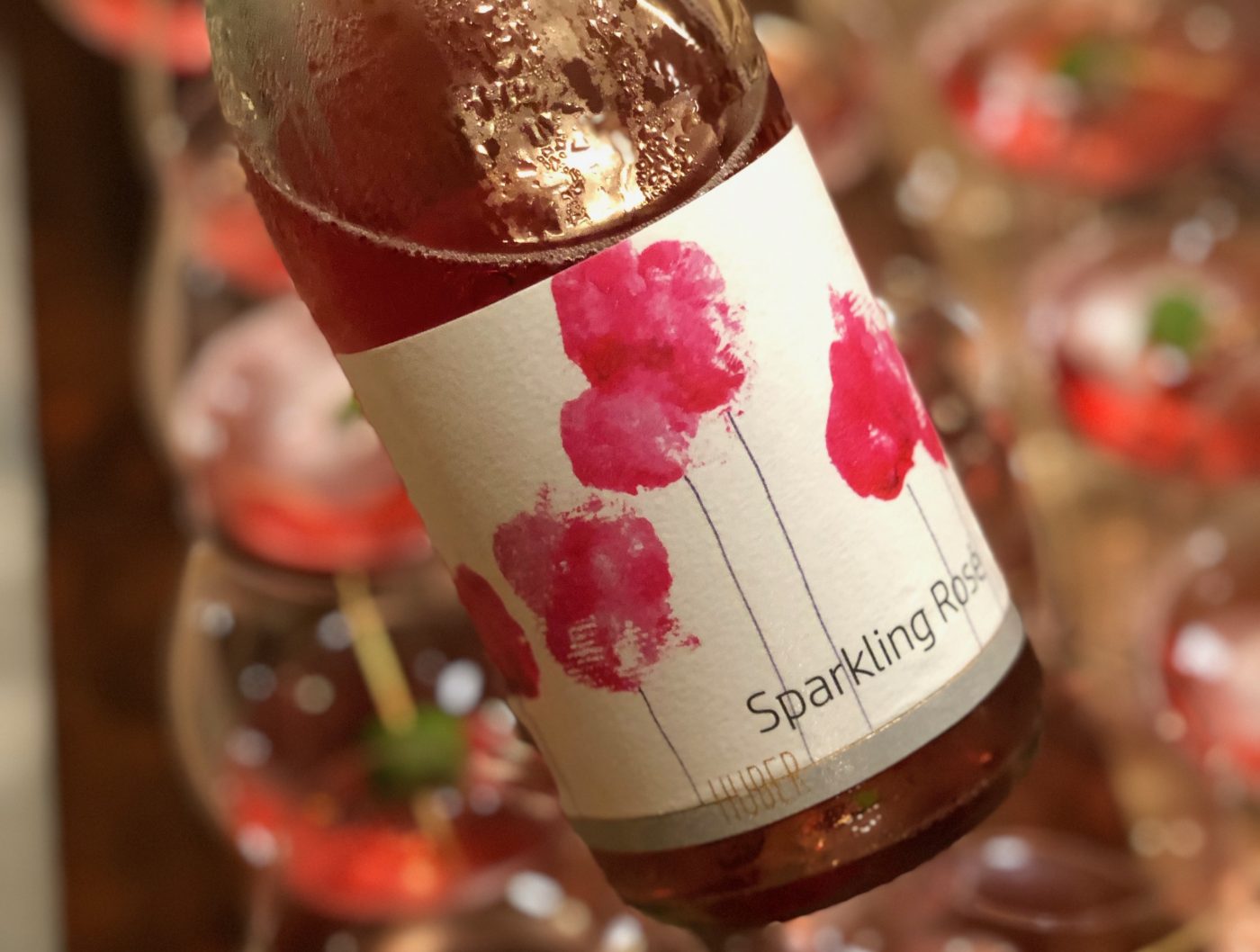 With the 4th of July holiday just around the corner, you're gonna need a super delicious                    (+ easy) treat for your backyard entertaining — am I right?
Let's start with the backstory to this succulent summer treat recipe we recently concocted… 
I performed an in home event last week for a dear client of mine.  We've become friends over the years, as I love her energy + enthusiasm for amazing food + wine.  I've helped her entertain a few times in her home for friends, so I was happy she was game for getting extra creative with her sips for this last event we did together.
Jennifer wanted to throw a rosé party for her friends that also, by the way, included Rumps + Raps!  Raps for tunes + smoked Rumps, which her awesome hubby, Chioke, spent hours cooking/smoking for the group.  What a guy!
When Jennifer asked about dessert — I suggested we go with my new summer stand by for her last course of rosé.  My Popsicle Sparkler!  A whole fruit popsicle topped with an off dry sparkling rosé splashed over top.  While I'm a fan of using the Outshine whole fruit pops (like the ones used in our most recent mango sparkler Sip Better post), Jen decided to go the extra mile + make her own popsicles.  After offering a list of fruit flavors + recipes my way, I suggested she go with this awesome STRAWBERRY, BASIL, BALSAMIC handmade popsicle she found on a cute site called:  The Beach House Kitchen.  PS–I love the looks of EVERY recipe I see on her page!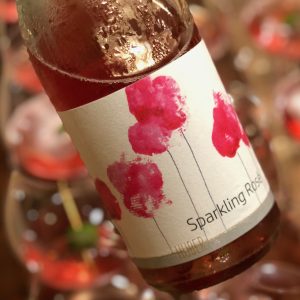 With that said, Jennifer whipped up one delicious batch of the best popsicles I've ever had — the site's: BALSAMIC STRAWBERRY WITH BASIL POPSICLES.  Next, I poured a delicious sparkly rosé over the top, once the popsicle (yep, stick + all) is place top side down into a wine glass. The wine I used was the Markus Huber 'Hugo' Zweigelt/Pinot Noir sparkling rosé from Austria (you can buy it direct from Sip Better's site + have it shipped right to your home for your next party!)  Bright rhubarb, strawberry + raspberry make up the tantalizing notes of this delicious wine, making it the perfect pairing partner to this homemade popsicle.  Wow, what a treat!  
Can't get the Hugo Austrian sparkling wine sent to you on time for your party schedule?  Pick up something like an off dry sparkling Moscato or German Sekt (Riesling based) to splash over top of this fruit-cicle. 
This recipe is a real crowd pleaser, I promise!  Throw those fruit pops upside down in a wine glass, pour over the wine + watch your crowd 'oooooo + ahhhhh' with excitement!  Best thing since sliced bread, I tell ya!  Here's the recipe from the Beach House Kitchen…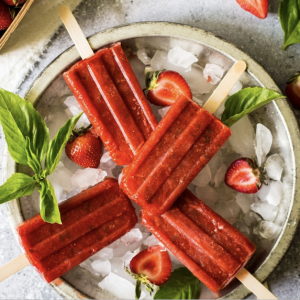 Balsamic Strawberry with Basil Popsicles
Prep Time: 15 mins
Marinating and Chill Time: 4 hrs 30 mins
Servings: 7 popsicles // Calories: 78 kcal
Author: MaryAnn Dwyer
Ingredients
2 cups strawberries, chopped
1 Tbsp. balsamic vinegar
2/3 cup granulated sugar
3 Tbsp. freshly squeezed lemon juice
3/4 cup water
8 basil leaves, juilienned
Instructions
In a medium mixing bowl, toss the strawberries with the balsamic vinegar and sugar. Let the strawberries marinate for 30 minutes at room temperature.
To a blender, add the strawberries and their juices, the lemon juice and water. Blend on high speed for 30 seconds or until pureed smooth. Add the basil leaves and pulse just a few times, so you can still see tiny pieces of basil.
Pour the mixture into popsicle molds and place in freezer. After about 1 hours, or when the pops are partially frozen, insert sticks. Freeze until solid, at least 4 hours.