Salty, Savory, Sweet Holiday Snacks paired to the best Vinos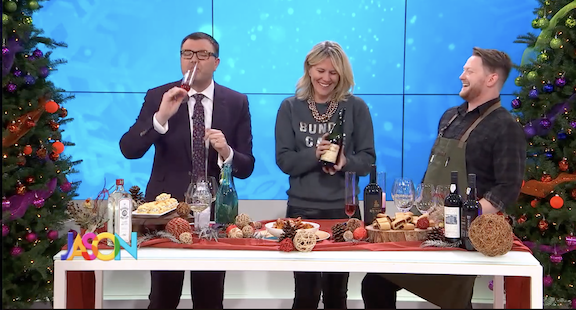 This week on the Jason Show, Chef Corey Meier of Create Catering + I concocted a serious collection of delicious holiday snacks paired to wines of all kind — sparkly, red, oh + a holiday wine-tail to boot!
Check out our segment with dear friend, Jason Matheson, of The Jason Show
(RECIPES + WINES listed below!)
Caramel Brittle Sea Salt Kettle Chips paired to Patrick Bottex Bugey-Cerdon 'La Cueille' sparkling ~ France Buy it HERE!
Caramel Ingredients:
1 ½ Cups Sweet Cream Butter
1 ½ Cups Light Brown Sugar
¾ Cup Light Corn Syrup or Blue Agave
1 ½ tsp Baking Soda
½ Tbsp Sea Salt
1 Bag of Classic Kettle Chips
Method:
Preheat oven to 275°F
Melt the butter/ brown sugar/ corn syrup (blue agave) in a 3 quart pot while stirring until desired caramel color.
Remove from heat, whisk in the baking soda and salt
Pour the bag of cups into a large bowl, pour the caramel over the top of the chips gently while mixing the chips (until all chips are coated)
Spread the caramel coated chips onto a sheet pan (lined with parchment or silicone sheet)
Place the sheet pan into the oven and bake for 30-45 minutes/ stirring the chips around every 10 minutes.
Remove the chips from the oven once they are evenly coated.
Once out of the oven, spray a wire rack with PAM
Peel the chips apart and place them onto the wire rack (so they are not clumped together) once cool place in a bowl and EAT!!
If you are looking to jazz it up a bit you can dust them with cayenne/ onion powder or add ½ a minced shallot into the caramel portion.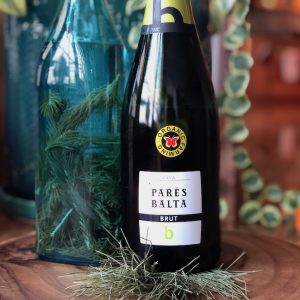 Spinach & Artichoke Gougère paired to Leslee's Winter G+T (Gin + well, sort of tonic!) — 1 part Spruce Tip infused dry London Gin (like Beefeater or Bombay) + 2 parts dry Spanish Cava like this one, Parés Baltà Cava Buy it HERE! Garnish cocktail with fresh spruce tips and/or a few pink peppercorns.
Gougère – Makes roughly 50 gougères
Ingredients:
1 Cup water
2 oz Sweet Cream Butter
1 Cup All Purpose Flour
1 ½ tsp Sea Salt
⅛ tsp Cayenne
⅛ tsp White Pepper
¼ tsp Black Pepper
¼ tsp Garlic Powder
4 Eggs
2 oz Cheddar, Shredded
2 oz Gruyere or Swiss, Shredded
1 oz Parmesan, Shredded
Gougère
Method:
Preheat the oven to 400°F in a still oven or 300°F in a convection oven
In a 3 quart pan warm up the water and butter over medium-high heat until the butter melts.
In a separate bowl whisk all the dry ingredients together (flour/ sea salt/ cayenne/ white pepper/ black pepper/ garlic powder.
Once the water and butter are boiling (remove from heat), stir in the dry ingredient mixture until it forms a dough.
Place the dough into a stand mixer bowl with a paddle attachment
Once the dough is cooled, turn the mixer to medium speed and add three eggs (one at a time).
Mix for 5-7 minutes, scrape down the sides with a rubber spatula.
Add the cheese mix, and turn mixer on until the cheese is incorporated.
Scoop or Pipe out quarter-half dollar sized shapes of the dough onto a sheet pan lined with parchment.
Whisk the last egg with 1 Tbsp of water, and brush each gougère.
Bake for 40 minutes (rotate pan after 20 minutes, But NEVER open the oven within the first 15 minutes, otherwise they will deflate).
They Should be a light golden brown, airy and crispy.
Let cool and enjoy or fill and reheat at 350°F for five minutes

Spinach & Artichoke Filling
Makes roughly 1 pint of filling (should fill 50 gougères)
Ingredients:
½ Cup Mascarpone
½ Cup Cream Cheese, Room Temp
½ Cup Blanched & Chopped Spinach
½ Cup Small Diced Artichoke Hearts
¼ Cup Reggiano
1 Tbsp Tarragon Chopped
1 Shallot, Minced
1 Clove of Garlic, Minced
½ Tbsp Olive Oil or Avocado Oil
1-2 Tbsp lemon juice
Salt & Pepper to taste
Method:
In a saute pan over medium heat, sweat the shallot and garlic with oil.
In a stand mixer with a bowl and paddle on high, whip the cream cheese until smooth (scrape down the sides)
Add the spinach/ artichoke/ mascarpone/ Reggiano/ tarragon/ shallot/ garlic and mix by hand until completely incorporated.
Season with lemon and salt/ pepper to taste
Cut the gougère in half and fill with a small scoop of the filling, place onto a baking sheet

Fig & Caramelized Onion "Newton" pair to Zinfandel, Port or Madeira for the best combo of flavors. Buy this Zinfandel HERE!
Ingredients:
2 Cups All Purpose Flour
½ tsp Sea Salt
½ tsp Baking Soda
4 oz Sweet Cream Butter
1 Cup Brown Sugar
1 Egg
1 tsp Vanilla Extract
1 tso Orange Zest
2 Tbsp Corn Syrup
¼ Cup Milk
¾ Cup Dried Fig
1 Cup Water
¼ Cup Caramelized onion
"Newton" Dough
Method:
In a stand mixer bowl with a paddle, cream the butter and sugar until light/ fluffy
Beat in the egg/ vanilla extract/ orange zest/ corn syrup and milk until well combined
Add the flour/ baking soda and salt, mix until a soft cookie dough forms
Form the dough into a log or rectangle and refrigerate for one hour
"Newton" Filling
Method:
Place the dried figs and water in a small sauce pan, simmer over low heat for 10-15 minutes (until the figs are soft and plump)
Remove the figs from heat and allow to cool, combine the figs and caramelized onions in a food processor. Blend until smooth, thick puree forms.
Making the "Newtons"
Method:
Preheat the oven to 325°F
Cover one cookie sheet with parchment, set aside
On a floured surface roll the chilled dough into a 10 inch x 14 inch rectangle. Use a knife or pizza cutter to make the outer edges even.
Cut the dough lengthwise into three strips, roughly 3.5 inches x 14 inches.
Divide up the onion and fig filling evenly between the three strips
Carefully fold each edge of dough over top of the fig paste, making a log and press the top to seal the dough
Place the logs, seam side down onto your baking sheet, spacing them about 2 inches apart. Bake the cookies for 17-20 minutes until they are just firm
Remove from the oven and cut them into the desired size while they are still warm (8-10 "Newtons" per log (store in an airtight container for up to one week)