The English Muffin Stuffing that broke the Internet!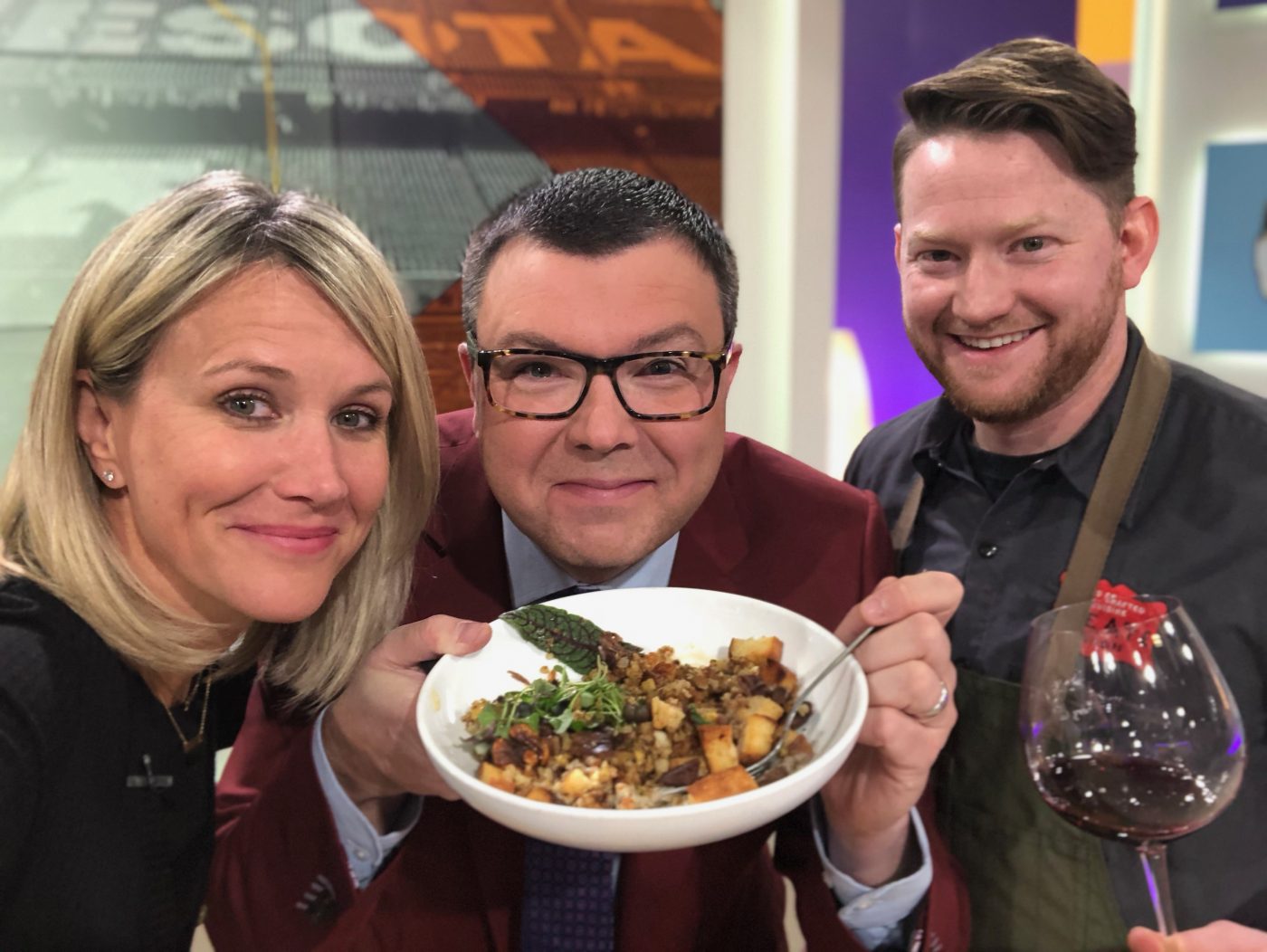 Turns out our little 'Boujee Thanksgiving Sides' segment sort of broke the internet this week when Chef Corey Meier's (of Create Catering — my catering team for Amusée) English Muffin Stuffing, became the talk of The Jason Show after our live segment on Wednesday went viral.
Otherwise known as STUFFING GATE, here's the infamous showdown of Corey's Stuffing (and my wine pairings!) versus my favorite TV host, Jason Matheson!
Wines + English Muffin Stuffing Recipe to boot! (See below)
Green Beans Recipe
Green Beans, Roasted Garlic Aioli, Parmesan Cheese, Citrus (grated), Buttered Panko Crumbs (over top)
Paired to: Francis Berwyn Pinot Gris ~ Willamette Valley, Oregon Buy it HERE!

English Muffin Stuffing Recipe
Ingredients:
• 6 Store bought or fresh English muffins ( cut into cubes )
• 6 Tbsp European style sweet cream, unsalted butter
• 2 Cups of duck confit or ( smoked duck, smoked chicken, roasted/ smoked pheasant or breakfast sausage)
• 2 Stalks of celery, small diced
• 1 Medium sweet yellow onion, small diced
• 3 Cloves of garlic, minced
• 1 Apple, small diced
• ½ Tbsp fresh chopped sage
• ½ Tbsp fresh chopped thyme
• ½ Tbsp Fresh chopped rosemary
• 1 Cup chicken stock
• Salt & pepper to taste
Method:
1. In a sauté pan melt the 6 Tbsp of butter, toss the cubed English muffins w/ the butter in a large bowl.
2. In rounds over medium high heat pan fry the English muffin cubes till golden brown
3. Using a manual meat grinder with the largest grinding plate, grind ¾ of the toasted English muffin/ 1 cup of the cooked meat (of your choice)/ celery/ onion/ garlic/ apple/ sage/ thyme & rosemary
4. Take the ground mix and place in a large bowl, add the reserved toasted English muffin & reserved cup of meat ( again your choice) and mix together, season to taste with salt and pepper.
5. Place mix into a baking dish and pour the 1 cup of chicken stock over the top.
6. Bake for 35-45 minutes at 325 until hot and the top is golden brown.
Paired to: Domaine des Chers Cru Beaujolais 'Saint-Amour' Gamay ~ Beaujolais, France Buy it HERE!