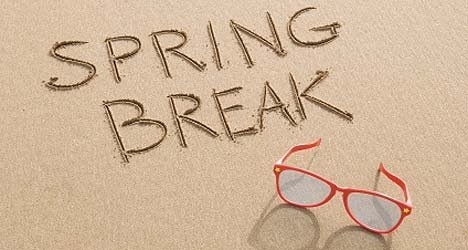 With spring break just in reach for many Minnesotans, we gear up for the upcoming weeks that bring
us a bit of a reprieve from our every day schedules and hectic lifestyles. Whether it be a planned vacation to some tropical location with family and friends or simply a good ole fashioned 'stay-cation' that finds you nested amongst your personal dwelling enjoying the simple delights of some peace and quiet, the time now for unplugging, unwinding and recharging is more important than ever. Perhaps it's that cup of morning coffee uninterrupted, or that family dinner without a nightly curfew that you look forward to over the next couple of weeks. Whatever it may be, we all have our own way of retreating away from one's daily duties to enjoy life at a much slower pace this time of year. Ready to recharge for the new season upon us.
I just recently had the pleasure to do that myself. Some time away from email, my phone, daily scheduling, etc. felt as though I'd completely forgotten what day it was within the week. A week of leisure completely uninterrupted, and at my own pace was just the reprieve I needed. Amongst my relaxation, I thought deeply about the freedoms that allow us to escape certain times of the year, so that we may take time away from working the endless hours that we do. Those freedoms allow us voting rights, the opportunity to voice our community concerns and the freedom to build the life we see fit for ourselves and our families within our communities. More than ever, we live in a space not only socially but politically that allows us to use our 'free-thinking' voice to build a communality that socially suits the needs and wants of our person. From Internet to radio, the world has become a platform for voicing your opinion more freely than ever.
As many of you know, I recently took on the position of spokesperson for the MN Consumers First Alliance, an alliance that strongly supports pro-consumer policies in Minnesota by seeking to change state law so consumers can shop for beer, wine and spirits on Sundays.
The question I have received many times over since taking the role is:                                 'Why have you chosen to represent this group as the spokesperson when you know that there are retailers that your business (Amusée) supports that are not in favor of the law?'
Secondly, 'Why would you support a law that does not financially benefit your own business (Amusée) in some shape or form?'
I've answered this: 'Because it is my right to have an opinion, just as it is to have your right to your own opinion. Because it is an issue that I feel so strongly about, that I decided to do more to become part of this movement. That, in turn, does not mean that I won't support my community neighbor or their business because he/she has a different opinion than mine. That sounds a bit absurd, right?'
Next: 'Why would I have to 'financially benefit' in order to support such a cause? Isn't it one's right to support a cause because you feel strongly about a matter? It is my right after all. It sounds a bit selfish to base my community support only around coalitions that benefit me, personally or financially, doesn't it?'

Here's the real answer… No, my 'education based, wine consulting firm, Amusée,' will not personally 'financially benefit' from retail stores and bottle shops being open on Sunday, but it may benefit someone else in my community that wanted to open their store on a Sunday because they saw the revenue opportunities from a sporting event or an upcoming holiday. Some may wish to simply work an extra day to financially support their family.
Since my involvement with the MN Consumers First Alliance, I have heard a number of reasons for the opposition, but in the same sentence, in almost tripling form, I have heard from so many of you in favor of the vote!
In fact, one store owner said to me: 'I just want the freedom to be able to decide for myself whether or not I would like to be open on Sunday.' 
While there are a slew of reasons to write to your local legislators in favor of changing this archaic law, think about the freedom that the neighboring store owners have just miles away, on every edge of our own state, to open their retail store on Sunday. If there is one angle that you can take on this issue this session, it may be just that: The freedom, as a business owner, to decide whether or not you want to open on a Sunday, rather than letting an outdated, selfish, inhibiting law decide for your business.
In the end, if your spring break this season involves a little peace and quiet and a 'stay-cation' within your own community, what will you do when you've lost track of what day of the week it is and you'd like to make a run to the market for a few groceries and a bottle of wine…and it's Sunday? Shouldn't you have the freedom to be able to purchase beer and wine every day of the week, should that be the week you're having? Think about it.
Support our group of progressive liquor retailors – small and large – focused on meeting and exceeding Minnesota consumers' expectations.

Consumers telling legislators to support Sunday sales is changing votes at the Capitol.