Must Haves // Summer Whites!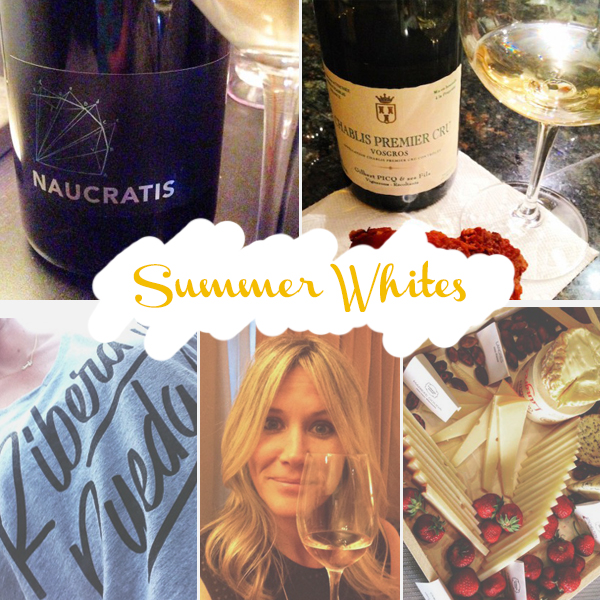 July is such a great month for sippin', don't ya think?  While Minnesotans are habitual about 'only drinking' white in the hot summer Midwestern months, from my view, all wines are good any time of the year!  If you know my perspective, I generally select wines based on my mood or my food. Well, my current mood screams rosé!  But really, while I do consume a good deal of all colors – white, orange, rosé and red – I'll give in and admit that July is a pretty good month for sucking down a few whites while lounging in the hot summer sun.  
With that said, I thought I'd share a few of my favorite whites from a variation of weights to satiate your summer senses!  Ready? Here we go!
1.Light, bright & crisp!  If you've been keeping up with my summer adventures, you've probably heard me sing the praises of the Spanish regions of Rueda & Ribera del Duero as I acted as the regions' spokesperson for the midwest as the campaign: Sí what's next made a debut at the Stone Arch Bridge Festival in June.  One of my current favorites from the region of Rueda, a wine I grabbed at France 44, is the Balnea Verdejo.  
Balnea Rueda With vines over 25+ years old, this Verdejo erupts with luscious ruby red grapefruit notes, salty citrus and bright acidity. Worth drinking to the last drop! So gorgeously supple, and fantastic with goat cheese, currants, dried apricot and cranberry fruit. Love the subtle characteristics to this wine! Highly quaffable. Perfectly paired with a sectioned grapefruit salad, fresh spinach and goat cheese.  A really fantastic wine to sip at EVERY occasion!
2.Honied, round and sumptuous! I'm a huge huge sucker for wines of 'interest'.  What do I mean by that?  A wine with character!  Minerality, equal points of acid, body, texture and of course, personality.  I'm slightly obsessive about this guy:
Verdelho – The Scholium Project 'Naucratis', Lost Slough Vineyards – Clarksburg, California  Tasting Notes: Stone fruits galore, very reminiscent of apricot, peach, ripe nectarine and fresh bits of apple pulp. A bit oily with a medium weighted figure. So luxurious, slippery and down right, sexy! I just can't even get enough of this wine right now. Paired to a cheese board, ahhhhhh yes.    
So where can you get this beaut in a restaurant setting?  Try Lucia's Restaurant downtown! They're serving this wine by the glass as we speak!
3.Full bodied yet gorgeously textured with a salty/limey disposition. The secret? Go for Chablis.  
Domaine Gilbert PICQ & Ses Fils 1er Cru 'Vosgros' Chablis–wow.  Here's what Stephen Tanzer of the International Wine Cellar says about it: Fresh pineapple and exotic brown spices on the nose; smells like an infusion. Silky-sweet, seamless and concentrated, with fat stone fruit flavors supported by crushed rock and smoky oyster shell minerality. Sexy and Impressive.
Well, I'd say! My god, get your hands on this beast. My pal, Chuck Kanski of Solo Vino carries this goddess.  
4. Full bodied, a little voluptuous and just enough weight! Check out this little honey badger…
Chardonnay – Wonderwall, Edna Valley, California  This 100% Chardonnay was aged for six months in a combination of new (40%) and used (60%) French oak. Full-bodied, round and buttery-textured, it is loaded with complex and delicious flavors including baked apple, lemon custard and pie crust. The finish is long and lasting with just a kiss of sweetness. An awesome, well-made Chard at a great price. Only 600 cases produced.  
What to eat with this dressed up lady: Superb with something a bit more full bodied, even soups! Cheese board, again, works here but well into a fresh fruit dessert. I would even go with a grilled ribeye here, if you had buttered button mushrooms to feed me, too.
Just a few for you to try on during your summer break! 
Oh but wait, aren't you hungry, too?  Check out my chef bestie, Mike Shannon's, recipe for grilled shrimp to pair to the The Scholium Project's Verdelho (above)!  
Grilled Shrimp and Chile Oil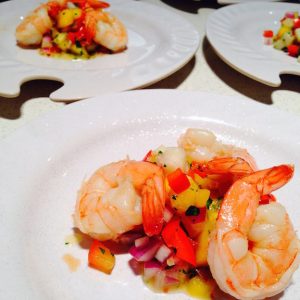 Serves 8
1 pound large (16/20) shrimp, peeled and deveined, with tails
½ a fresh pineapple, peeled, cored and cut into 1" chunks
2 small papayas, peeled, cut in chunks
½ C canola oil
2 cloves of garlic, roughly chopped
1 t salt
8 bamboo skewers, soaked in water
2 C canola oil
2-3 T Asian hot chile oil
Zest of 1 lemon
Zest of 1 lime
Preheat grill or grill pan over high heat.  Prepare skewers with two shrimp, pineapple chunks and papaya chunks on each skewer. Reserve in refrigerator until ready to grill.
In a small bowl, combine ½ cup of oil, garlic and salt. Reserve.  In a medium sized sauce pan, combine 2 cups of oil, chile oil to taste, and zest. Warm oil to about 110 to 120 degrees and hold.
When ready to grill, brush shrimp with garlic oil and grill for about 2 minutes on each side or until just cooked through. Place skewers on a platter.
Serve with warm chile oil. And enjoy!  #ClinkClink
Looking for more super summer sippers? Check out my Super Summer Sippers Board on Pinterest for a slew more suggestions.