Chef Mike's Drunkin' Punkin' Pie Recipe w/ wine pairing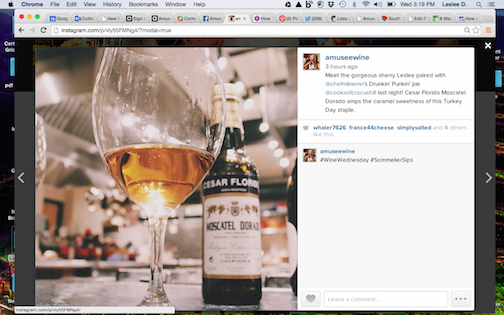 A class that has now become one of our Cooks of Crocus Hill staples, Holiday Pairings, was taught last night for the 4th year in a row by Chef Mike Shannon & myself. With a wait list over a mile long, we squeezed in as many 'Holiday Pairing' fanatics as possible for this three hour long extravaganza of holiday foods and their recipes/wine pairings.
Each year, Chef Mike and I create a new holiday menu to showcase. To pair, I sneak in a variety of classic grape varietals for guests to potentially serve at their holiday tables while giving the group a few new 'grapey' finds for the savvy wine enthusiasts that attend.
From a pear, apple & quince cider by California winemaker extraordinaire, Randall Grahm, to classic German 'Mosel' Riesling, Beaujolais and Chilean Pinot Noir – our class was equipped with all the right pairing tips & cooking techniques to making your upcoming holiday meal a success!
While we absolutely loved our pairings to top to bottom, I thought it important to share our favorite of the night with the actual recipe and its pairing so that you, too can enjoy this one at home!
Important to know that Chef Mike originally adopted this recipe from his gorgeous wife, Ms.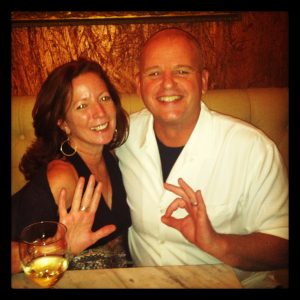 Jeannie Shannon. A North Dakota native, Ms. Jeannie, loves her some delicious pumpkin pie – at the same time, thought one day it tasted even better when she added a few 'boozalicious' ingredients of her own. Between she and her creative culinary hubby, they've concocted one of my favorite 'punkin' pie recipes on the planet!
Drunkin'Punkin'Pie
(Makes filling for one pie)
Ingredients:
1 fresh pie crust, rolled and trimmed
3 tablespoon apricot jam warmed
3 large eggs, beaten
¾cup light brown sugar
1 teaspoon ground cinnamon
¼teaspoon ground ginger
¼teaspoon ground cloves
¼teaspoon ground nutmeg
¼teaspoon allspice
¼teaspoon mace
1 ¾cups fresh pumpkin puree or about 1 canned puree
½cup heavy whipping cream
¼cup orange juice, fresh squeezed
1 Tablespoon maple syrup
1 Tablespoon molasses
1 Tablespoon Cognac
1 Tablespoon dark rum
1 Tablespoon Grand Marnier
1/2 teaspoon salt
Pre heat oven to 425°F. Lightly brush the pie crust with jam.
In a large bowl lightly whisk the eggs. Add the remaining ingredients and stir until well combined. Pour the mixture into the prepared pie shell and place on a large baking pan. Bake the pie for about 15 minutes, reduce temperature to 350°F and continue for a total of 40-50 minutes or until the filling is set and the crust has browned. Place the baked pie on a wire rack to cool.

Easy Pie Dough
(makes enough for 2 crusts)
2 ½cups all purpose flour, plus extra for dusting
1 teaspoon salt
2 Tablespoons sugar
12 Tablespoons unsalted butter, chilled and cut into small pieces
8 Tablespoons shortening, chilled
6-8 tablespoons ice water
Mix flour, salt, and sugar. Add butter pieces and shortening pieces to flour mixture. Using your hands, crumble everything together so it is uniformly mixed and resembles cornmeal texture. (Note – It will be ready for the water if you can almost form the mixture into a ball)
Slowly add ice water (you probably won't need all of it). Form mixture into a ball – do NOT knead or over mix dough. Cover with plastic wrap and refrigerate at least 30-45 minutes
When dough is well-chilled, take out of fridge and cut into 2 pieces. Form a nice round disc. Roll out to even thickness –about 3/16 thick and 11-12"circle and place in pie pan. Trim to fit pan.
The Pairing:
The Cesar Florido 'Dorado' Moscatel from Jerez, Spain. Of course, Sherry!!
Why the Pairing worked: The orange, honeysuckle, honey comb, apricot flavors and aromas of the wine snuggled in perfectly against the textured Grand Marnier, apricot preserve and fresh pumpkin notes of the pie itself making the pairing almost caramelized, like toasted pralines, yum!! I might suggest you try it yourself to believe me.