New Wine + Appetizer Ideas for Fall Entertaining!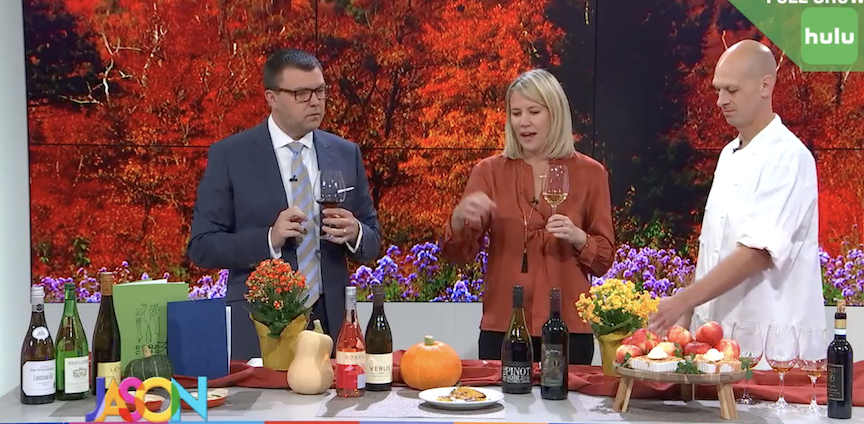 This past week on The Jason Show, I teamed up with my dear friend and restaurateur extraordinaire, Chef Asher Miller, of Minneapolis hot spot, BookClub Restaurant, to show off some of our best kept fall wine + appetizer ideas for the season.
Try on a few of our Fall + Wine Pairing Ideas for yourself!
Here are the foods we featured and the wines I paired to them:
Creamed late summer corn with Parsley Gremolata
Creamy corn dishes that contain a great deal of dairy need acid driven whites, with medium texture to pair to both sides of dishes like these. Acid to cut through the heaviness of the dairy, and a bit of texture to still snuggle in to the likeness of the corn.
Leth Röter Veltliner ~ Wagram, Austria
Weingut Mantlerhof Grüner Veltliner ~ Kremstal, Austria
De Wetshof 'Limestone Hill' Chardonnay ~ Western Cape, South Africa — buy it, HERE!
_________________________________________________________________________
Grilled Butternut Squash with Garlic, Rosemary, Thyme & Apple Cider Vinegar
Verus Dry Riesling ~ Stajerska, Slovenia
McPherson Pinot Noir ~ Victoria, Australia (for those red lovers)
Don't forget about those Garnacha based rosés from Spain (I like the Borsoa rosé for this dish, buy it HERE!) or those yummy Pinot Noir based rosés from Oregon — here's a couple, HERE!
_________________________________________________________________________
Baked Apple Crisp with Salted Caramel Sauce
Dei Vin Santo di Montepulciano ~ Tuscany, Italy (Vin Santos are delicious Italian dessert styled wines best for things like baked apple desserts and pumpkin pie!)