The Best Bubbles for NYE as told by Wine Industry Professionals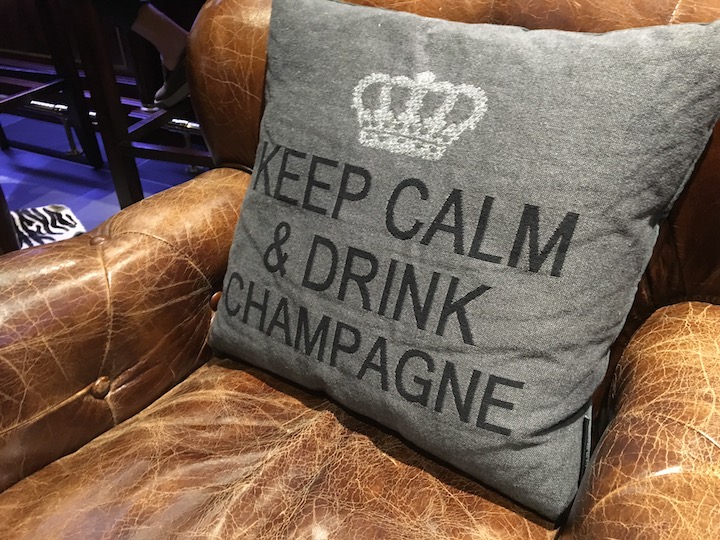 Still looking for THE bubble when it comes to your NYE celebration? 
Well, you just struck the 'bubble lottery' with this one!  I asked a few of my fave peeps in the wine industry (from retailers, writers, on premise managers, to distribution, winemakers, educators, supplier/importers and beyond) to give me their favorite sparkly for the upcoming holiday.  Their task was to give their favorite, tell you why and give you a good place to go and find these delicious gems — GO!
'My pick: Bollinger Special Cuvée — There are too many reasons (why I love this sparkling), most of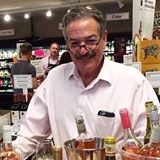 them emotional for this choice, but Special Cuvée is everything a bottle of Champagne is supposed to be….and more.' ($69.99 at 1010 Washington Wine & Spirits)  ~ Jack Goldenberg, Owner, 1010 Washington Wine + Spirits
'My holiday bubbly is the Domaine Saint-Remy Cremant d'Alsace (100% Chardonnay), some wonderful pear and tree fruit notes, and a nice minerality to the finish.'  This sparkling babe can be found at South Lyndale Liquors and France 44, among many others.  (Price: approx $23) ~ John Garland, Senior Editor, Growler Magazine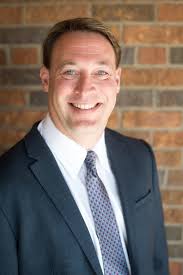 'What I will be drinking on NYE at Midnight? I will defer to Lelsee's Favorites from Sip Better as sparkling is not my forte and needs to be my next class from Amusée — Fantini Farnese 'Gran Cuvee Rosé' Vino Spumante Brut–$23.99 + Cleto Chiali Rosé de Noir–$15.99′ (Both can be found at France 44)   ~ Tom Olson, General Manager, St Cloud Country Club
'Marguet "Shamen 13" Grand Cru Rosé   Quick descriptor: wild strawberry fruits, clementines, savory undertones of spice, tension, delicacy, and bone-dry.  I want complexity and refreshment when I drink Champagne. Benoit's mystical-magical organic Grand Cru vines and spiritual methods have served up a style of Champagne I love: red fruit expression that shows its pedigree woven with pithy clementine undertones, perhaps more linear, but long in its flavor and finish, pointed and direct, as if the flavors are carried and emboldened along a laser beam of acidity. This wine is 2/3 Grand Cru Chardonnay and 1/3 Grand Cru Pinot Noir. He believes in keeping a vintage identity even when using reserve wines, so each is numbered accordingly. Ecocert and Demeter certified. The "Shamen 14" Grand Cru Rosé has just arrived and will be appearing soon in the market, equally lovely, perhaps a tad fruitier than the 13. 
Back Story:  I first met Benoit in the 90s when he was studying organics, his conversion accelerated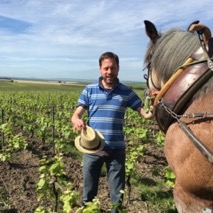 in 2006 when he discovered his 2 year daughter had a rare form of leukemia that was linked to chemicals used in the area vineyards. Today Benoit is fanatical and spiritual about his farming. He holds some of the most important lieu-dits in Ambonnay and Bouzy and by the time you read this, his star will surely have risen to the top.  I took this photo of him with his prized plow horse "Titan" in his Bouzy Vineyard.' (Wine is available @ Henry & Sons, Thomas Liquors, Solo Vino, France 44 –approx retail price $63)  ~ Annette Peters, Owner + Portfolio Director, Domaines and Appellations & Bourget Imports
AR Lenoble Rosé Terroirs NV — This 18 hectare estate in the Côte des Blancs is run by Anne and Antoine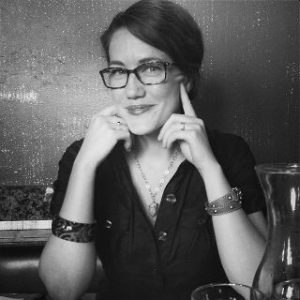 Malassagne, the great-grandchildren of Monsieur Armand Grasser, who founded the noble house in 1920. Their house style is to reflect the rich terroirs of Grand Cru Chouilly, as well as not being dogmatic on how the wines are made year to year. Anne and Antoine manage their blending and elevage parcel by parcel, depending on what the fruit dictates (everything from barrique to 5000L enameled tanks, to ageing in magnums). They use an unusually high amount of Vintage wine in all of the NV blends, which also means they don't bottle Vintage Champagnes unless it is a truly exceptional vintage.The Rosé Terroirs is a blend of 88% Grand Cru Chardonnay from their vineyards in Chouilly, and 12% Premier Cru Pinot Noir from their Bisseuil holdings. The base wine is 2012 vintage, and settles on the savory and richly mineraled side of things. This is a gorgeous wine, simply put. I've enjoyed the remnants of samples on the 4th day, once the lovely, delicate bubbles have left, and it is still an enticing, pure expression of two important Crus. Definitely worth exploring the other wines made here as well.'  Available at both Thomas Liquors and Zipp's (Approx Retail, $65)  ~ Vanessa Lisovskis, Sales Representative, Bourget Imports
'My Holiday bubbles pick is Bruno Verdi's Sangue di Guida, a fun northern Italian frizzante of Croatina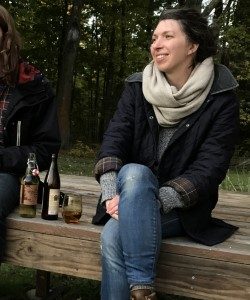 , Uva Rara, and Barbera; a close cousin in style to Brachetto or an Amabile Lambrusco. It's delicious, festive, and with its touch of sweetness something even the non-wine-drinker of the family will enjoy. I plan to pop this bottle as everyone is arriving, a nice little welcome treat while we get everything together, or pass it around to enjoy while we are exchanging gifts.  You can find Bruno Verdi's Sangue di Guida at Downtown Liquor in Alexandria, Bridgeview Liquors in Moorhead, Jerry's in Woodbury, or your independent wine shop in the cities would be happy to special order it for you. (Retails for around $22)  ~ Ginny McClure, Sales Representative, Rootstock Wine Company
'My bubbles pic is both delicious and sentimental. Nicolas Feuillatte Cuvée Palmes d'Or Brut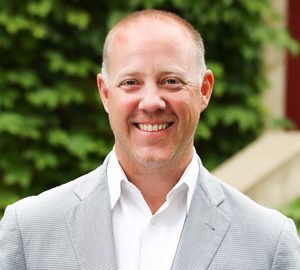 Vintage — This unique bottling is the Prestige Cuvée of the producer and is made with equal parts Chardonnay and Pinot Noir. I celebrated my engagement to my wife of 17 years with this bottle and recently had a chance to try it again years later. Still awesome.'  (Available at Wine.com for approx $119)   ~ Brad Butcher, National Sales Director, Jordan Vineyard & Winery
'I love the Royal Seyssel Petit Royal from Savoie for value bubbles this year. This charming sparkling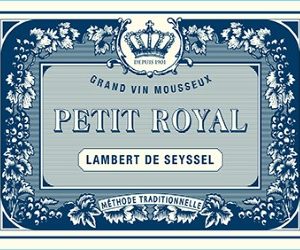 wine is a blend of two local varietals Molette and Altesse. It has pretty floral aromatics and shows honeyed fruit with a touch of toastiness on the palate.'  (Approx $19.99, can be found at 1010 Washington Wine + Spirits)  ~ Rob Bonelli, Fine Wine Manager, 1010 Washington Wine + Spirits
'My bubbles pick this year is Poema, Cava, Brut Rosé. This is a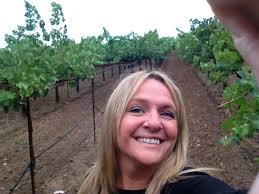 beautiful and affordable alternative to Champagne. Trepat grapes give the wine it's pretty pink color. I had this wine with some smoked trout at my dad's house in November and it was absolutely perfect!' (Can be found at 7th Street Liquor Barrel, France 44, Stinson  and The Cellars locations for approx. $12.99 retail)  ~ Rikki Iglesias, Director of Sales, World Class Wines
'My bubbles pick for NYE — Keush Origins, Vayots Dzor, Armenia. That's right– a sparkling wine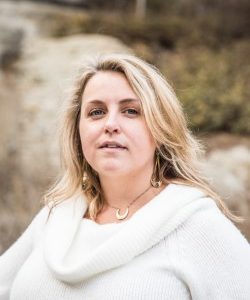 from Armenia! This beautiful Sparkler is made in the Methode Traditionelle, from the Vayots Dzor wine region in Armenia. From High elevation vineyards (6000ft), with volcanic rock & limestone soils. The Keush is made with grapes indigenous to the region (Khatoun Kharji and Voskehat) and is just quite lovely! Hints of citrus & pear with a soft creamy & nutty finish. I love off the beaten path wines, and this one gets a gold medal in my book!' (Can be found at Zipp's, Henry and Sons, or By the Glass at Young Joni. $20-$22 Retail)  ~ Erin Ungerman, Manager, New France Wine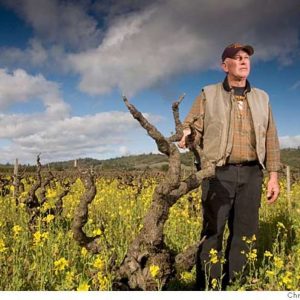 'Don't want to come off sounding too provincial and I do love a good vintage or Blanc de Blanc real deal Champagne, but when in doubt I loves me my local Anderson Valley sparklers, especially the Roederer Estate L'Ermitage (current release the 2011 vintage) and the Handley Estate Blanc de Blancs (current vintage 2015). Neither is inexpensive at around $50 retail, but the both capture the mouth filling qualities of good Anderson Valley fruit (especially the chardonnay component).'  ~ Fred Peterson, Found/Winemaker, Peterson Winery
'Well, I am really lucky to represent a very comprehensive and exciting sparkling wine portfolio so I have a lot of choices at hand. One thing I love about the holidays, however, is that I tend to slow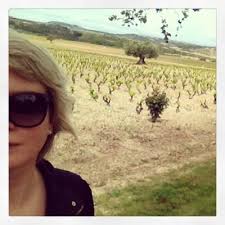 down and build an occasion around opening a special bottle of Champagne. Things like pearl spoons, roe, and creme fraiche seem to appear, as accoutrement! The bottle I am saving to drink currently?  Champagne David Léclapart L'Artiste Blanc de Blancs 2010 David Léclapart does not use any reserve wine or dosage in production. I find his wines to posses so much character and richness, they are not just a treat or novelty to drink, but an experience in originality.'  ~ Dana Bonelli, VP of Sales Midwest/North Central, Domaine Select Wine + Spirits
As for me?  I'll hunkering down with a delicious bottle of Yellow Muscat made by one of the most interesting winemakers I met in 2017, Bojan Kobal.  The Štajerska, Slovenian Kobal Yellow Muscat is a deliciously dry, sparkling wine with a distinct, lovely bouquet of fresh peach, perfectly ripened pear skin and yellow apple pulp. The aroma and the palate are reminiscent of ripe citrus and skin-kissed tree fruits. It is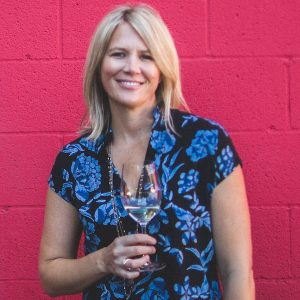 the perfect wine for all occasions, and is an excellent companion for almost any culinary adventure, including appetizers, salads and lighter main courses.  This is absolutely one of my international sparklers, period! I seriously just cannot get enough of this wine right now. Mouth-watering and absolutely to die for, down to the last drop. I promise, you'll wish you had more than one bottle on hand! Savor this gem, there's not much of it that comes to the U.S.  You're welcome.  (Can be found at Sip Better for $20.99)  ~ Leslee Miller, Sommelier + Owner, Amusée + Sip Better