MN State Fair Food & Wine Pairings — Alligator on a Stick?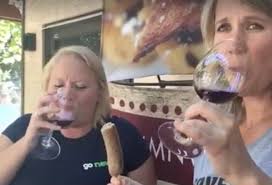 If you thought you had seen it all when it came to wine and food pairings, guess again. Twin Cities very own, Sommelier Leslee Miller of Amusée, shows off her 'pairing skills' as she pairs ALL things Minnesota State Fair Food to Minnesota Wine! Here's her interview with Bring me the News…
(Article by: Melissa Turtinen — August 31, 2016)
Video: Pairing Minnesota wines with some classic State Fair foods
Who knew a Pronto Pup paired so well with a Frontenac wine?
Leslee Miller, a certified sommelier who owns the wine consulting firmAmusée, helped us pair some classic Minnesota State Fair foods with Minnesota wines (all of which are available to try at Minnesota Wine County at the Minnesota State Fair).
Check out this Facebook live video from Tuesday's taste test:
Here's what Miller recommends:
Cheese curds
Mouth Traps' cheese curds would pair well with white wines. We triedCannon River Winery's Sogn Blanc, which is made with Edelweiss grapes, and also Sparkling Apple from Saint Croix Vineyards.
Miller says a good rule of thumb for fried foods is to pair it with a sparkling wine, because it helps "lift the fat off of your tongue."
Pronto Pups
When dealing with meats – like the Pronto Pup – an earthier red wine is the way to go. We tried a Frontenac from Saint Croix Vineyards, with Miller saying the smokiness of the wine goes well with the battered, deep-fried hot dog.
Alligator
With the alligator from Bayou Bob's, Miller suggested drinking the Barn Quilt Red from Parley Lake Winery, which has a Frontenac face, but a little bit of Marquette to it. The wine is juicy, which wraps around the alligator's kind of spicy flavor, Miller says.
And cotton candy
Our last taste test was cotton candy paired with Winehaven's Raspberry fruit wine, and if you want to get fancy, Miller says you can put the cotton candy in your glass for a little twist that doesn't taste too sugary.
Miller says raspberry wine would also pair well with a deep-friend candy bar. A port would be a good wine to pair with the sweet treat, too.
A few more tips
There really isn't a food you can't pair with wine, Miller says. But she does offer some tips to find the best wine to drink with whatever you're eating:
Explore the wine first and get to know the flavors, then try to match the flavor in the wine to whatever you're eating (reading the back of the bottle will give you an idea of what flavors are in the wine). If it's a full-bodied wine, have it with a full-bodied food, like a roast. If it's an earthy wine, have it with something earthy, like mushrooms or pork.
When you're tasting wine, make sure to have some of the food in your mouth when you sip the wine to get the full effect and help you better understand wine pairings.
Don't be afraid to ask questions when you're shopping for wines. Take advantage of tastings at local liquor stores, and take classes to help you learn more.
Try everything. If you think you don't like something, try it anyway because that grape could taste completely different from a different wine maker.