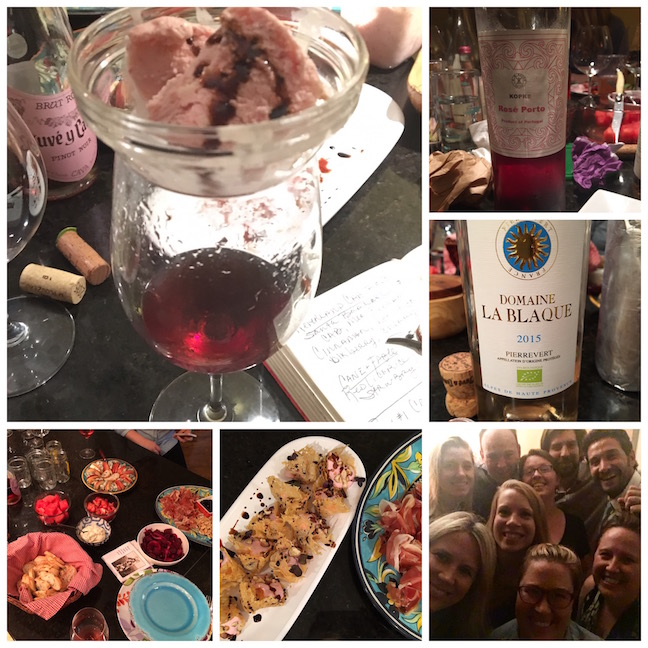 Each month, my ten year Girls n Grapes group gathers to try on a new set of wines with a theme in mind.  This past month, we celebrated the ultimate summer wine genre, PINK.  'Life according to Rosé' was the theme as we laid out a variety of worldwide pinks for our tasting.  Here's the low down on our favorite summer sippers paired to a slew of our group's delicious handmade eats of the night, brought to you by our newest 'Grape' and Amusée's favorite blog contributor, Ms. Karina Roe!
Life According To Rosé
Growing up, I hated pink and all that it stood for. The second I had the chance, I covered up my pretty pale pink bedroom walls with the boldest blue I could find. (Sorry, Mom.) Pink was for girls, and I was determined to be the star center fielder on the boys' baseball team at school. I didn't have time for girly stuff. Pink could suck it.
Luckily, I grew out of that phase. My world was rocked when I first got into wine and discovered that pink wine could, in fact, be—gasp—dry.  Do you remember when you first discovered rosé and were shocked that it didn't taste like your Grandma's white zinfandel, or like sticky strawberry cotton candy? Talk about a worldview getting turned on its head, right?
The wine world is waking up, and discovering the plethora of delights pink wine has to offer. Every year, sales double and triple in restaurants and retail stores, and everyone is shaking their heads in disbelief at the breakneck pace rosé has taken in its rise in popularity.
And for good reason! Nothing screams "SUMMER!" louder than a cold, refreshing glass of rosé.  Nothing goes with food better than rosé.  Nothing looks prettier in a glass than rosé.  Nothing lifts your mood more than rosé. (Except maybe Champagne… J)
So it comes as no surprise that our latest tasting group was all about "Life According To Rosé!"  You can imagine the palpable joy that was present as bottle after bottle of rosé was brought forth—we tasted twenty different rosés in all… twenty!  Of course, just like any other category of wine, you come across the good, the bad, and the "meh."  What follows is nothing but the best for you, dear reader, along with some kick-ass pairings—including one pairing that you are required to make if you want your summer to be worth anything at all.
Domaine La Blaque—Provence, France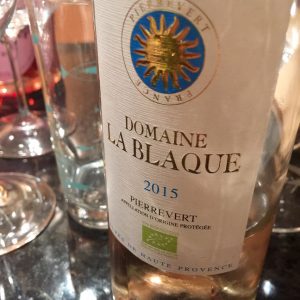 With its pretty "ballet slipper" hue, Domaine La Blaque is the epitome of "classic" Provencal rosé. Aromas of soft rose petals and peonies mingle with candied lemon peel and cotton candy, and fresh peach and watermelon come through on the palate to create a balance of sweet and tart. We paired this with Bushel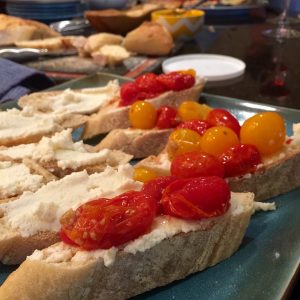 Boy tomato bruschetta! The acid from the tomatoes made the wine taste a bit sweeter than it did on its own, and was a fantastic pairing.  Wine Rating: 2 stars   

Fritz Pinot Noir Rosé—Rheinhessen, Germany 

Done with your "before dinner" pink wine and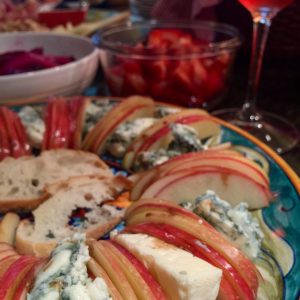 ready to move on to your "with dinner" rosé? Do the Fritz! This wine has a deeper shade and deeper, more serious flavors to it than most, which makes it a solid match for almost any food you put with it. Full-bodied with strawberry, balsamic and black pepper notes, it paired well with our pork rillette and even the blue cheese + apple tray we ate with it.  Wine Rating: 2 stars

Spell Vin Gris of Pinot Noir—Sonoma, California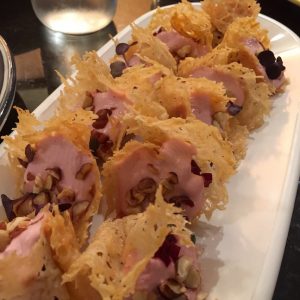 A favorite at many country clubs around the greater Twin Cities, Spell always delivers in terms of ripe fruit and easy drinkability with his rose. With rich, pronounced fruit, this wine is almost a food course in itself! But also SO good with Ms. Lindsay's Parmesan crisps stuffed with fresh whipped goat cheese & beet!  Wine Rating: 2 stars
Available at France44 Wines and Spirits

Plouzeau "Rive Gauche" Rosé—Chinon, Loire Valley, France
Chinon rosés have become one of my new favorite go-to's for summer sippers. Made from Cabernet Franc, these wines are light on their feet with a good core of fruit, but also with a delicate hint of fresh herbs to balance out the ripeness. That herbal, green characteristic is a dead giveaway for Cab Franc, and makes for a delectable-yet-sophisticated wine. Wine Rating: 3 stars
Available at South Lyndale Liquors and France44

Schloss Schonborn Pinot Noir Rosé—Rheingau, Germany
Okay, fellow acid junkies… this one's for you! This fantastic German house is a sure-fire winner if you're looking for high-toned, cleansing minerality and gorgeous acidity. Aromas of anise/black licorice jump out of the glass, followed up by juicy, ripe little summer berries. Y.U.M. Go on a hunt for this one right now. Wine Rating: 4 stars

Blackbird Vineyards "Arriviste" Rosé—Napa Valley, California
Napa is not usually the first place one thinks about with rosé, but Blackbird's "Arriviste" can change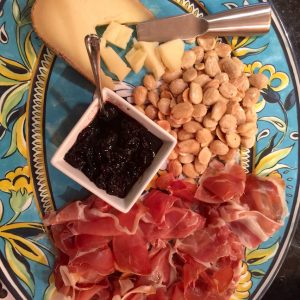 your mind! Although this Cab Sauv/Merlot rosé is a far cry from Chinon and the Rheingau, it presents yet a different side of the loveliness of rose. Big and fleshy, it has deep, round flavors of ripe red fruits, strawberries and white chocolate, and ends with an interesting savory note. Pour this alongside your grilled goods, or with a sumptuous charcuterie platter like the one we enjoyed for the night. Wine Rating: 2 ½ stars
Available at France44
 
Kopke Rosé Port—Portugal
All right. If you've gotten this far down the blogging hole with me, you deserve to know about The Pairing To Beat All Other Pairings. Kopke is one of the oldest houses in Portugal, and makes one of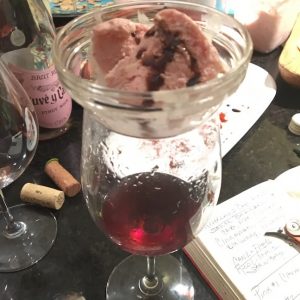 the few rosé ports out there today. Think strawberries picked at their peak ripeness, left to sit in the sun for a bit so the juice starts to run, then sprinkled with sugar. It's gorgeous on its own, but here's what's really going to make your taste buds go wild: Homemade Fresh Strawberry Ice Cream. Our gal Ingrid had the brilliant idea to throw in some cheesecake chunks for some extra deliciousness, so you should probably do that, too. We even decided to throw some aged balsamic over the ice cream, too!  Guys, this is it—this is the epitome of summer pairings. Go rev up that ice cream maker!  Wine Rating: 5 stars
Available at South Lyndale and France44
Cheers to a very Pink Summer! And remember… live your life according to rosé.