Holiday Gift Guide for the Wine Lover // 2015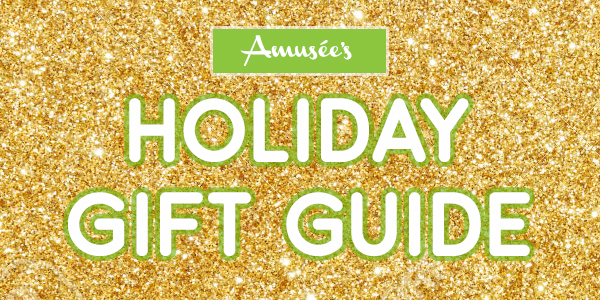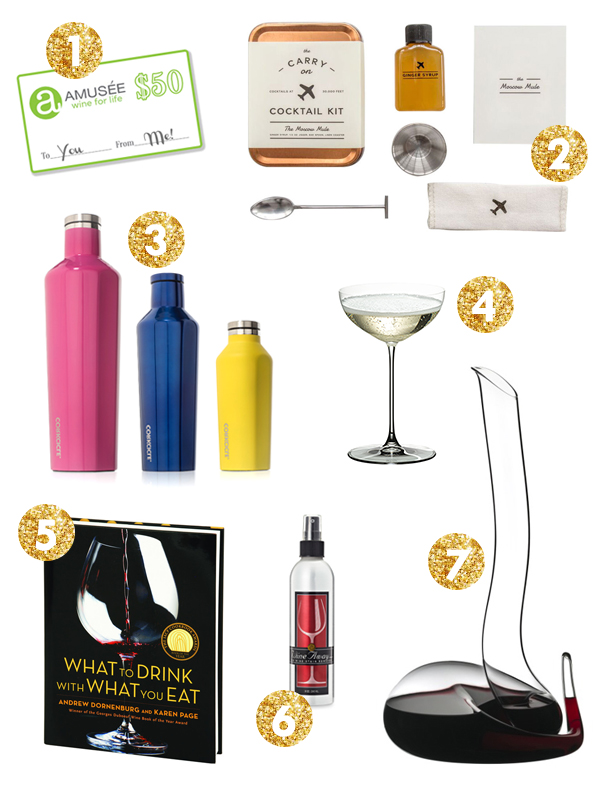 It's not too late to make the food and wine lover in your life the happiest of clams this holiday season! We've gathered some of our favorite items in this post to guarantee you find a delicious and memorable gift for everyone on your list. And don't forget to sign up for the Amusée newsletter (at the bottom of this page!) for more ideas like this, all year round.
1. Amusée Gift Card – Pamper the oenophiles in your life with an in-home wine lesson, catered chef/somm dinner or a wine and cheese party with Sommelier Leslee Miller!  Need we say more?
2. Carry On Cocktail Kit / The Champagne Cocktail (pre-order) – Who doesn't love a classic bubbly cocktail at 40,000 feet? Take your ingredients on the go, and just add bubbly once you hit altitude!
3. Corkcicle Canteen (a.k.a. the Vinnebago!) -Great for taking your wine camping, to an outdoor movie or on a picnic. Portable wine is fun!
4. Riedel coupes – Who needs Marie Antoinette's left breast (coupe), when Riedel's made something better? One of my favorite Riedel pieces to date! And, a whole lotta fun to drink fancy cocktails from this holiday season.
5. What To Drink With What You Eat – Still one of my favorite food and wine pairing books to date. You just can't go wrong with this book, especially if you know someone who is as obsessed about food and wine as I am!
6. Wine Away – Whether you're "Phyllis-Spiller" or just have the occasional blunder, Wine Away is the best little stain remover to have in your kitchen drawer for entertaining. Great for stocking stuffing!
7. Eve Riedel Decanter – Nothing says I love you like this super sexy decanter from Riedel. While I can never get enough of Riedel's decanter line, still is still one of my favorites. It will easily temp any wine lover in your life to drink more vino!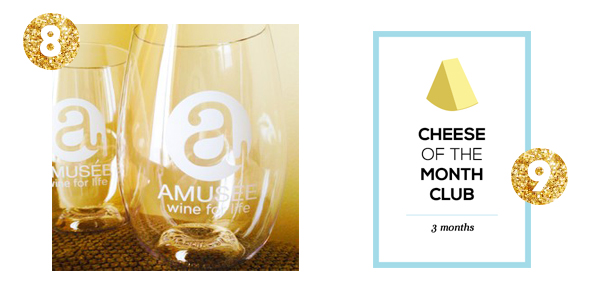 8. Amusée Go Vino Wine Glasses – You're gonna need glasses for your Vinnebago on-the-go, right? Amusée's Go Vino wine glasses are perfect for flippin' into your suitcase, picnic basket or yoga bag. You never know when you'll need a wine glass, right?
9. Cheese of the Month Club – Love wine? Love cheese? What about wine AND cheese? Pick me, pick me! This club is the perfect accoutrement to your Amusée gift card. Order a 3-month Cheese of the Month Club membership from my friends at the France 44 Cheese Shop, one of my favorite cheese shops in town. You're one step closer to the perfect pairing!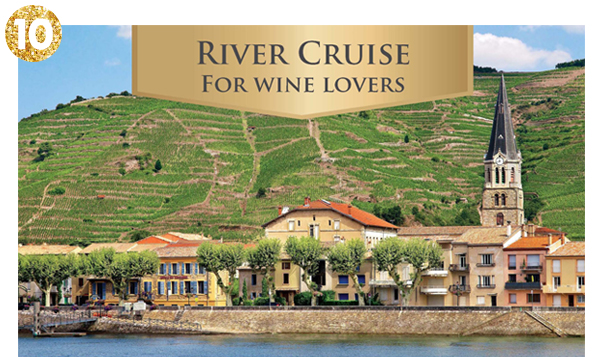 10. River Cruise for Wine Lovers – And finally, the ultimate wine lovers gift! A trip aboard the Amawaterways Cruise "Experience the Rhone River with Amusée!" in August of 2016. Amusée fans receive a $1500 per cabin discount when they sign up with our in house concierge, Bill Perrine. This is truly a gift that will give either you or a lucky friend the experience of a lifetime!"
Happy Holidays, wine geeks!