Sangria For Life // Pink Sangria Recipe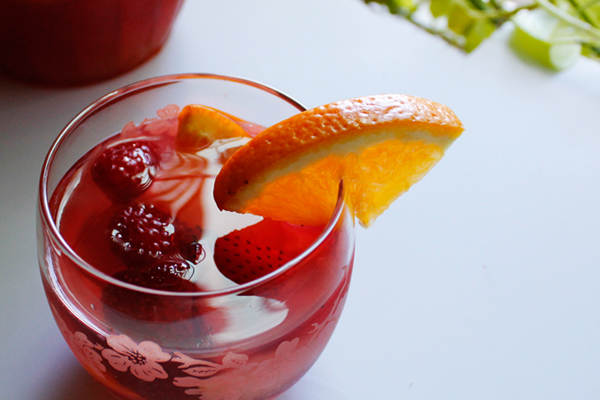 Few things scream "Endless Summer!" than a giant pitcher of heady sangria. After a great meal on the patio with your friends, sangria can be the fresh, lingering finish to an epic night, the night cap that never ends, and the liquid dessert that keeps on giving! Not to mention, sangria is a great excuse to play around with your favorite wines and the bounty of summer fruits available in Minnesota.
We're constantly testing out new sangria recipes, but this blushing rosé-based version is a new favorite here at Amusée. It's light and a little effervescent, with a gentle streak of gingery sweetness. In fact, it's down right guzzle-able (so watch out). And bonus: if you find yourself with some leftover boozy fruit, try spooning it over vanilla ice cream!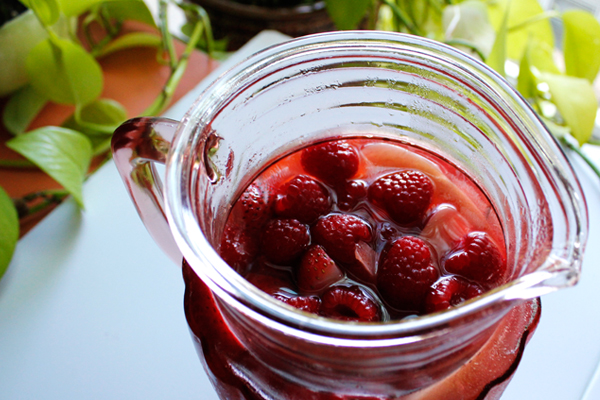 Pink Sangria
1 orange
2 ripe peaches (we used white peaches)
2 cups strawberries
1 cup raspberries
1/4 cup sugar
3/4 cup triple sec
1/4 cup vodka
1 bottle Rosé wine (we used the very affordable Provenza Cà Maiol "Chiaretto", available at Solo Vino)
1 bottle spicy ginger beer
Wash your fruits and then get to slicing. Cut the orange in quarters and then slice the quarters into not-too-thin slices. Set a few aside for garnishing glasses. Then quarter and slice the peaches in the same way. Hull and quarter the strawberries and leave the raspberries whole.
Combine the sugar, triple sec and vodka in a bowl and add the fruit to this mixture. Try to make sure the fruit is covered with liquid. Allow the fruit to soak for at least 1 hour on the counter, covered with plastic or a dish towel.
To assemble the sangria, pour the rosé and ginger beer into a BIG pitcher, punch bowl, or large glass bowl. Then gently add and stir in the fruit and alcohol mixture. Chill the sangria for a few hours before serving it over ice in whatever adorable glasses you have. Garnish each glass with an orange slice and drink up!