All about that Gravy, that Gravy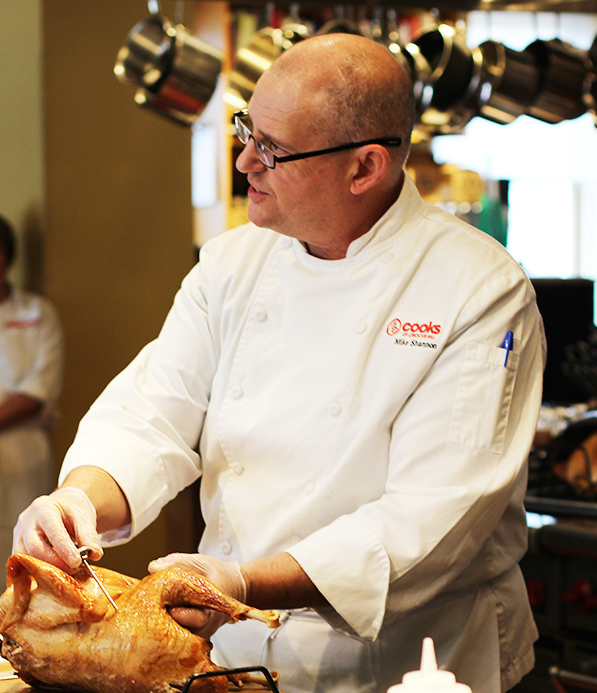 I am grateful for a number of things this holiday season, but most of all…for my dearest friends.  Not only are we so thrilled to have a new section added to Amusée's blog this week, A Monthly Pint, but to have Chef Mike Shannon join us for a guest post also this week sharing some tasty culinary tips for your holiday table.
Want to know how to make your best Thanksgiving gravy?  Here's chef Mike's first blog!  Follow more of his future blogs on the tab listed 'Chef's Corner'.

All about that Gravy, that Gravy
By: Chef Mike Shannon
It's that time of year where great gravy is a must on every table.  You should never be afraid of this simple -but important- component of your meal.
Great gravy – that velvety, luscious, flavorful, glaze – is about two things, texture and flavor. The texture is just a balance of ratios, fat to flour to liquid. The flavor starts with great stock.  Make your own if you can, if not use high quality, unsalted stock – not broth. The recipe below will start with whatever stock you choose and infuse it with rich turkey essence so you can coax the ultimate flavor out of your pan drippings.

Turkey Day Gravy
(Makes about 6 cups)
Turkey neck and giblets from turkey cavity
1 small Onion, medium chopped
1 Carrot, medium chopped
1 stalk of Celery, medium chopped
2 quarts unsalted Chicken Stock
2 tablespoons sherry or white wine
4 tablespoons of butter
1/2 Cup  flour
Salt and Pepper
Place all of the turkey parts in a 4 quart sauce pan with a splash of oil and sauté over medium high heat until lightly browned. Add the onion, carrot and celery to the sauce pan and cook for 3 minutes more, Add stock and bring to a simmer.  Cook for about 1 hour or until liquid is reduced to about 6 cups of liquid, strain and return to sauce pan and keep warm. This can be done up to 3 days ahead, just rewarm prior to making gravy.
Once you have transferred your bird to a carving board, place roasting pan on top of range and reduce excess moisture from the fat. Deglaze with sherry or white wine, stirring well to loosen all brown bits from sides of pan.  Add butter as necessary to achieve about 1/3 cup total of fat and melt completely.  Sprinkle the flour over the fat and cook about 3 – 4 minutes over medium heat, whisking continuously. Add warm stock slowly in batches whisking to blend each addition completely. Simmer for about 6 – 10 minutes to desired thickness. Taste, adjust seasoning and serve.