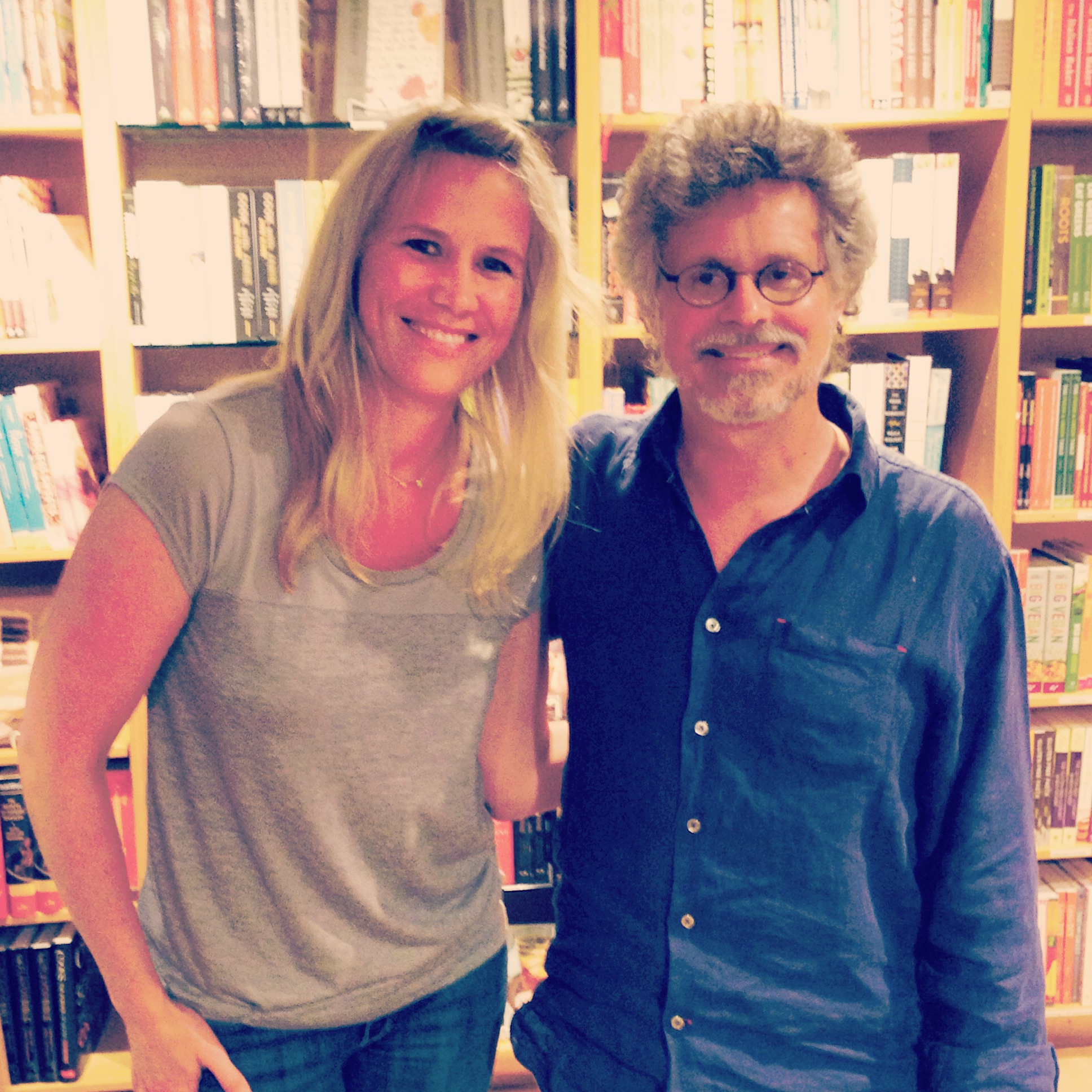 This week I had the honor of meeting and attending a very fun, interactive class with one of the coolest grill masters known to the world, Steven Raichlen.
A little info about the man, the legend, Steven R:
Steven Raichlen is an award-winning author, journalist, cooking teacher, and TV host. His best-selling Barbecue Bible cookbook series has been translated into 12 languages and has sold more than 4 million copies. His long-running Barbecue University show on public television, followed in 2008 by the series Primal Grill with Steven Raichlen virtually reinvented America's relationship with barbecue. 

Since 1998, Raichlen's books have focused on the culture and practice of global grilling. His 28 books include The Barbecue Bible (1998, revised in 2008), How to Grill (2001), BBQ USA, Miami Spice, Healthy Latin Cooking and now his new book, Manmade Meals: The Essential Cookbook for Guys. His books have been translated into 15 languages. Raichlen also wrote Planet Barbecue!, the story of his travels to more than 50 countries in search of the best barbecue, published by Workman Publishing in 2010. 

Raichlen is the founder of Barbecue University, which offers three-day intensive courses on live fire cooking at the Broadmoor Resort in Colorado Springs.

Steven Raichlen has won five James Beard awards for his cookbooks. High-Flavor, Low-Fat Cooking won the 1993 award for Best Light and Healthy Cookbook, and his follow-up, High-Flavor, Low-Fat Vegetarian Cooking, won the 1996 award for Best Vegetarian Cookbook. In 1999,Healthy Latin Cooking won the award for Healthy Focus. He also earned the 2001 James Beard Foundation/KitchenAid Book Award for hisHealthy Jewish Cooking. More recently his 780-page book, BBQ USA, won the 2004 award for Tools and Techniques.

In 2003, Bon Appetit named Raichlen "Cooking Teacher of the Year," the same year that The Barbecue Bible, based on his four years of research while traveling 150,000 miles through 25 countries on five continents, won an IACP Julia Child Award.

Originally from Baltimore, Raichlen has been known to further careers of such barbecue pitmasters thanks to his writing. One being Wayne Mark Schafer, of Baltimore's Pit Beef fame Big Fat Daddy's who was featured in Raichlen's NY Times Article and 425 Fiery Recipes Book.

He battled and defeated Iron Chef Rokusaburo Michiba in a "Battle of the Barbecue Gods" on Japanese television.

Raichlen has written for The New York Times, National Geographic Traveler, Food and Wine, "Bon Appetit" and Hemispheres magazines. He has appeared on numerous television programs and networks including Good Morning America, The Today Show, CBS This Morning, Discovery Channel, Oprah, Regis & Kelly, The View and CNN.
How's that for credentials?
Regardless of Steven's star power, brilliant BBQ mind and beyond – he was an absolute joy to listen to during his 90 minute visit to Cooks of Crocus Hill.  He answered any and ALL questions pertaining to grills, literature, lifestyle and more.  But most importantly, he answered my question pertaining to the world's best regions for pairing wine to the world wide genre of BBQ food.  
My question:  'Steven, what do you think is the best varietal or region for pairing to BBQ in general?'  

His answer (in short):  'South American grape varietals, especially Malbec.'
I guess there's a reason why I've always called Malbec 'the hotdog of grapes'…because it pairs to absolutely everything outside!  On the grill, in the ballpark, in the park or in the backyard.  I often quote the statement:  'What grows together, goes together'.  Well, if you think about it, what primary food and wine region grills just about everything (especially meat)?  Argentina!  Have you ever had an Argentine steak grilled perfectly and paired to Malbec?  If you haven't tried it, it should be your homework this weekend.  If you haven't heard me say it before, I'll say it again – Malbec, is the ultimate pairing grape for the world of grilling and BBQ.
I feel pretty good my new pal, Steven Raichlen, agrees with me!
Bravo to Steven on his new book, Manmade Meals:  The Essential Cookbook for Guys!  Well, and gals, right?  I can't wait to start making some of these awesome recipes.
Bonus ~ For a little weekend fun, check out Steven's All Purpose BBQ Rub recipe on your favorite grill meat and pair to Malbec.  Tweet us @amuseewine or Instagram tag us @amuseewine to show us your pairings!  Use this hashtag:  #AmuseeGrillPairings
Happy Friday, y'all!