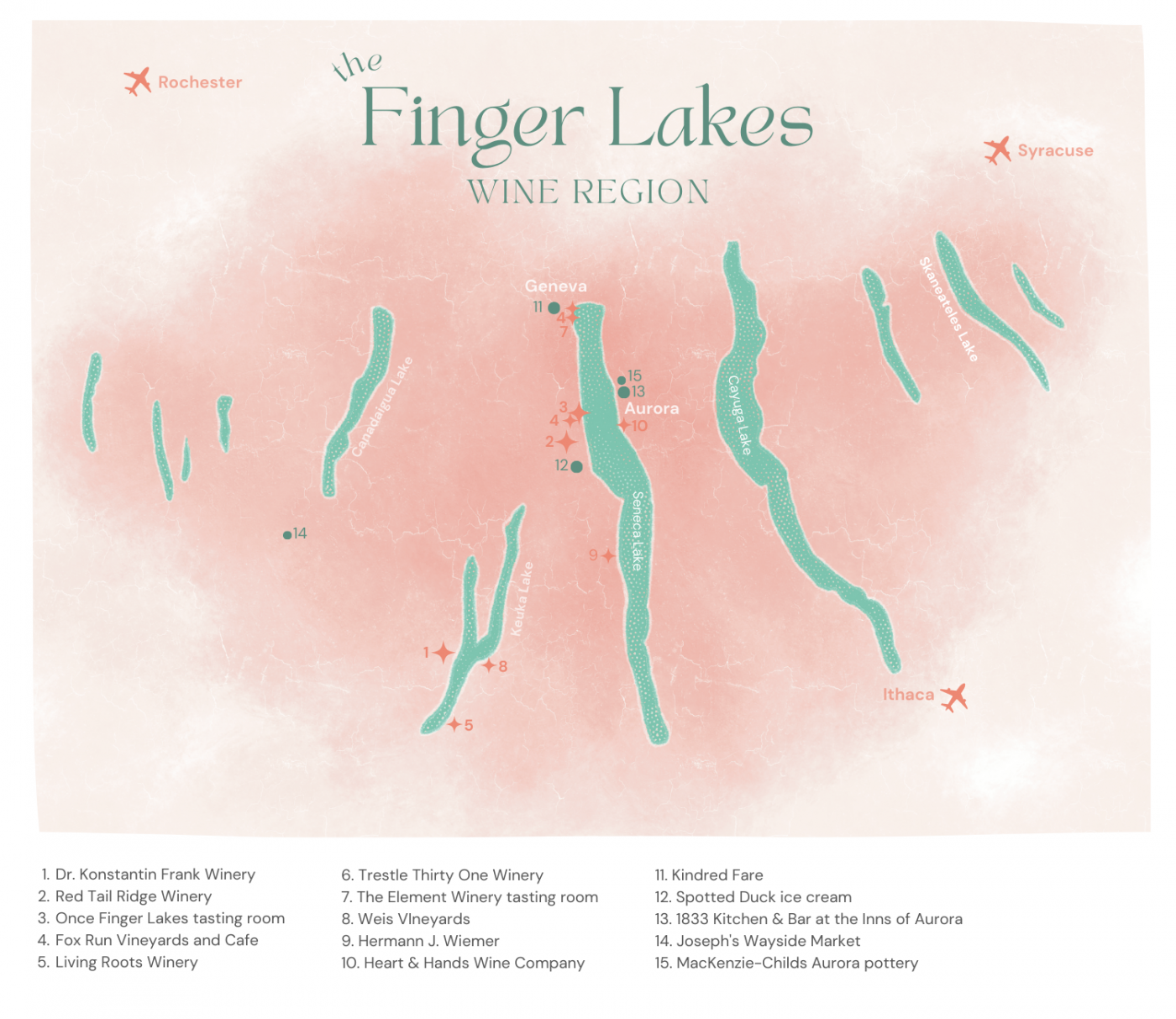 Looking for a charming, obscure wine country trip? I think I have just the place for you. Spring, summer, fall or winter – the charm of the Finger Lakes would be an encapsulating wine country trip any time of year.
Let's back up – how did I get here?
Truth is, I have been wanting to go this wine region for years, but always found myself in other wine regions. Whether it be an international trip or another trip to the west coast, I guess I had never made my way fully east when it came to exploring the wine regions of my own country. This time, I wanted to find a trip that would be fun, yet relaxing for myself and three of my girlfriends. So, there I was planning a trip to the FLX for two women who run our marketing, newsletter communications and our social media team at Sip Better, my best friend and myself.
P.S. We are also writing a kick ass blog over at Sip Better giving you the ins-and-outs to wine country travel – check it out!
Step One — How DO you Get There?
A few options actually.
Syracuse is closer to the east side of the major lakes or Rochester is closer to the west side of the lakes. Ithaca is also an option, but I found it to be one more flight and about another $200 more per person. So you might want to pick your airport based on where you want to stay or start.
We started our trip with a visit to Konstantine Frank, so I booked us for Rochester. All are smaller airports, therefore deplaning, luggage, car rental, etc. all takes no time at all.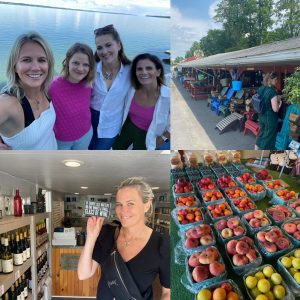 What to Expect:
Expect to drive. Quite a bit. There are 12 'finger' lakes in total but 3 majors: Keuka (pronounced like you're gonna say cucumber, sort of – 'cue ka'), Seneca (pronounced like it sounds) and Cayuga (another cucumber word, lol – pronounced 'cue ga'). Good luck pronouncing the rest of the towns and lakes. We'll talk about Skaneateles (pronounced 'skinny at las'—yep) in a bit. Anyways, it takes some time to get around all of them. They are long and skinny, so you just have to settle in, enjoy the views and drive around them.
The countryside reminds me a bit of a cross between Minnesota and Wisconsin. Big red farm barns, mixed with fields of tall corn (in the summertime). Smells just like the Midwest, too – fresh cut grass and the warm sweet air of July sweetcorn. Very familiar. The towns are charming, small and a bit, well – back in time. As if you rolled the clock back 50 years in a few of them. I guess that's why I've always loved upstate NY. Reminds me a bit like home. You pass by loads of agriculture. Fruit trees, veggies, Christmas tree farms and corn. We drove from Rochester to Konstantine Frank, located on the west side of Keuka, so we didn't see vines until we were almost right up on the winery. As we got closer to the Frank Estate, we saw oodles of breweries and distilleries. Of which, I am not talking about in this blog – but would highly recommend. There seem to be a great deal of them!
There are farm stands galore, so I would absolutely recommend you stop and grab yourself some local fruit, locally made cheeses or veggies from one of them. We stopped at Joseph's Wayside Market along the way (on our map) and we loved it! From trinkets, cheese, the cutest little donut apricots to some locally grown sweetcorn (which was different from ours in the Midwest) – we loaded up on goodies we enjoyed later at our Air BnB.
Which brings me to my next header…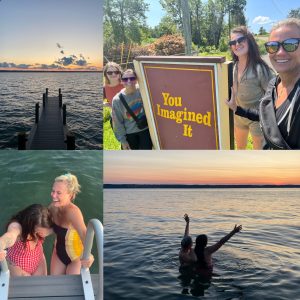 Where to Stay:
A lot of folks I spoke to recommended the beautiful inns along the lakes. There are many! We found that Aurora Inn in Aurora near our Air BnB was charming! Lots of inns in Aurora, by the way – the town was adorable. It had a very east coast proper-like charm to it that made me want to live there all summer. This little town no longer had that midwesty vibe, suddenly I felt like the Rockefellers were gonna show up and buy us all martinis. That kind of vibe! Loved it.
So if you're a couple – I'd look at the Aurora Inn in Aurora – looks to be a beautiful spa! Plus, they have a great restaurant we enjoyed a relaxing brunch at one day: 1833 Kitchen & Bar (on our map). Best brunch, by the way – killer lobster roll and outstanding spritz cocktails!
We were four women who wanted to skinny dip late, enjoy a wine spitting contest in the lake, watch scary movies at night and giggle without worrying if we'd wake the neighbors – so I opted for an Air BnB. Our place was at the northeastern tip of Cayuga Lake. The lakes, by the way, are crystal clear so swimming should def be on your list! Cayuga was seaweed free with a stone bottom and literally crystal clear – you could see the bottom like you were in a glass bowl.
Get yourself a Winery Plan!
Again, head to Sip Better + soak up a few of our winery tips: etiquette, booking appts, what to wear, etc. One should be prepared when making a winery appt.
I'm in the industry, so I'm used to booking ahead. I knew this wasn't Napa, but I knew in July the region would be busy so I called ahead by 30days. My appointments tend to be a bit different than a 'consumer' tasting. As a person of the trade, I am generally looking to add wines to one of my businesses (if they suit our specs) when I travel to a wine region. I want as much information as the winery can give me and want all the 'production' language that goes along with it. I've seen a few wineries in my career time, so really—I don't ask for a cellar tour unless it is something highly unique (like the 100+ year old wine cellar of Lopez de Heredia in Spain or an older Chateau in Bordeaux). I generally want a full one-on-one with the winemaker or owner themselves. This is generally not the case when you book a consumer tasting, so if you do get the owner or winemaker then you've really struck the lotto that day! Here's the thing…when you are booking your appt, ask the winery if they have something unique you can book with them (a food pairing, a library tasting, single vineyard bottlings, etc.). You'll sound like you know what you're doing and most likely impress the winery, which generally coaxes them into pouring something a bit more special for your group.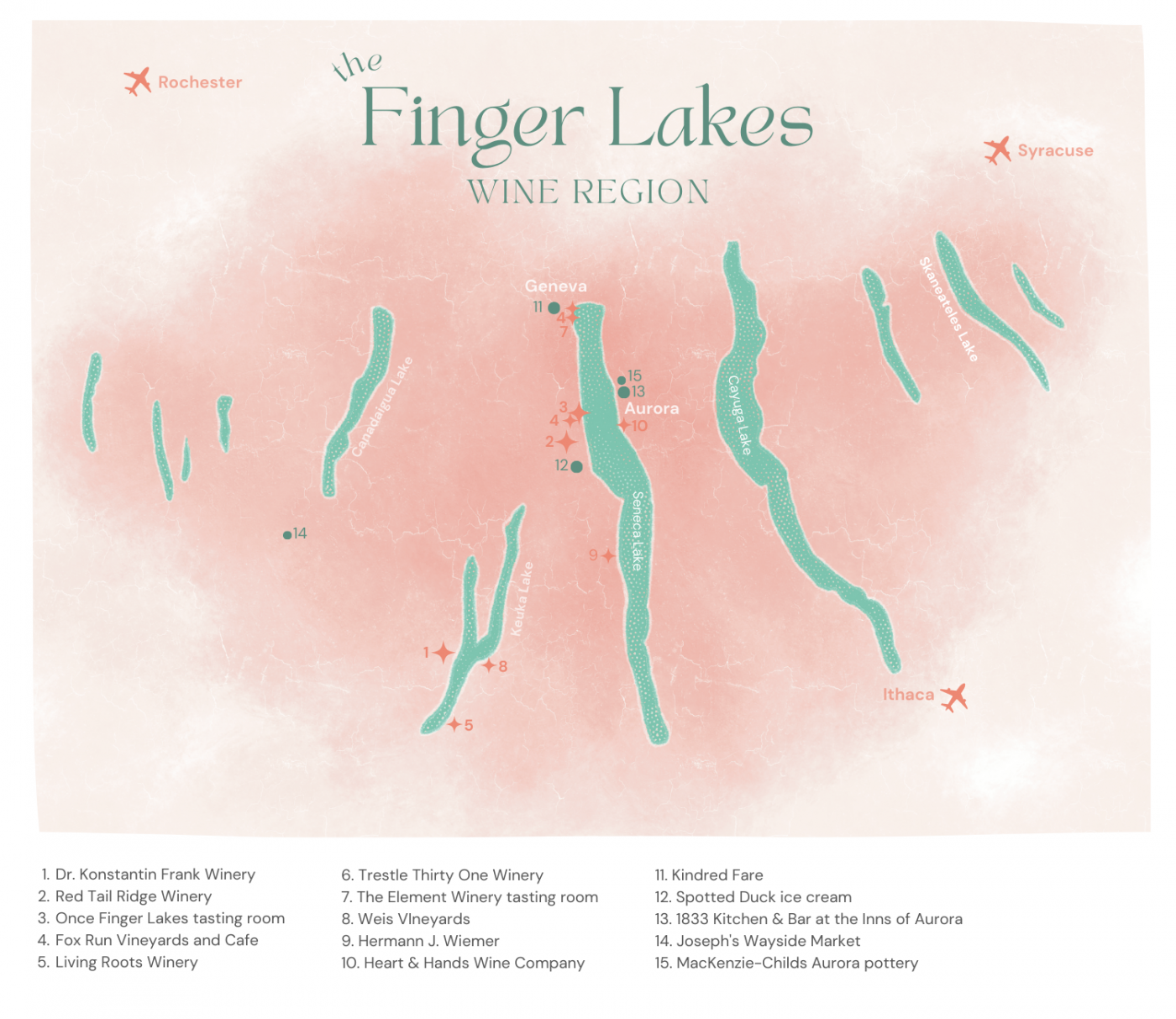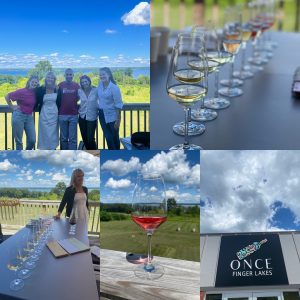 We've made a map with the wines that I found super interesting for the region, but of course there are many more! One hot tip I can lend you is to have you find your way to Once (pronounced like you were saying the word in Spanish – 'ohn-say'- which means 11) Tasting Room. Here they have 30+ wineries from all over the region to taste! We did this on day two and literally tasted (and spit, thank you!) 30 wines while we were there. They have over 100+ wines to choose from via glass and bottle. A very cool way to experience a lot of wineries without driving to all of them in the FLX! Plus the service + hospitality here were unbelievable—amazing staff, truly.
Here's my synapsis + why I slotted these particular wineries on our map:
Dr. Konstantine Frank – the OG – I will talk more about this winery, it is a must see. Varietally so very interesting hi-lighting Riesling, Pinot Noir, Blaufränkisch and two of my favorite Georgian (yes, the country) grapes: Rkatsiteli and Saperavi. Also, stunning sparklings! Do not miss this visit.
Red Tail Ridge Winery – Nancy, the owner + winemaker, who we met is an OG female scientist that worked for Gallo for years within the labs and development side of the biz before she came to the FLX to grow and make awesome, low alc., varietally correct Pinot Noir, Lagrein, etc. A very interesting, nerdy visit! Turns out, she also makes some baller pet nats, get yourself one (or two!)
Living Roots Winery – I just loved these wines at our Once tasting. Every one of them were just delicious, esp their Cab Franc! This couple is what we call 'flying winemakers'. They make wine here in the FLX and in south Australia, where Sebastian (one half of the couple) Hardy's family is from. The wines just felt vibrant and clean – so exact! I loved so many of their wines.
Trestle 31 – I would have loved to meet Nova Cadamatre, but I didn't have a chance, this trip. She is American's first female Master of Wine Winemaker. The wines, again we tasted at Once, were soft, feminine, clean and to the point. So gorgeous! Spendy, but absolutely lovely.
Element Winery – not gonna lie, these wines are not my style. Marked with Brettanomyces (think wet cow poop) and just big and a bit too over extracted for my liking. BUT, people in the region love his wines. They sell well (because of his MS rep, I'm sure) and when wines are the most expensive of their region, people tend to just think they're better. Not always the case, but again, this is not my style of wine. We tasted his $150 Syrah. Let's just leave this here.
I put this on the map as you should probably check it out – it's always good to see + taste all wine styles.
Weis Vineyards – originally from the Mosel, Germany, I like Hans Peter Weis's approach to his whites. Also tasted at Once. Nice wines.
Hermann J. Wiemer – this winery is important as they have worked with Cornell University to supply grapevines to growers all over the country. Cornell plays an enormous role in U.S. viticultural progression. Like the University of MN, they have created grapes to suit climates, dirt, you name it. Brilliant viticultural program. Hermann J. Wiemer has partnered with them for years to foster new grapes, etc. and encourage and support the biodiversity that makes the best wine for their region. Truth be told, I wanted to see them and reached out to them over 30days in advance of our trip, letting them know I am in the industry and that I was very excited to meet them. They never got back to me, so I called a week in advance and left a message. They called me back, then sent an email. I replied right away but they couldn't confirm anything with me until we were already in the region. I had to move forward with other plans.
We had their wines at Once and I liked them, but didn't love what I had. I'm sure if you went to the winery, you'd find oodles of interesting wines and fall in love with many.
Heart & Hands Wine Company – I put this on here because our (very new) good friend, Meaghan Frank of Konstantine Frank highly recommended this winery. I emailed the owner upon Meaghan's recommendation, but we never heard back. We had one to two of Heart & Hands wines at Once as well, they were nice. They specialize in Pinot Noir and they are near Aurora, so I would absolutely go give them a try. Maybe just go there or call the winery directly? We are back from our trip and still never received an email back. Someone go + send me a review please and we will add it to this blog!
Back to our Day One Visit – Dr. Konstantine Frank Winery: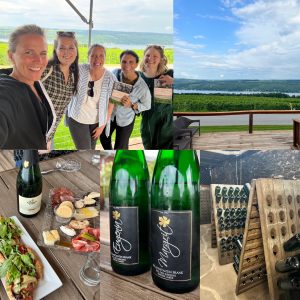 As said, the drive from Rochester to Konstantine Frank was an hour. We were happy to drive through the small towns, grabs goods along the way with the windows open and take in the sites of our new surroundings.
Once at Konstantine, we were greeted by Meaghan Frank – great granddaughter of Dr. Konstantine Frank. All smiles, heart warming and literally, oozing with hospitality. She immediately understood our early morning journey (left MSP at 6am), therefore did not hesitate to order boards of delicious flatbreads and cheese/meat boards layered with local honey, cheeses and jams (partially made of the family's Riesling). I asked for the 'full court press' immediately upon meeting Meaghan and she brought it. We chatted for 2-3 hours of her great grandfather's history, his fight for vitis vinifera in the region and how it all came to be. The importance of the lakes – the lake effect, similar to Michigan's winegrowing region – that actually keeps parts of the vineyard warmer and how glaciers actually made the region.
Sourced from Nasa's Earth Observatory >> Huge sheets of ice carved out the U-shaped valleys that hold New York's Finger Lakes. When they retreated north about 10,000 years ago, glaciers left deposits of gravel that dammed streams and caused the depressions to become lakes.
This left a great variety of soils from slate to loam and clay. Dr. Konstantine Frank was keen to the fact that this region due to its conditions, soil drainage, and climate could grow more than just hybrids or grapes for juice (the Welch family set up shop here in 1896 with its company: Welch's Grape Juice Company). He fought, literally until his last day alive to push for the same vitis vinifera varietals he knew would grow in colder regions such as these because of his upbringing and work in his home country of Ukraine.
With decades of knowledge and experience, Dr. Frank successfully planted the first European grape varieties in the Eastern United States in 1958.
Today, the estate holds the U.S.'s second oldest Pinot Noir vines planted by Mr. Frank himself in 1958. The winery still produces wine from these vines.
Long story short, Meaghan dazzled us with a plethora of wines from their sparkling collection and into their whites and reds. I never knew this region grew some many varietals! We wandered through glasses of stunning Méthode Champenoise made of its traditional grapes; also, Riesling, Pinot Noir + Blaufränkisch. My most surprising sips came when she presented us with their dry Rkatsiteli and Saperavi. Two grapes I only knew hailing from their birthplace of Georgia (the country). I had never had a new world version of either of these grapes, I was absolutely blown away! Every one of their wines told a story. The more I learned about Meaghan's ancestry, the more ingrained I became in the wines as if I was sipping bits of history with every glass.
The day was rainy and a bit moody as we sat on their covered wood porch overlooking Keuka Lake – making our visit even more enchanting. We chatted, laughed + spent hours with Meaghan as if she had been our friend for years. She shared all of her favorite spots – which is how we came to know Kindred Fare and the Spotted Duck – also, her husband, Antonio's, tasting room: Once. If there was a true feeling of hospitality in the FLX, we found it on day one with our new bestie, Meaghan.
After our tasting, Meaghan sent us over to their cellar, where her cellarmaster gave us an in depth look at the cellar. We left hearts full, palates pleased and a notebook chalked full of fresh ideas for our visit.
Buy these wine now at Sip Better online:
Dr. Konstatine Frank Sparkling Brut
Dr. Konstantin Frank Rkatsiteli
Salmon Run by Dr. Konstantine Frank Chardonnay/Riesling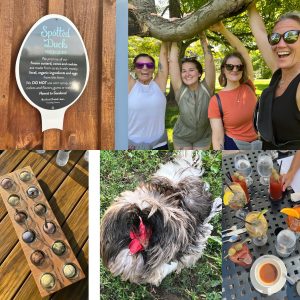 What to Eat:
I mentioned the 1833 Kitchen & Bar in Aurora for brunch, which as awesome – I'm sure their dinner is also stellar.
Meaghan recommended Kindred Fare in Geneva – which I cannot say enough good things about. Cocktails made fresh, a stellar FLX wine list and a kitchen with a fresh farm to table approach is an absolute gem! Meaghan + Antonio both said it was their favorite restaurant in the region. I can see why.
Geneva, by the way, is the largest town of the region and full of life. A few hotels along the water's edge and really quite charming. If you've been to Duluth, MN – it sort of reminded me of it. Very cute!
The Spotted Duck Creamery – oh wow! This famous ice cream place has been voted several times over as NY state's favorite ice cream shop. Speaking of charm, if you're in to fuzzy ducks (who lay the eggs for this ice cream made entirely of duck yolks), peacocks and chickens walking around your picnic table while you 'ooo' + 'ahhh' your way through tiny mason jars of unimaginable flavors of delicious ice cream – then THIS is your place. Want to feel good while soaking up some cals? This is your spot.
Last—if you're looking to stock up on picnic goods, breakfast goodies + snacks before heading back to your Air BnB or VRBO – then stop by Wegman's, also in Geneva. Another recco from our pal, Meaghan. A huge beautiful grocery packed with organic goods and lovely artisan foods (along with the essentials, of course) – another recommendation I'm passing along to you all.
Extras:
Senecca Falls was recommended to us as a fun 'to do' – should have done it, however, we opted for a day swimming on floaties in Cayuga Lake. A scenic falls walk/hike is always a must when headed to wine region. Plus, I love getting a little exercise while in a wine region!
MacKenzie-Childs Victorian Farm + Homestead Gift Shop – known for its handcrafted pieces that have a unique signature. No two pieces are identical of its handcrafted ceramics and home furnishings. The stye is very unique and very cool to see. The grounds are also available for touring. Tranquility at its best, near the small town of Aurora.
Skaneateles Lake – we heard a ton about this town. Small but quaint, packed with pretty teak wood boats and east coast sophistication. Our readers say the restaurants are a delight and the Vintage Bottle Shop is the place to go for purchasing quality wines of the region and beyond. Again, we didn't make it there – but folks seemed to love it and recommend it over and over.
That about wraps it up from my side!
Clearly, there's a lot to soak up in this small little wine region packed with history, stunning wines, gorgeous lake views and rolling hills + hospitable communities. I'm a fan and cannot wait to head back. Hope you have the chance to make it there yourself!
If you find something new in the region you'd like for us to explore, pls leave us a comment for our readers.
Thanks for reading this far!
Leslee