The Four Quintessential Wines for Thanksgiving Dinner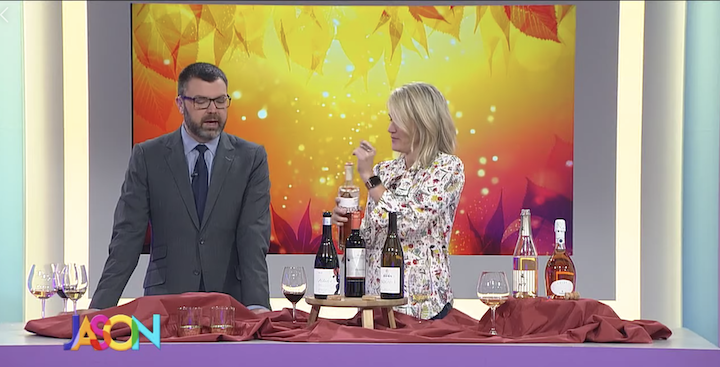 With all the fuss of the holiday season, grabbing wine for your Thanksgiving Day Feast shouldn't be a chore. And, do you really need 7-8 different wines to pair to all of the goodies on your table? Not in my book. I'm all about keeping it simple in more ways than one — my time, my table, and my pocketbook. So I'm sharing the four quintessential wines you'll need to make any holiday gathering a snap. Check out this week's segment on The Jason Show with my pal, Jason Matheson, chatting to the ultimate wine list for your turkey + its fixins!
For ease of writing all these babies down, here's the list with links for purchasing!
Order by Nov 17th, and we'll have them to your doorstep just in time for Thanksgiving!
J. Laurens 'La Rose N°7' Sparkling Rosé (Chardonnay, Chenin Blanc, Pinot Noir) ~ Limoux, France (*Should be consumed in a Burgundy bowl for best enjoyment)
Here's another great alternative to the J.Laurens Rosé, that I love oh so much as well: Piazza Grande Lambrusco
Domaine Homs Viognier ~ Languedoc-Roussillon, France (*The goldilocks of white wine — will go with just about everything!)
Another great white that will save you oodles of $$$ when entertaining large groups, and great for the holidays: Domaine Bott-Geyl Pinot d'Alsace
Instead of Pinot Noir, go with another light bodied grape like Frappato — here's the Santa Tresa Frappato I showed in this segment for just $12. Trust me, it's hard to find a quality Pinot Noir at this dollar, which is why some of these international light bodied babes are so good this time of year!
Smoking, grilling or deep frying that birdie? Then Garnacha is your answer! Try on the Descendientes de J. Palacios 'Pétalos' from Spain for the ultimate perfect pairing.
Okay, ready for dessert? While Moscato is great with pumpkin pie, I'm here to tell ya — Vermouth locks down this category for me 100%! Try something tasty from an International region like Jerez, Spain like this ONE.
For more on cooking with Vermouth (I made a delicious Drunkin Punkin Pie Recipe with Vermouth) head to our blog + RECIPE on our sister website, Sip Better, HERE!