Willamette Valley Travel Guide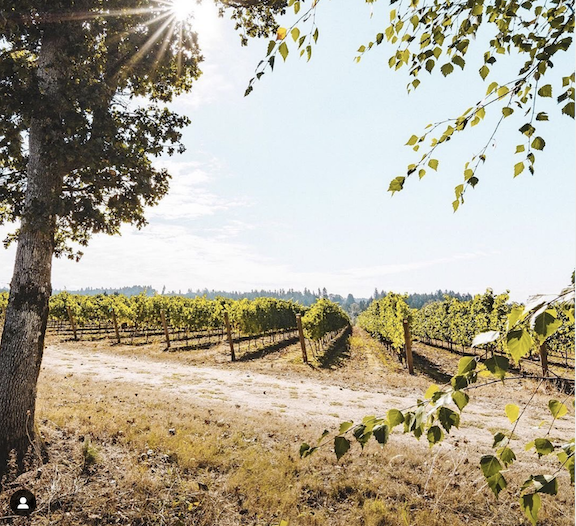 Oh hey, did you hear?  I just teamed up with two of my favorite lady bosses, Regina + Katie, owners of the fabulous Ready + Roam!  These gorgeous travel mavens are the queens of laying out some of the easiest details for traveling your best life, world wide.  Not only are their travel guides easy to do yourself, but they are one style-ly duo, so they always have some killer tips for what to pack on each destination.   I LOVE their SHOP OUR SUITCASE section!
In their most recent exploration, I teamed up with them to share a few of my favorite haunts from my days living amongst the stupendous Willamette Valley! 
Pay attention to the #RSOMMSAYS tips (those are some of my personal tips for a great trip to Oregon's wine country!)
You know that friend who already knows about the latest "hotspot," finally getting some good press? The friend you ask where to eat before an event? That's Danielle. She's in the know. She's also a savvy traveler and working mom. Danielle Pahula lives in Minneapolis with her husband Tony and her 9 year old son, Joey. Her annual visits to Minnesota's North Shore and to the Oregon Coast leave her well-versed in both destinations. When she's not supporting youth sports, she's drinking good wine on her screened porch or walking Lake Harriet with her fur baby Bernadoodle, Harley.
This guide is supplemented with advice from Roam Guide, Leslee Miller of
Amuseé Wine
and
Sip Better
(
#RSommSays
). As the former director to Archery Summit Winery and a previous resident of both Portland and Dundee, she has valuable insight to add to this Willamette Valley travel guide.
Where?
Willamette Valley, Oregon
The Willamette Valley wine growing region runs from Portland to just south of Eugene, and is home to two-thirds of the state's wineries.
When?
Best Time to GO: While you can enjoy a trip to the area almost anytime of the year, June – September are the warmest months, and also the least likely for rain. Because of it's diverse landscape and coastal location the climate is rarely so harsh you can't be outside.
We planned a couples trip with a group of friends for November, knowing that we were slightly past peak fall season when everyone else goes to wine country. You still need reservations (or at least they are highly recommended) for wine tasting, but it's certainly not as busy as it is in September and October. The weather was in the 50-60's, which was perfect "sweater weather" for sitting outside.
How to get there?
Getting to Oregon's wine country is quite easy. We took an 11am Delta flight from Minneapolis to Portland and with the two-hour time difference we were downtown Portland by 2pm.
How to get around?
It's easy to take an Uber or Lyft to wherever you might be staying, if you spend a night or two in the city, like we did. After our night in Portland, we took a Sprinter van for our group of eight from the hotel to The Allison Inn and Spa in Willamette Valley (pronounced Wil-lam-it). Or just say "Willamette dammit" if you forget! We had this arranged in advance with The Allison. The same van took us back to the airport on our last day. The Allison has a great concierge and is quite helpful with recommendations, so definitely use them during (and before) your stay.
Where should we stay?
While in Portland, we chose The Nines, which is a Marriott property. Several members of our group were cardholders and benefited from the discount and free night stay. However, in my opinion, as non-members, it was a tad pricier than I would have liked. The room was very small and we got stuck facing the interior of the hotel. I think if we had a city view it may have been different. There are two properties I've earmarked for a future stay, the first being Hotel Lucia and the second being, the Woodlark Hotel.
Rtip: For more places to stay in and around Portland, check out our collaborative Roam Guide to Oregon written with the ladies of Camp Climb.
One thing to note about Oregon's wine country, which is very different from other popular wine country destinations on the west coast, is that places to stay are very limited. House rentals are sparse and there isn't an abundance of inn's or boutique hotels like you might expect. We initially thought we'd do a big house rental but we honestly couldn't find anything available for our time frame. We "ended up" (if you can even say that) at The Allison Inn, which was worth every penny and we would go back in a heartbeat.
Rtip: Consider staying at Youngberg Hill Winery which doubles as a luxury bed and breakfast. Or at the Atticus Boutique Hotel in nearby McMinnville, which offers 36 rooms, free bikes and a bar terrace.
What should we do?
Sip your way through the world's most envied, world-class Pinot Noir vineyards. It only takes one visit to appreciate the growing attributes of the Willamette Valley. Savor an afternoon walk through the Jory clay soils of Dundee, at Youngberg Hill. Or enjoy a lavish wine & food pairing inside a cave at one of the areas most celebrated Pinot house's, Archery Summit.
"Hopefully you like wine (or beer for that matter) because it's quite a big deal in Oregon."
There are bountiful options as the valley is overflowing with wineries. Everyone in our group did their our own research (enter Leslee at Amuseé). Then each couple selected at "must hit" winery from their wish list. We compiled a master list and then bumped it up against recommendations from The Allison Inn.
These are the places we visited over a two day period:
Day 1:
Day 2:
We tried to do a mix of very casual to up-scale, but my favorite place "hands-down" was Beaux Frères. The family vibe, old wood tables and high quality wine made this one a group favorite.
RsommSays: good winery adds to consider include, Colene Clemens, Big Table Farm, Lange, and Ponzi + Argyle.  Argyle is the ultimate place for sippin' some of the U.S.'s finest bubbles!
What should we eat?
The best lunch option outside of a winery arranged pairing, can be found at the Red Hills Marketplace. This counter-service market also has a patio and two bocce courts. Try a craft sandwich or pick up a cured meat and cheese board along with some locally roasted filberts, and make a picnic of it. Besides filberts and figs, offerings of Marionberries (the king of the blackberry) infiltrate menus across Oregon in July and August and they are delicious in pie, cobblers and salads.
"Eat lunch at the wineries and arrange at least one wine pairing dinner."
As far as diner goes, Tina's Restaurant is a wine country staple and it's as cozy as it is delicious. Inside the Allison Inn you'll find Jory, one of the most delightful and sought-after dining spots in Oregon wine country. The inn's garden, was specifically designed for the restaurant. While I found it a bit formal after a day of wine tasting, my husband loved it. We also ate at La Rambla in McMinnville and that was quite good. It's a tapas restaurant and the paella was amazing, it was also relatively inexpensive.
Where should we go for a drink?
That's a strange question in an article about wine country, but if you need a break from wine, check out the small artisan Heater Allen Brewing in McMinnville. Alternatively, how about a whiskey tasting at Branch Point Distillery? Yes Oregon makes premium whiskies too!
Rsommsays: 'If you're a wine nerd, you will LOVE the delicious sours of Wolves + People. Taste a few at their adorable century old barn."
What is one can't miss item on you itinerary?
As strange as it is, I'd say the dinner we had in Portland at The Ox (Argentine inspired); it was an excellent choice for a group who likes to share. The empanadas were a favorite and we loved indulging in a few craft cocktails ahead of two days in wine country.
What would you do differently next time?
I would have liked to have stayed an extra day at the Allison just to use the spa and enjoy the amenities. The property is so beautiful you could just just relax there after a couple of days of wine tasting. I also think it would have been nice to have had one low key night's dinner after tasting all day – a night to just be casual and binge on pizza.
What can we bring back with us?
Wine of course! Oregon produces wine on a much smaller scale than California, and you won't have a hard time finding boutique limited release bottles to covet and take home. Most wineries in the region produce under 35,000 cases per year and many less than 5,000. Filberts and figs also grow well in the Oregon soil, so if you can bring some home, do it!
Tell us something we don't know?
Oregon's wine growing region was noticed by French investors due to it is same parallel location to Burgundy France (45 degrees north latitude). It also has a gentle maritime climate which allows for more sun light and cooler temperatures. In fact, Oregon receives about one hour more sunlight than California's wine growing region. The extra sunlight helps ripen grapes even when the temps are cool. Early ripening grapes of this region include the fickle Pinot Noir and Pinot Gris. It's the cooler climate that helps keep the acidity balanced for these grapes, as well as Oregon's other white grape, Chardonnay.
What should we take with us?
I always have a vest since layering is key. Throw in a couple cute scarfs and jeans and you are good to go! If you are worried about red wine stains on your teeth throw these wipesinto your bag. They really work!