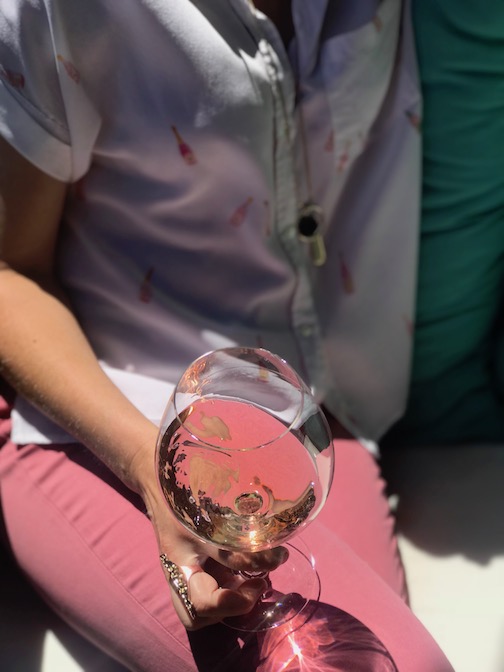 He calls me the 'Royalty of Rosé', the 'Mistress of Merlot' and 'The Princess of Pinot'.  I am, after all, his WINE DIVA and am so so happy to always be a part of his monthly wine finds.  He is the lovely + very talented host of his own daytime show, The Jason Show.  He is Jason Matheson. 
Today, we chatted about National Rosé Day, which will take place on Saturday, June 9th.  I shared a slew of delicious wines + all my favorite snacks for making your #roseallday one for the books. 
Take a look!
A list of the wines shown:
Later this week, all of these wines will be for sale on our public site at Sip Better — here!
Villa Wolf Pinot Noir Rosé ~ Germany (tasted on the segment)  — paired on the show to France 44's smoked Potato Salad
Zoë Rosé ~ Greece (tasted on the segment) — paired on the show to France 44's smoked salmon spread
Domaine de la Patience Rosé ~ France (tasted on the segment) — paired on the show to France 44's pimento cheese spread
Amestoi Txacolina Rosé ~ Spain (tasted on the segment) — paired on the show to an assortment of olives, but also pair to tapenades, cured meats, salumis + more
Borsao Rosé ~ Spain  — pair to paella
Goats du Roam Rosé ~ South Africa — pair to grilled meats
Los Bermejos Listán Negro Rosado ~ Canary Islands — pair to salty cheeses
Le Cocagne Coteaux du Vendomois Rosé ~ France  — pair to goat cheese
Huber 'Hugo' Sparkling Rosé ~  Austria
Tenuta Sant'Antonio Scaia Rosé ~ Italy  — pair to tomatoes or a fresh caprese salad
Soter Rosé ~ Oregon  — pair to salmon
St Innocent 'Soil de perdrix' Rosé ~ Oregon  — pair to tomatoes and/or salmon