Best Wines for your Thanksgiving Table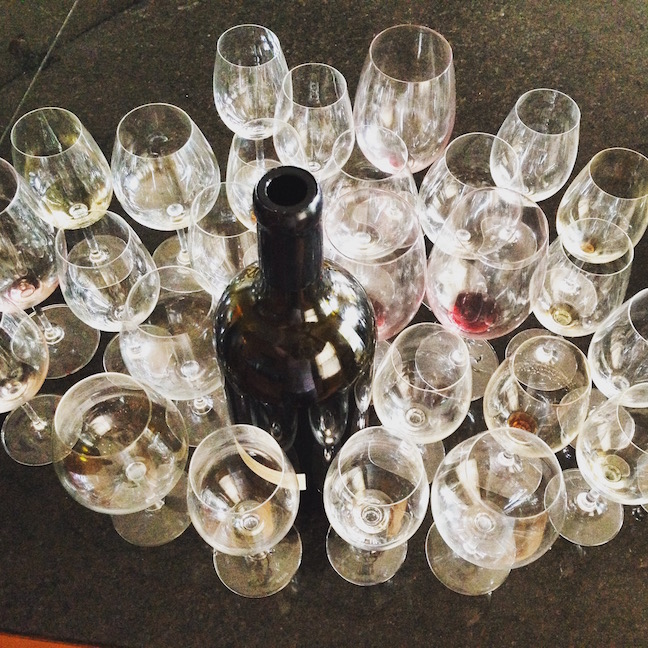 With Thanksgiving just around the corner, and after all the Thanksgiving Day classes I've been teaching within the past couple of weeks, I thought it only appropriate to share the delicious list of Turkey Day Sips that I've been chatting up! You have just one more day to run out and get all of the wines you'll need for your upcoming occasion, so take this list!
For Starters…
If you know me, you know I'm a big fan of things that FIZZ & SPARKLE when it comes to the opening sip in my household!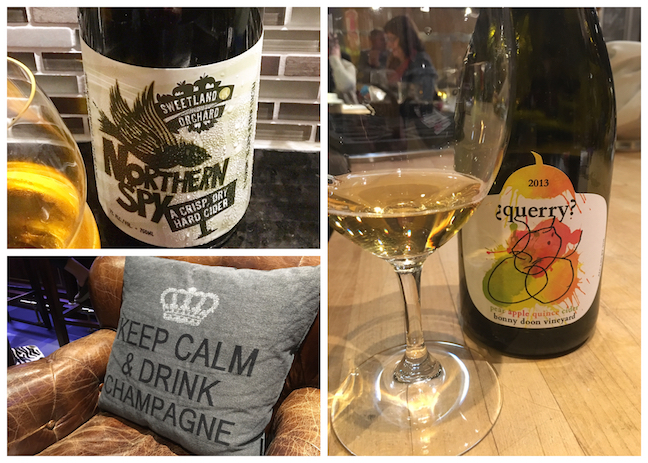 Here's what my household will be having: (Okay, Okay, so the first two aren't actually wines, BUT, I do LOVE these bubblies to pieces!) 1. Northern Spy Cider from Sweetland Orchard. A crispy, dry cider made right here in Minnesota–Webster, Minnesota to be exact. I had this cider for the first time this summer at a MN Arboretum Event, and I was instantly hooked. As you know, cider has become big business in the midwest this year. Let's support these small guys & keep the industry popping! (Can be found @ Surdyks, Mpls)
2. Randall Grahm's '¿Querry?' Apple, Quince, Pear Cider from California. I am slightly obsessed with this little gem, as I rarely go without having a bottle on hand at any given time. Bright, prickly, zesty and perfect with any opening TDay cheese board. (Find it at France 44)
3. And certainly, one sparkler you won't want to be caught without this year — CHAMPAGNE! The King of Sparkling and the home to the most coveted bubblies in the world, Champagne, always a great way to start a holiday, a party, or yep, a Tuesday night! Currently, I'm crushing on this small grower: Raphael Bérêche. (Head to Solo Vino or France 44 for some of the best Champagne selections in town.) This is one Farmer Fizz you won't have any trouble passing up!
The Whites…
This is one category deemed 'essential' for your upcoming Thanksgiving Day Holiday. While most will pick up 1-2 grapes (Chardonnay or Sauvignon Blanc) for the upcoming holiday, I'm gonna ask that you step slightly outside of your box and sip something a bit more 'pairable' for all those delicious sides and crispy turkey skins on your table this year.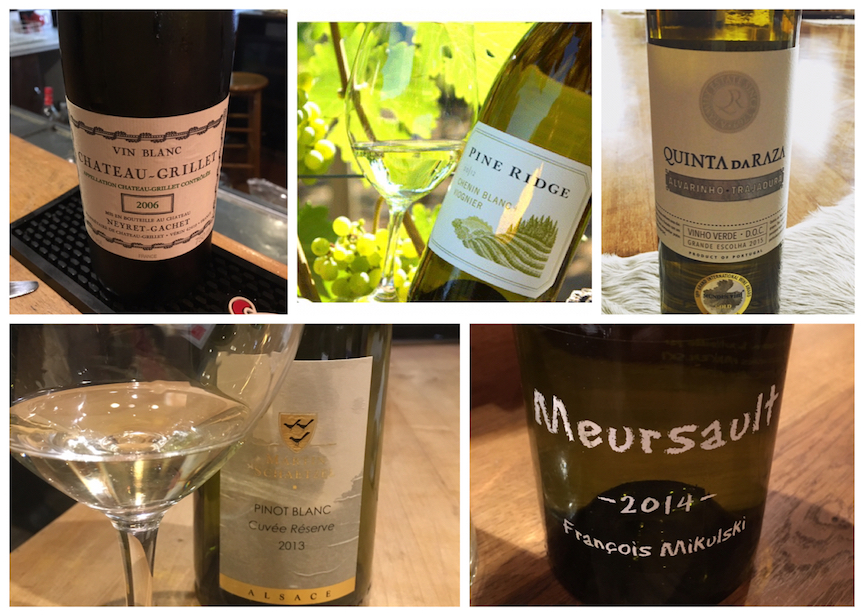 1. If you've come to any of my classes, then you've heard me say that the grape Viognier is THE most pairable grape when it comes to all things FALL. From root veggies like yams, potatoes, beets and carrots to those oozy gooey sides this Thanksgiving (green bean casserole, that sweet potato thingy casserole topped with marshmallows) to a pan roasted turkey, THIS is your grape. Want to go big? Select a Viognier from the French Rhone Regions of: Chateau Grillet (yep, a region and a winery name!) or Condrieu. These two may cost you a bit more ($50+), but will make you very very happy when pairing to just about everything on Thursday. (A more affordable new world version? I'm always a sucker for Pine Ridge Winery's Chenin Blanc/Viognier blend for just under $15, if you're serving a whole gaggle of peeps.)
2. Go Portuguese! My new favorite find this year is the Quinta da Raza Winery portfolio. Try their Alvarinho/Trajadura blend for a slightly crispy, pear forward, juicy apple kick. For just under $20, I'm lovin' this white! Great with ALL the same sides.
3. Why not Pinot Blanc? Another medium bodied gem. Recently I became hooked on Martin Schaetzel's Alsatian version. Bits of white flowers, honey and baked apple. Yep, good all the way through your dessert course.
4. Ahhh come on, you knew I was gonna throw in Chardonnay — didn't ya? But, not your new world 'go to' version. Try this rounder, more fuller old world region: Meursault, from Burgundy, France. Rich, ripe, round and perfect with all those crispy oven bake turkey skin pieces you'll nibble on from start to finish. While I love François Mikulski's version, not sure it's avail yet in the midwest via distribution. Ask your favorite retailer for one they'd recommend!
Riesling…the MUST HAVE grape for Thanksgiving!
Okay, I said it. And, if you asked any other wine professional out there, they'd say the same thing, RIESLING! Why? Because she's still the world's most perfectly balanced grape when grown and made in the right regions. From dry to sweet, this darling is not only every sommelier's best friend for a variety of pairings, but still one of the world's most ethereal grapes. Not only can she be light, bright and citric with fresh notes of honey crisp and green apple, but also soft, floral and honeycomb'd with fall-like aromas and flavors that will pair from everything to your opening cheese board to your main course.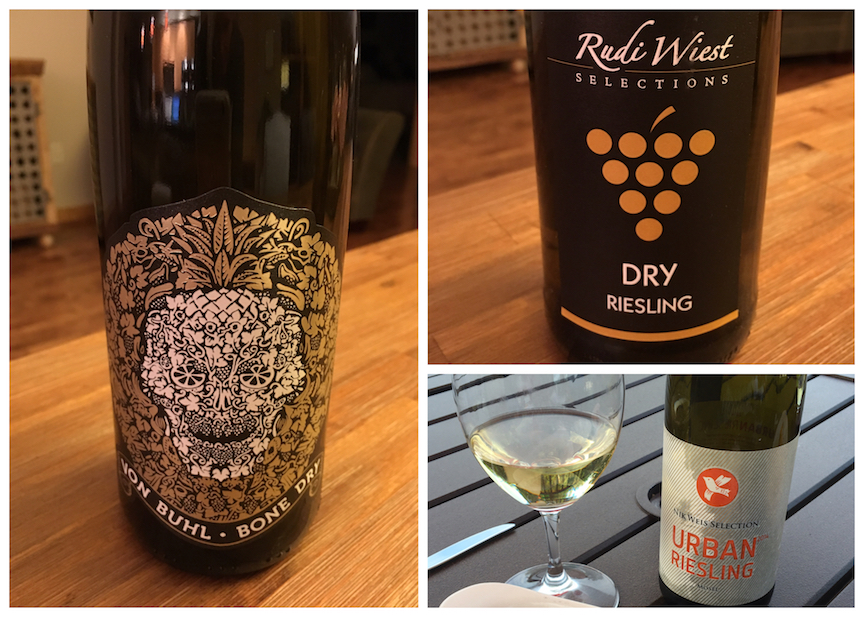 Here are my Riesling picks: 1. Von Buhl's 'Bone Dry' Riesling from Pfalz, Germany. Without a drop of residual sugar left behind, this inexpensive AND delicious green apple, prickly pear'd beauty will have you at first sip! Pair to your first courses.
2. Rudi Wiest's 'Dry' Riesling from Rheinhessen, Germany. With just a titch more spice, honey and gingerbread goodness, the weight of this Riesling will pair a bit better with some of your main course dinner options.
3. Lastly, anything that St. Urbans-Hof Winery produces, I pick up! Looking for something with a bit more sweetness? Try their entry level 'Urban' Riesling. A bit sweeter, produced in an off-dry style, but certainly one for that extra helping of creamed cheese mashed potatoes or pumpkin pie and whipped cream!
The Reds…
Pinot, Pinot, Pinot! Did I say Pinot? Pinot Noir is probably one of the most essential grapes for Thanksgiving. From smoked, to grilled to oven roasted to deep fried — Pinot Noir is never a bad choice for turkey. As a true PinotPhile myself, I'm just gonna point you to my PINOTPHILE Pinterest Board for a whole grouping of delicious Pinot Noirs to choose from. Although, I'm going to add two more just because I currently can't stop drinking them. The first, Adelsheim's new 'Breaking Ground' Chehalem Mountains Pinot Noir. It's a newby for their portfolio and man oh man, it's a gem!
I had the pleasure of drinking this beaut with winemaker, David Adelsheim, himself at the wine dinner I held with him last week at Create Catering. Soft red fruit float from the glass while notes of black tea remind you of the wine's structure and finesse. Yum!
Second, get ready! Because when I turn you on to this Pinot Noir, you're gonna be hooked. Melville's Santa Rita Hills, California Pinot Noir — Notes of cranberry, mandarin citrus and bright strawberry/raspberry fruit for days! A Pinot Noir so alluring that it brightens every aspect of your palate. Winner, winner — turkey dinner!
And while we're in mood for reds, let's talk about one other grape that should sit front and center this Thanksgiving, Gamay! Love Pinot Noir but looking to try on another light bodied red grape? Try Gamay. You may have had it once or twice before if you've been talked into Beaujolais Nouveau. But just for the sake of this conversation, let's start over. While yes, the grape originates in Beaujolais, France, it is grown in other parts of the globe. Some of my favorites live in northern Italy, the Loire Valley of France, Beaujolais and the central coast of California. So don't let Beaujolais Nouveau steer you into thinking ALL Gamays are built the same. Remember, Beaujolais Nouveau is the 'the drink now' scenario, meant to be consumed (ahhhh, in the car on the way home). Just kidding. But no really, pick up a Beaujolais-Village or a Cru designated Gamay from the region and I'm sure you'll be singing a new Gamay tune! Here's a good guide for buying Beaujolais from our friend, The Wine Folly!
In the meantime, try on 'Le TelQuel' from Loire, France producer, Pierre Bonhomme. And, Andrew Jones's 'Field Recordings' Gamay (blue bottle) from the Central Coast of California for a juicier version of the grape.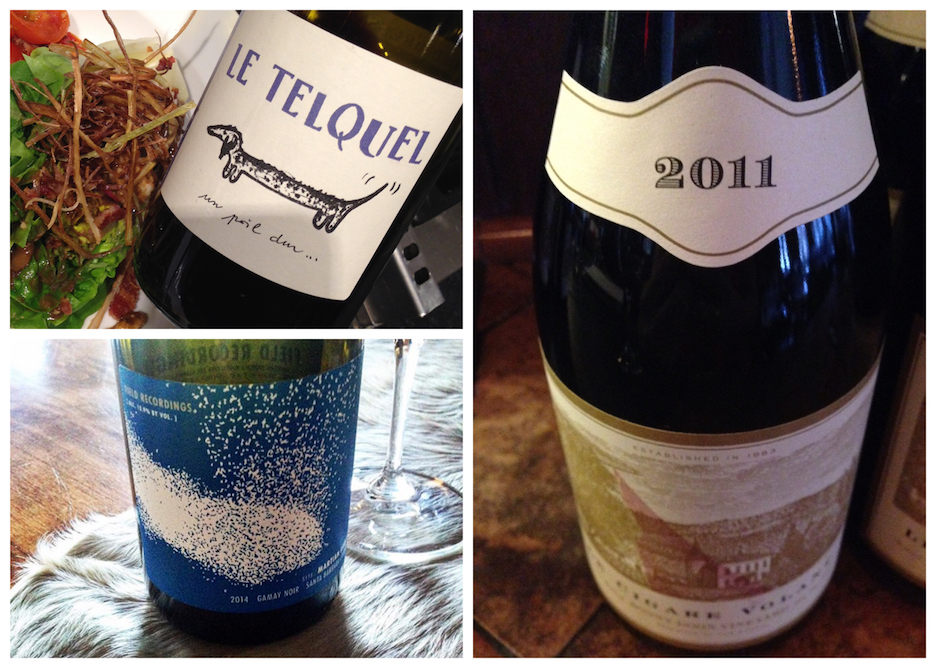 Ready for the last two wines/grapes that should be on your list if you're smoking, grilling or deep frying that bird? One, Bonny Doon's flagship wine: Le Cigare Volant (pictured above). A blend of 37% Mourvèdre, 34% Grenache, 20% Syrah & 9% Cinsault — also from the Central Coast of California, is the perfect fit for those birds smokey, with a rich thick crusty skin.
One more: don't forget MERLOT! Anything with a heavy hand of sage — inclusive of your bird, stuffing and more — Merlot is the stand up grape for pairing. Personally, I'm more of an old world style drinker when it comes to Merlot, but you can always head to the state of Washington for a few juicy versions. Wanna hang old world? Check out right bank Bordeaux regions like: Lalande-de-Pomerol (just north of Pomerol, Merlot 1/4 the price of its sister region) and Saint-Émilion for those red fruited, mineral driven styles.
Don't forget the SWEETS…
Okay, here we are! Pumpkin pie, apple pie, pecan pie and well, in my family, mincemeat pie & Norwegian lefse. What to drink? First things first, let's go back to that Thanksgiving rule of thumb: Must have Riesling! Select a sweeter style, even an Eiswein to accompany these sweets.
Or,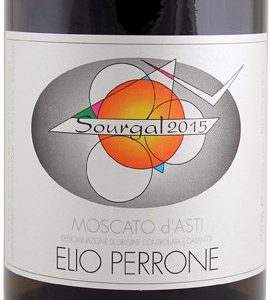 dip into a sweet Moscatel from the Sherry region of Spain, a sweeter style of Madeira (Malmsey), a Muscat de Beaumes-de-Venise (amazing with pumpkin pie) from the Rhone Valley of France or just a really good Moscato from northern Italy to pair to the whole table. Check out Elio Perrone's 'Sourgal' from Piedmont. It happens to be one of the most delicious, well-made Moscatos in the world. A wine so perfectly balanced with light airy notes of ripe peach, honeysuckle & citrus, and just the right amount of acidity to keep the wine fresh & alluring sip after sip. A perfect accoutrement to any Thanksgiving sweet!
There you have it, a complete list of wines from course to course — all ready for your Thanksgiving Day Feast! Enjoy every bit of your holiday, folks. Enjoy the food, the wines, your pairings and most of all, enjoy one another. After all, this is the season of gratitude. Take time, love, appreciate and share.
From our family to yours, clink clink!