How to Pair Wine with Summer Cookout Foods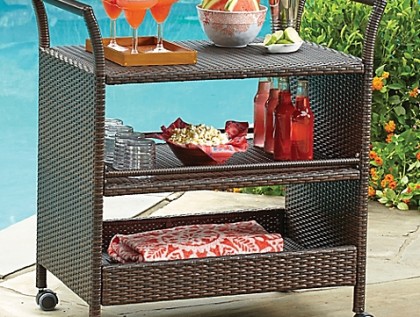 In my most recent interview for Bed, Bath & Beyond with writer Leigh K, I share all of my favorite tips for how one might go about pairing wine to all things 'Summer Cookout Foods'.  Want the secrets to success for your next backyard outing?  
Check it out!
How to Pair Wine with Summer Cookout Foods
---
Beer often plays nicely with nearly anything that comes off the grill. Wine, on the other hand, always seemed a bit more complicated to serve at a summer cookout. However, after talking to certified sommelier, Leslee Miller, owner of the wine consulting firm, Amusée, I'm having second thoughts. And you might, too! Her tips make it easy to match vino and grill fare, like a pro.
Burgers
Choosing a wine to pair with a beefy, fresh-off-the-grill burger will depend largely on its condiments, Miller says. For a traditionally styled burger, she favors a medium-bodied red, such as a malbec or a barbera. "But if you're adding decadent toppings like barbecue sauce, bacon, or fried onion rings, I would go with something richer and heavier, like a zinfandel or a petite sirah," she notes. "And for an ahi tuna or turkey burger, consider a lighter-style red, such as a gamay, zweigelt, or pinot noir."
Brats (and Hot Dogs)
Basically, you can't go wrong with a malbec, Miller says, playfully dubbing it the "hot dog grape." As a matter of preference, she opts for a lighter malbec, such as one from France or South America, for chicken dogs and "naked" brats without smothered condiments.
Fish
The key here is to avoid tannins, which come from the thicker red grape skins of heavier wines. But because fish that's been grilled has smoky, charred notes, you shouldn't feel confined to whites. In fact, Miller again recommends medium-bodied reds such as gamay, zweigelt, or pinot noir. As for whites, she advocates for a chardonnay, especially for entrées featuring a white, flaky fish flavored with citrusy zest. "Make sure the chardonnay has seen some barrel time," she says. "You want one that has both heft and toasty flavors."
Chicken
The way you grill chicken will ultimately dictate the wine you serve. Mediterranean flavors complement a pinot blanc; it has "round richness without being as full-bodied as chardonnay," Miller says. This versatile, "medium-plus weighted" grape can even pair with a grilled chicken sandwich topped with pepper jack cheese.
She adds, "For a dish that includes herbal notes—such as grilled chicken with pesto—I'd head straight for a rosé. In fact, rosé with grilled chicken and tomatoes is a knockout pairing." And when it comes to choosing rosé, which can come from any red grape skin, Miller says to look toward Germany and Austria, two countries that know how to rock their rosés.
Steak
Most people assume that red meat demands a big red.  In actuality, the richness of a wine should parallel the fat content of the meat. And fat loves tannins. "A leaner filet could go well with a lighter-bodied pinot noir," Miller says. "For a T-bone or ribeye, you could easily head into cabernet." As a cab alternative, Miller suggests tannat. Originally grown in France, it's now grown extensively in Uruguay. Cabernet-lovers may be pleasantly surprised.
Barbecue
Miller's choice grape for all things barbecue—especially ribs—is zinfandel. "It's such a sappy, over-the-top grape with body, pepper, and smoke," she says. Not into zin? "An Australian or South American shiraz could work, too."
Vegetables
Reach for a sangiovese. This Italian wine pairs particularly well with earthier veggies, such as tomatoes, zucchini, and squash. Miller's match made in heaven: sangiovese served with mushrooms and shaved pecorino cheese.
Anything
Want just one type of wine for your backyard bash? Miller says to go with rosé. Since this wine is made from a range of grapes, you could choose two or three different countries, and let guests sample each. Choose pinot noir rosé to narrow down choices even further. It will complement anything from chicken to red meat (although it can get smacked down by heavier foods).
3 Ways to Serve Like a Pro
Keep wine away from direct sunlight by placing it in an ice bucket beneath a table or on the lower shelf of a wine cart.
Place reds on top of the ice to maintain an ideal temperature, according to Miller. You only fully submerge whites and rosés.
Pick up shatter-proof wine glasses, so you won't cringe if they drop.