An Exploration of some of the Twin Cities Tastiest Eats & Sips

From the always lovely, absolutely talented and truly one of the most passionate chics in the wine biz, another fantastic blog by our superstar Amusée blog contributor: Ms. Karina Roe.   So what are your plans for the weekend?  (I think you'll have an idea after reading these juicy tips!)
Change Is A'Comin': Thoughts on history, social shifts, and where you should plan to go this weekend
There's a slow, steady change happening here in Minneapolis/St. Paul—and for once, I'm not talking about the weather.
The shift I'm talking about has come by way of seemingly small developments; but as any major event in history can attest, it's the small developments that pave the way for the big ones, whether we realize it happening or not.
Today in our fair state of Minnesota, arguments can be (and have been) made for and against various issues focused around alcohol, and most of these issues find their roots way back in the Prohibition Era: when you can serve it in restaurants, if you need to order food with your drink, what days of the week and time of day you can buy it, and where you can buy it—just to name a few. But all arguments about rules and laws aside, one thing is certain: there's a new movement happening here in the twenty-teens, and it's all about education and opening consumers' eyes to the notion that alcoholic beverage production and preparation can be a craft—not something to simply make you forget about life for a while.
This movement starts with the little guys. Small businesses, family-owned and run wineries and vineyards, new start-up breweries, and quaint neighborhood wine bars are paving the path for a new, balanced, approachable, and downright fun way of thinking about alcohol. They're teaching us that wine, beer and spirits are more than "just" alcohol; they can be cerebral and academic, they can transform your food experience, they can help you support the small business movement that has so much traction here already, and of course, they can (and should be) absolutely delicious.
So how we find these little guys who are championing a new generation of wine (and beer and spirits) drinkers? Luckily, you don't have to look too far to stumble upon several gems. They're in your neighborhood. They're in the trendy districts of Eat Street and Uptown. They're walkable. And the people who work at these places want nothing more than to share their passion with you.
Troubadour Wine Bar – 28th and Hennepin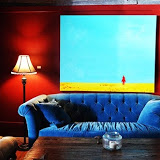 This hipster wine bar in Uptown prides itself on taking wine down from its lofty pedestal and offering it with open hands to the lowly masses. It's okay if you've never had a glass of wine in your life, and it's okay if you're a Master Sommelier starving for a touch of reality—Troubadour will have something for you. It takes away all pretenses and makes you feel like you have an equal footing within the wine world, even though you might not be familiar with 90% of the wine list, which then becomes the fun of it all. You could use the old "close your eyes and point" method on the ever-changing wine list and be completely satisfied with whatever comes in your glass. Aptly named, this place has a rotation of its own group of troubadours, ready to serenade you with jazz, acoustic rock, spoken word, soul or R&B every single night of the week. If live music and good wine aren't enough to entice you to check out the comfy couches and low lighting of Troubadour, you're probably better off sitting at home like you always do, watching Netflix with a Bud Light.

GYST Fermentation Bar – E 26th and 1st Ave S
"I'll take a glass of the Oloroso, please."
"That's actually the one wine we're out of."
"Oh, okay… I'll take a half glass of the Cortese and a Sandor sandwich."
"That's actually the one sandwich we're out of. I think I might have half of one left in the back…"
"I'LL TAKE IT."
That's okay. That means business is good, right? If you're savvy enough to get there before they start running out of stuff, this is the place you come to if you want a food and wine experience. For example, my Sandor was an amalgamation of flavors I would never think to put together: a slab of bread with a swath of peanut butter, loaded up with crunchy, slightly spicy kimchi (Minnesota-safe spice level, no worries), half peanuts, green onions, and beautiful fresh ginger. It at once makes you feel daring, healthy, indulgent, and supremely satisfied.
Troubadour has 40+ wines by the glass and excels in their diversity. GYST has 14 wines by the glass, and excels in their attention to detail. Troubadour exists for their comfort within the quirkiness, and the freedom to choose whatever fits your mood. GYST exists to educate you—to feed and water you with things you didn't think were possible. Georgian wine. Kimchi and peanut butter. Chocolate salami. Both places push you to think, and to give a damn about what you're putting into your body. Trust these guys. They're professionals. Your taste buds are in good hands.
Other Places To Explore…
St. Genevieve – 50th and Bryant 

Steven Brown of Tilia has created a neighborhood Champagne haven. I'll bet you didn't know you needed a Champagne haven, but you do. St. Genevieve will scratch your "Fancy" itch, and will do it for whatever budget you're on. Half pours of Grand Cru Champagne? You had me at "hello."
Volstead Speakeasy – ???

This no-address, no-phone-number, underground, super-secret Prohibition-era lounge runs on intrigue and exclusivity. If you have out-of-town guests who like to be impressed are up for an adventure, ask around for directions to the Volstead Speakeasy in LynLake. If you try to Google it, be careful you don't end up going to the same-named Volstead's in Eagan. Some say it's brilliant, some say it's kitschy, but it's worth a jaunt to make up your own mind about it. Recommendations from the professionals include "The Derby" and the "Have A Heart."
MilkJam Creamery – 28th and Lyndale  

After you've had your happy hour fill of guac and Surly at World Street Kitchen, walk through the adjoining door to MilkJam to satisfy your sweet tooth. Of particular interest to the wine/spirits aficionado: "Poppin' Bottles" champagne sorbet with sprinkles and "Black Fig & Mezcal." The champagne sorbet is serious, so don't forget to bring your ID!
All of these fine establishments have created their own niche and have a very unique character, but they all seem to share one thing in common that resonates with many patrons today: they present a different option for "going out" other than committing to a 4-course sit-down dinner that could set you back a couple hundred bucks. They are of a different and more casual experience, built around floating from one charming point in the city to another, instead of committing yourself to the same chair pulled up to the same linen-clothed table for three hours. It represents a major shift in the "fine dining experience," whether you view that as good, bad, or otherwise.
So now, you have no excuse not to branch out and try something new—whether it's opening up your taste buds to new food/libation experiences, or allowing yourself to think outside the box, or simply exploring your neighborhood and supporting the small business movement. The aforementioned setups are only a few of the tide of new and exciting places opening up around the Twin Cities. Change is a'comin', and on so many levels. Embrace it, join in, and love it!
Thanks to our friends @ MSP Magazine, Heavy Table & The Star Tribune for these awesome photos, too!