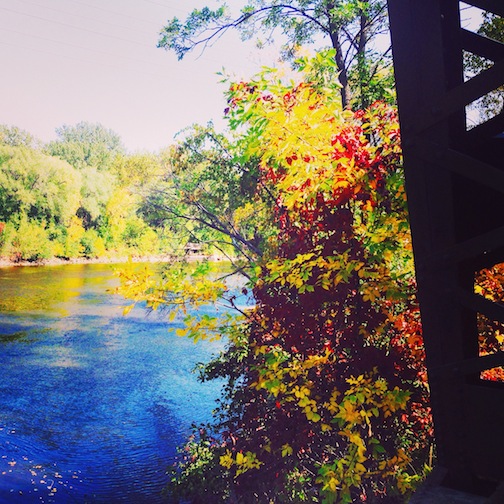 These yummy days of fall tickle my senses with the fresh aromas of baking spices, freshly picked apples and warm honey!  With that said, I thought I'd pull out this recipe that my lovely (and fabulously talented) friend, Stephanie Meyer of Fresh Tart posted for Minnesota Monthly a while back using my Autumn Sangria Recipe blended with a delicious spirit twist by our mixologist friend, Molly McNeil.  
FreshTartSteph Recipe: Autumn Sangria
BY STEPHANIE MEYER
You might think of sangria as a summer drink—which it is—but this autumn version just might be the best I've ever had. The pretty jug in the photo was stirred together by my friend Molly McNeil, a cocktail minxtress if ever I've met one, based on a version by the talented Leslee Miller of Amusée. I tell you, the number of ladies out there with interesting, adventurous palates is just endless!
Thank goodness.
As I've likely mentioned before, I'm not big on sweets, so I appreciate a sangria with balance. This version hits all the right notes as far as I'm concerned—fruity with apples and lemons, with hints of rosemary, cloves, and Benedictine to keep things interesting. Molly served this at a recent party at her Uncle Dave's Minnesota Peach Farm, to a group of cooks/chefs/food writers, and it was drained…fast.
Autumn Sangria
Spirit addition By Molly McNeil based on Sangria recipe by Leslee Miller/Amusée
Serves 20
Begin a few hours before you plan to serve the sangria.
1 cup Brandy
1/4 cup Benedictine (or B&B)
1/4 cup Grand Marnier (sweet/syrupy)*
6 bottles of a supple-y white with a fresh array of aromatics perfect for the apple/honey element — Chenin Blanc or Viognier work well here!  Pine Ridge Chenin Blanc/Viognier is a perfect fit AND won't break the bank!  Even a delicious WA Riesling like Charles Smith 'Kung Fu Girl' Riesling to freshen up the elements of the honey!
5 medium Honeycrisp apples, cut into large circular slices (coring optional)
2 large lemons, thinly sliced
2 tsp whole cloves
3-4 Tbsp wildflower honey
a few sprigs of rosemary
Mix brandy, B&B, and Grand Marnier with the honey in something with a lid (perhaps a large mason jar) and shake it up to help disolve the honey. Pour mixture into what you plan to serve the sangria from and add half of the lemon slices and half the cloves. Let this stand for at least a couple of hours.
When ready to serve, add sliced apples, remaining lemon slices and cloves, all the cava (or other wine), and a few rosemary sprigs.
*Both B&B and Grand Marnier are optional. You could also punch up the lemon with limoncello instead of Grand Marnier.
**For a less-boozy version, sub sparkling water for some of the wine.