Black n Blue Sangria Recipe!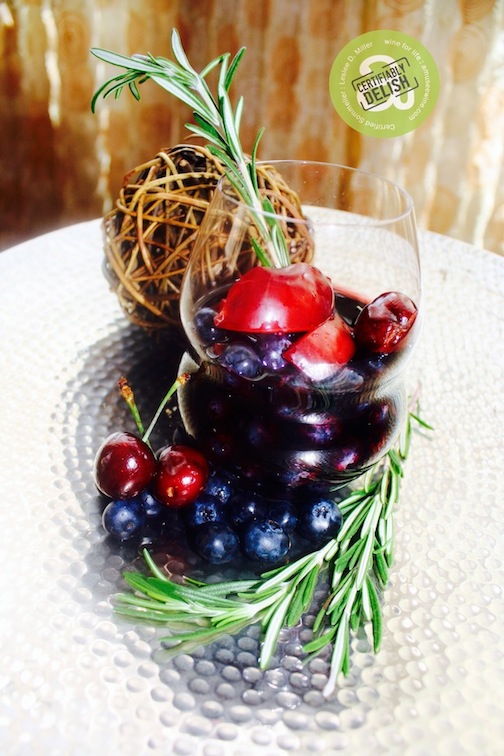 Need a Sangria recipe for sipping on those nights where you're grilling in the backyard?  When notes of peppery smoke, spice and warm roasty aromas fill the air – we're reaching for a smoky red wine to satiate our palates!
We have just the perfect answer…
Our Black n Blue Sangria!
The wine you should start with:  A smoky red wine like a South African Cabernet or Shiraz.

Our base wine for this recipe:  The Ernie Els 'Big Easy Red'.  A deliciously smoky combo of Cabernet, Shiraz, Grenache, Cinsault, & Mourvédre that give way to notes of charred meat, game, christmas spice, blackberry, raspberry, tobacco and fresh herb.  A chewy red that pairs perfectly to most anything in the red meat zone on the grill!
How we made it into the perfect Sangria for grill foods…
Add these ingredients to pick up the fruit elements in the wine:
blackberries
raspberries
black cherries (whole and some cut up)
red grapes
blueberries
strawberries (some whole and some cut up)
plums
Add these ingredients to pick up the earthy, spice notes of the wine:
These will absolutely add interest to your sangria!
star anise (just 4-5 whole per 2 bts of wine)
black peppercorns
fresh rosemary (approx 4 stalks to 2bts of wine)
For sweetening and to add a little zip to the overall flavor of your sangria, we like to add:
brandy (we use Korbel – use 2 cup per 2bts of wine)
cointreau or Grand Marnier (use 1 cup to 1bt of wine)
blackberry or cherry simple syrup (use to your level of sweetness – generally 1 cup to 2bts of wine)
add a dash of prepared cherry bitters for another layer of earthy texture
How to make a Simple Syrup ~ In a small saucepan, bring equal parts sugar and water to a boil; simmer until the sugar is dissolved, 3 minutes. When everything has dissolved, I add whatever fruit, herb, spice I'm wanting to infuse my syrup with and let all ingredients steep together until you've reached your desired flavor level of that added ingredient.  Remove from the heat and let cool completely.  Once cooled, strain.  The syrup can be refrigerated in a glass jar for up to 1 month.
Let your Black n Blue Sangria sit for at least 24 hours before serving & voilá, The Perfect Summer Sipper!  
(Serve in a clear jar with a couple of sprigs of rosemary poking out for visual interest)