Los Caballeros del Priorato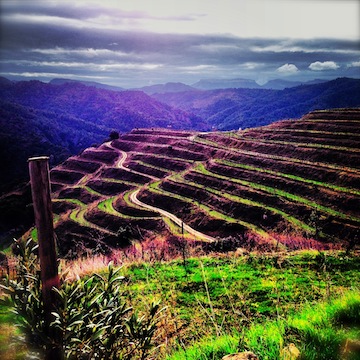 Day 4:  We discover the 'Wild West' of Spanish Winemaking!
We leave our cute little Cava village of Sant Sadurní d'Anoia early morning, and head off for the town of Gratallops.  Smack dab in the famous winemaking region of Priorato and its grapes Garnacha & Cariñena (most commonly known as Carignan in FR or/and Mazuelo in SP).
The drive, just 1 hour and 45 minutes takes us up and amongst the mountainous region of this gorgeous diverse landscape.  Windy, with a zillion ups and downs and narrow-like 'roads', the region is filled with a number of blooming almond and olive trees and wildly planted grapevines.  With just a GPS (which rarely understands Spanish 'backroads') in hand and an address, our journey is set for our only appointment of the day, a tour and tasting with one of the region's most coveted winemaking sons, René Barbier Jr. (the fourth) of Clos Mogador Winery.  René's father, René Barbier Sr., is credited to much of the development of Priorat (along with pal, Álvaro Palacios).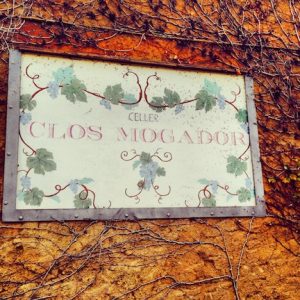 Today, René Jr., along with his 20yr old brother Christian, are in charge of winemaking and vineyard operations to the family winery, started by his father in the late 1980s, Clos Mogador.
The visit starts with a wild trip into the vineyard property of the family.  Land first purchased by René Jr's father in the late 1970s.  Now, with 22 hectares and a 25 yr old vineyard space, René Jr continues the legend and philosophies that his father set out to accomplish.
We twist and turn up the gorgeous landscape of the family's finca, narrowly escaping the edges of the vineyard space that look as if you'd tumble at least 30 times before reaching the valley floor.  Perched amongst the wheat that René has planted in between rows and the number of olive and almond trees in full bloom, he explains his theory regarding 'organic' practice.  Farming under the idea of 'vine to bottle', René points out the number of additional almond and olive trees he's
planted to defend his vineyard from bugs, as they wander to the sweet vegetables and nuts of the producing trees.  With a team of just 10pp and up to 15pp during harvest, René points out the spot where he houses the winery's mule, of which helps him til his entire property.
I say to him at one point 'It looks like you've created a little ecosystem up here for yourself.'  He answers back, 'Well yes!…Look at my space (wild with mule tilled rows and trees as vigorous as the vines he's tended), it's so much better than my neighbor's.'  In turn, I throw out the 'biodynamic' question, just dying to hear what he'd say.  He explained that they're dabbling in the culture, but certainly are very interested in using the philosophy more considering that he's already organic, experimenting with more.
When we pass by a space to look at a newly 'planted over' row, he explains that he's now grafted most of his Cabernet, which was once a large part of the house blend until the later 1990s, over with Garnacha.  While he's not shy about professing his love for his favorite red grape, Cariñena, he explains the need for the juicy complexity of Garnacha and the texture it adds to his blends.  So, he grafts to add more of the grape to his vineyard space.
Once upon the return back to the winery, we walk deep into the cellar barrel tasting his whites, reds and beyond.  All quite dreamy from any wine geek's palate, many of the whites at this point are ready to be bottled within the next few weeks, and the reds to lay at rest for more time.  He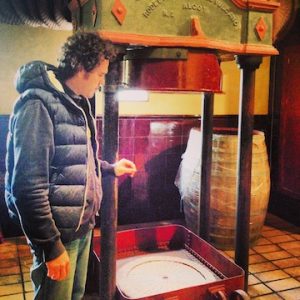 explains the amount of time and work it takes to hand press everything out with a press that is much older than René himself.
René's an interesting cat to follow around, to say the least.  His passion and his connectivity to his craft are beyond any amount of words that I can use to describe him.  We talk prices of wines across the globe from Burgundy, Bordeaux, Rhone, the US and finally back to the prices (not inexpensive) of his own.  With a total production reaching only 4200cs yearly, he explains that while his wines are not cheap, yet that they are more than fair for the amount of time and energy that go into making them.  He proclaims that he'd rather make wines for people to be able to have them at some point than not at all, like some of the other culty Frenchies we speak of in the conversation (Bordeaux & Burgundy).
We end our visit with a full tasting in a little 'tasting room' of sorts located just over the winemaking facility.  From the Venus red (a blend of Cariñena, Garnacha & Syrah), which is a project he and his wife Sara Pérez (daughter of Josep Lluís Pérez who is one of the four producers brought into the fold of original Priorat producers, by René's father and who owns Mas Martinet), we taste through the line up of delicious reds produced by the winery (Manyetes & famed Clos Mogador red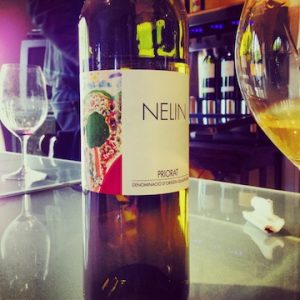 which is always a blend of Cariñena, Garnacha, Syrah and Cabernet) to the Nelin – a fabulous white wine concocted of 8 different white grapes, loaded with sweet kisses of sweet muskmelon and honeydew fruit to the textured flavors of minerality beneath the fruit.
The conversation meanders from wine to life, from life back to wine as we taste through the wines. Finally I say, 'You sound like a busy guy.'  He replies, 'You have no idea.'
Between the four children he has with wife Sara, the two family wineries they tend to, oh and then their own (that produces the Nelin) – René looks as though he's already had a full day, and it's only noon.
None the less, he is pleasant, full of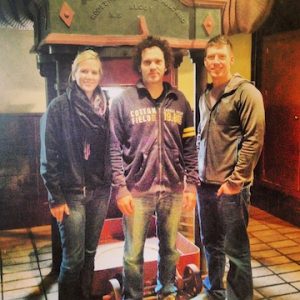 information and a very gracious, gracious host.  It is clear his passion runs deep for what he does and will stop at nothing to uphold the family history by which his father founded the winery.
When it comes time to leave the winery, René points us to the teeny tiny town of Porrera, just 20min down the long and twisty road amongst the vineyards.  He explains that the wines of Priorat are always best when consumed with the local fare, and one of his favorites, conejo (rabbit).  He points us to the restaurant La Cooperativa, which ends up being probably my favorite so far this part of the trip.  A cute, quaint and exceptionally friendly little restaurant, tucked up into the streets of the town, welcomes us with open arms offering all of their favorite plates for lunch.  From an artichoke custard topped with gorgonzola cream, pan seared conejo to the local almond custard dessert, the food here is one for the books.  An outstanding recommendation, and of course, only best if consumed with the wines of Priorat, René was right.  

In the end, Priorat was a fabulous little jaunt and well worth the time.  A highly recommended area to peruse…if you can find it.  It's sort of like where the 'Wild' met 'Wine'.  With an area of no more than 300pp and over 25 wineries in just a small distance, I can't help but think…are these the REAL WINEMAKING CABALLEROS OF SPAIN?  Guess we'll find out as our journey continues.