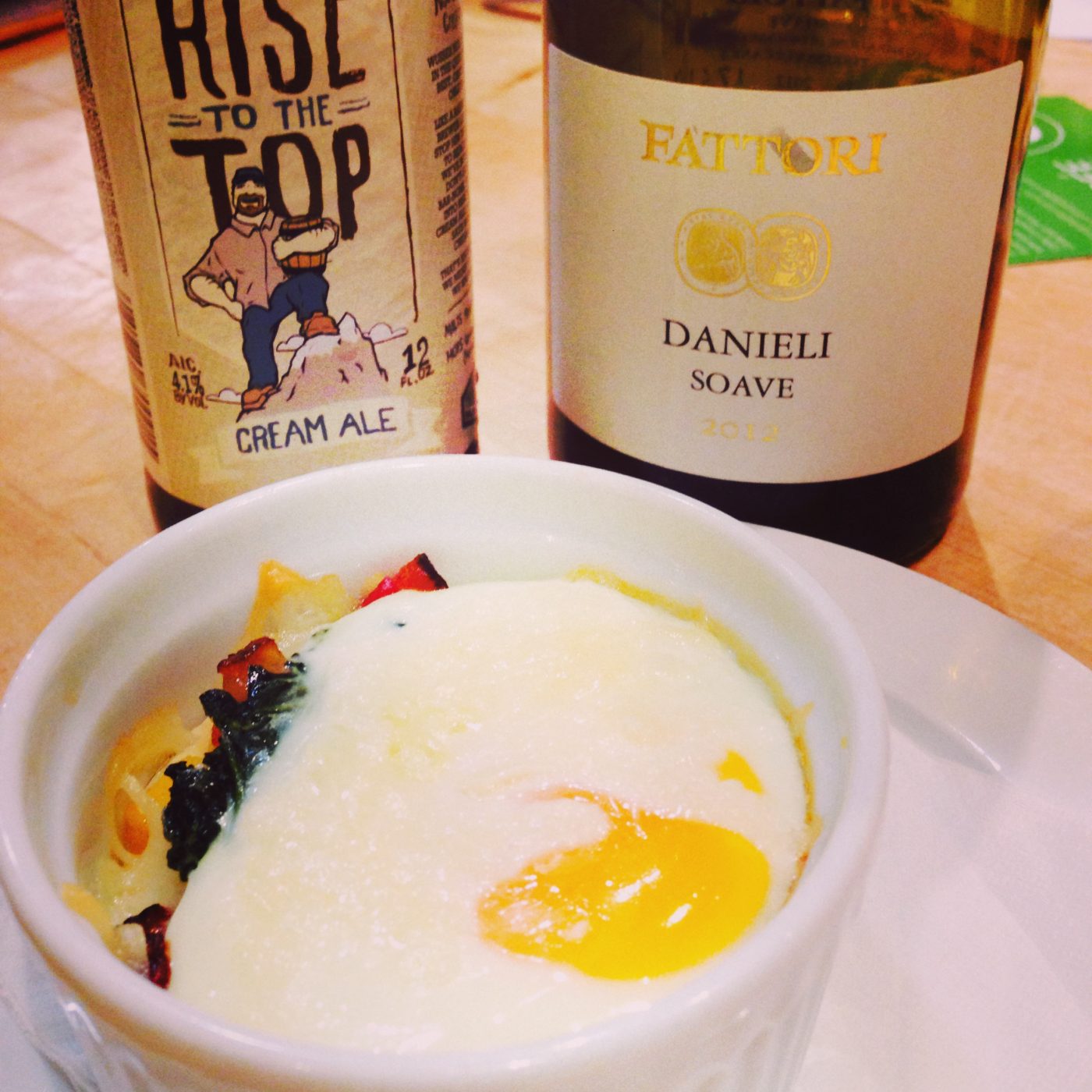 #VittlesandVino is here, peeps!  Friday is our day to load you up with a delicious (and easy) recipe for the weekend, along with a delicious new wine to pair to the piece.
This week's recipe comes after a class I put on last week at Cooks of Crocus Hill with my two Food/Libation Besties, Cooks of Crocus Hill Chef Mike Shannon and Cicerone Michael Agnew of A Perfect Pint.  The class name:  'He said, She said:  Pairing Impossible'
The class came about after a fun conversation Michael and I had regarding those old school textbook rules that used to apply to wine pairings, particularly to foods/ingredients that folks would say you could never pair to.  Funny part about it…if you know Michael and I, or you've ever been to one of our classes, you'd know that we don't generally follow the older textbook mantras, nor subscribe to those who say 'you shouldn't' and 'you would never' when it comes to libation and food pairings.
Our first rule of thumb, eat and drink what you like!  If you like Funyuns paired to Sauvignon Blanc, then so be it.  And really, there isn't much anymore that I wouldn't, personally, pair wine to.  (My God, if we're pairing wine and beer to yoga, what's left?)  Once thing to keep in mind, ALWAYS consider first, the cooking technique and the sauces used in a dish first before relying heavily on pairing to the color of your protein.  (Follow more from our PAIRINGS blog posts for more tips on this.)
The menu to Friday night's class consisted of the usual 'no-no' suspects:  eggs, asparagus, vinegars, super spicy and beyond.  All became 'Pairing POSSIBLE' as Michael and I moved through each course, pairing a variety of beer styles and wine varietals to the menu.  Yet, the favorite of the night…the egg course.  After tweeting, instagram-ing and posting our pics live from the night, I had a number of peeps asking for Chef Mikey's Egg Dish recipe, complete with notes for the pairings.  So by popular request, here you have it!
A recipe, super easy for your Sunday Brunch crowd complete with Beer and Wine Pairings…Bon Apetit!
Individual Egg Bake
Recipe compliments of Chef Mike Shannon (Adapted from Back in the Day Bakery Cookbook)
Makes 8
2 tablespoons of pure olive oil
1 Clove of garlic, minced
1 large bunch of Kale, rinsed, stemmed and chopped
1 tablespoon fresh thyme, minced
 2 cups of cooked polenta (see recipe below)
4 slices of bacon, sliced into strips and cooked crisp
6 ounces Gruyere, grated
8 large eggs
Salt and fresh ground pepper
Preheat oven to 375° F. Butter the inside of 8 six-ounce ramekins and place on a baking sheet. Prepare Polenta per below recipe.
Preheat a large sauté pan over medium high heat, coat with oil, add garlic and sauté until fragrant.  Add greens and sauté until wilted and tender, 7 to 9 minutes. Season with salt and pepper to taste and top with thyme. Reserve.
Divide polenta and bacon among the ramekins and layer the chard and 2/3's of cheese on top. Make a slight depression in the center and carefully crack an egg into egg ramekin. Season with salt and pepper a divide remaining cheese on top.
Bake for about 15 minutes, until the eggs are just set or up to 3 minutes more for a more firm egg.
Remove from oven and let cool for 3 minutes, then serve.
Cheesy Polenta
½ cup of dried polenta
2 cups of water
2 tablespoons of butter
¾ cup of shredded cheese
In a medium saucepan, bring your water to a boil. Just before boiling, slowly whisk in polenta and cook for 8-10 minutes, stirring continuously as it thickens. Lower heat, cover and continue to cook for 10-12 minutes more, stirring occasionally.  Remove from heat, add cheese and stir well. Taste, season and reserve.
The Pairings
BEER:  Third Street Brewhouse ~ Rise to the Top Cream Ale ~  Coldspring, MN
Why it worked:  The creamy pieces to the beer was an amazing acoutrement to the egg.  Bright enough to peak up the kale, but creamy enough not to squash out the egg and act as besties with the bacon!  
WINE:  Fattori 'Danieli' Soave Classico ~ Veneto, Italy
Why it worked:  The perfectly ripe hints of peach, pear and apricot notes on this wine gave way to the crackly baked edges of the egg, leaving the yolk perfectly creamy in your mouth.  Round, supple yet crisp and herbal, the kale sprung deliciously from the dish, making way for the toasty, earthiness of the bacon bites snuggled between the layers of egg and polenta.  Perfectly creamy and beautifully balanced.  I LOVE THIS WINE!!! (Can I say that loud enough?)   For $17 on the retail shelf, a complete steal. #CertifiablyDELISH