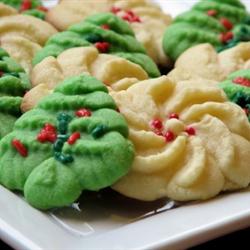 Continuing right along with our new weekly posts, today we come to #VittlesandVino!
Every Friday, we post a fun new recipe and wine pairing for you to try over the weekend – named #VittlesandVino.  The recipes are some that I've gathered from a number of my favorite (mostly local) chefs, food enthusiasts or food bloggers.  With that, we post the recipe and I pair the vino!
Because we are just days away from Christmas, I thought I'd post one of my favorite Christmas Cookie recipes.  The idea came up a few nights ago, during one of our Girls n Grapes tastings.  Sipping our way through a number of extraordinary wines – every December called our 'annual luxury tasting' (bringing all of our most memorable luxury wines) – my dear friend, Allison, cracked open a delightful bottle of Russian River Viognier.
Instantly I said, 'This is a perfect Spritz Cookie pairing!'
After all, they do say wine is 90% experience.
For years, my grandmother and I had a tradition of making spritz cookies together.  There was something so fun about making a recipe that was literally, so simple.  I remember the kitchen counter colored in multi colored sprinkles, red hot candies, silver candy beads, and food colorings for decoration.  Each batch of cookies shaped as:  candy canes, christmas trees, snowmen and christmas stars were colored to match the creative colors of my childhood bliss.  And of course, the best part of the whole operation…being able to run Grandma's Cookie Press!  The press was probably one of the oldest kitchen tools in my grandmother's kitchen, having been used for so many years, I remember the old dented tin press like it was my own today.  A lovely childhood memory!
I'm quite sure my grandmother never really had a Spritz Cookie Recipe, yet threw a few simple ingredients 'magically' together each year.  So, for this purpose, I went internet hunting for the most simple spritz cookie recipe I could find.  On AllRecipes.com, I found this, a nice and easy, few ingredient spritz cookie recipe written by a lovely home cook, Sheri Lipp.
Butter Rich Spritz Butter Cookies
(Makes 3 dozen)
Ingredients: 
2 1/2 c all purpose flour, 1/2 tsp salt, 1 c butter (softened), 1 1/4 c confectioners sugar, 2 egg yolks, 1/2 tsp almond extract, 1 tsp vanilla extract
Directions:
Preheat the oven to 400 degrees F (200 degrees C). Sift together the flour and salt; set aside.
In a medium bowl, cream together the butter and sugar. Stir in the egg yolks, almond extract and vanilla extract. Gradually blend in the sifted ingredients. Fill a cookie press with dough and shoot cookies about 1 1/2 inches apart onto an ungreased cookie sheet. If you like, decorate with sugar or sprinkles at this time.
Bake for 6 to 8 minutes in the preheated oven.
The Pairing
The 2009 Arrowood Viognier ~ Russian River, CA
Rich with spicy dried apricot, white flowers & ripe stone fruit on the nose.  Crystalized ginger and stewy white peach dance across the palate, tickling every part of your Christmas senses making it a perfectly luxurious sipper for the holidays.
There's only one #perfectpairing to this wine…another glass, great friends and of course, a spritz cookie!
Merry Christmas and Happy Holidays to all!