Girls n Grapes Go Glam ~ A Luxury Wine Tasting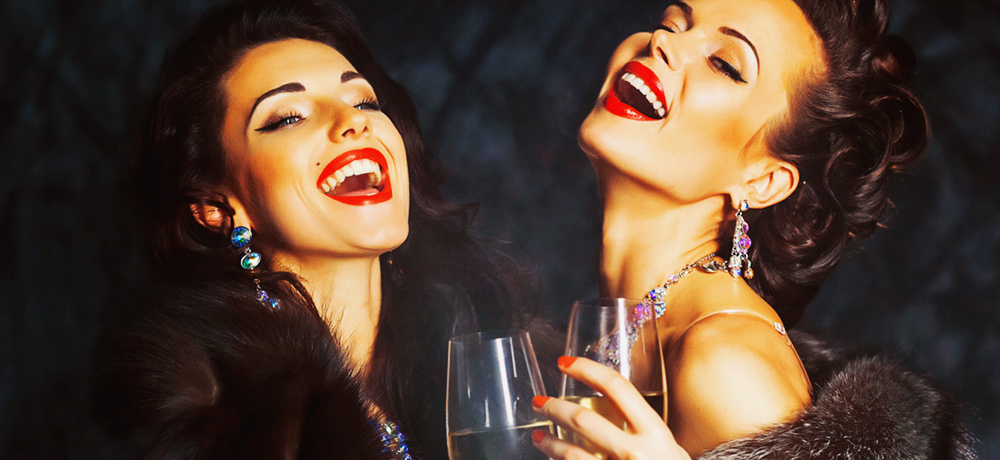 This close to the holidays, the Girls & Grapes group got together one last time to celebrate 'all things wine'.  In fact, our mission this month…bring a wine that you thought of as 'luxurious'.  Or, a wine that really was one of the first wines or wineries that shaped your passion for wine.
For many of us, the wines that spelled L-U-X-U-R-Y were the bubblies that we'd come encounter with.  From Champagne to northern California, and running the gamut of tasting notes from yeasty to soft and voluptuous, the bubbles were exquisite.
At the same time, 'wine regions' drove the conversation of P-A-S-S-I-O-N.  From the austerity of French Burgundies to the earthy spice notes of Chianti and the smells of the red Jory clay soils of Oregon – the wines of this category evoked feeling and desire to share.
Lastly, it was a nite of EXPERIENCE, TRUST, PASSION & FRIENDSHIP.  A nite of sharing 'all things wine' amongst those who appreciate it immensely and enjoy the stories that come with it.
From our Girls & Grapes group to yours, we wish you a very Happy Holiday season filled with all of the above.  Enjoy our tasting notes!
#1: Soft strawberry petal, lush raspberry A down the hatch kind of PINK bubbly! 
Mumm Brut Rosé ~ Napa, CA   Pricepoint: $16.99 (can be found @ most retail shops)
#2:Lemony, slightly pink bubble, very minerally w a hint of yeast
Love this wine, feels very balanced – zingy acidity – cherries
Schramsberg Querencia ~ St Helena, CA
Composition: 82% Chard +  18% Pinot Noir  ~ Wine club exclusive – Approx $45
 #3:  Meyer lemon – yeasty – lime – green apple – almond husk – lemon curd
(If we were painting this wine) Wispy lines – Easter egg yellow, pinks and greens- lovely
Briny – could be good w oysters – very brite.  We approve!
(Allison is getting visions of little  Irish Dancers at the top of her head.  I guess that means 'happy'??)
Gaston Chiquet Champagne 'Special Club'  ~ Champagne, France  (Pricepoint: $150)
These guys have been making Champagne since 1919
Composition: 70% Chard  & 30% Pinot Noir ~ This winery does not use oak
Intermezzo: Chicken w Morel Mushroom Cream Sauce
 #4:  Banana runt- candy – wet wool and pineapple
Leslee guessed Chenin, then said fat Pinot Gris
Some of the chicas said Chardonnay…feels so FAT.
It 's Chappellet Chenin Blanc from Napa – one of our favorite producers!
Winery exclusive – Approx $25-$30
 #5:  Girls are talking 'brushed silk jammies' (nice tasting notes!) with this wine.
Lemony – aioli – full – grey slate w heaters underneath your feet
Direct and lovely!
Louis Carillon & Fils Puligny-Montrachet ~Burgundy, France  (Approx $60-$70 on the retail shelf – found, most likely, @ Haskells)
#6:  Flinty , round, feminine – round, white floral
It's like the purple bra comes back out, but it's not quite full.
Erin says, 'Does that mean, it's a Demi-Cup?'
Domaine Roulot Meursault ~ Burgundy, France
C'mon- who could pass up a Chardonnay like this?  This is L-O-V-E.   (We're not sure of the pricepoint)
#7:  Tart, Cranberry, Vanilla
Sangiovese Chianti Classico – very approachable.
Ruffino Aziano Chianti Classico – $15.99 @ Princeton Liquors
Intermezzo:  Spicy Italian Sausage & Orchiette Pasta
#8: Green bell pepper – coconut- mosquito repellent – tastes a lil' like chocolate
Mounds & Almond Joy!  We love deez nuts!!!!!!!
(The 'Would u rather' game broke out ?? – Okay, maybe we shouldn't have drank those 1st two bts of bubbly)
Heart's Desire Claret  ~ Sonoma, CA – $18 @ Pairings Wine Market
#9: Sparky coconut – Dk Bing cherry compote syrup – blackberry thickness
Dk cocoa – chocolate fountain
Allison wants to lay on the floor & absorb it all in.  (Bon Iver is playing in the background)
Leonetti Cabernet ~ Walla Walla, WA
Winery Exclusive –  Approx $130
Intermezzo: An 80′s Dance Party Broke Out!    Hi-Lites: The Tootsy Roll Dance (a dance lesson by Erin)
#10:  Cherry spice & Italian herbs
2008 Avignonesi Rosso ~Tuscany, Italy
I love this producer- one of my favorite Sangiovese(s)
(Approx $40 on most retail shelves, can be found most stores)
#11:  Dk stewed cherry – wet earth & tobacco
Sweet tobacco fruit – like swisher sweets – dk cherry wood – Sweet cookie dough-a little stewie from the fruit side-lacking acidity for balance
Archery Summit 2003 Premier Cuvée Pinot Noir ~ Willamette Valley, Oregon
(Approx $65 on the retail shelf at the time of its current sale)
#12: Burnt caramel,  roasted hazelnut – Dk nut and heavy burnt cream
El Maestro Sierra Oloroso ~ Jerez, España
Lovely way to end a meal or a great nite with friends