Spicy Thai Marinade with Just the Right Vino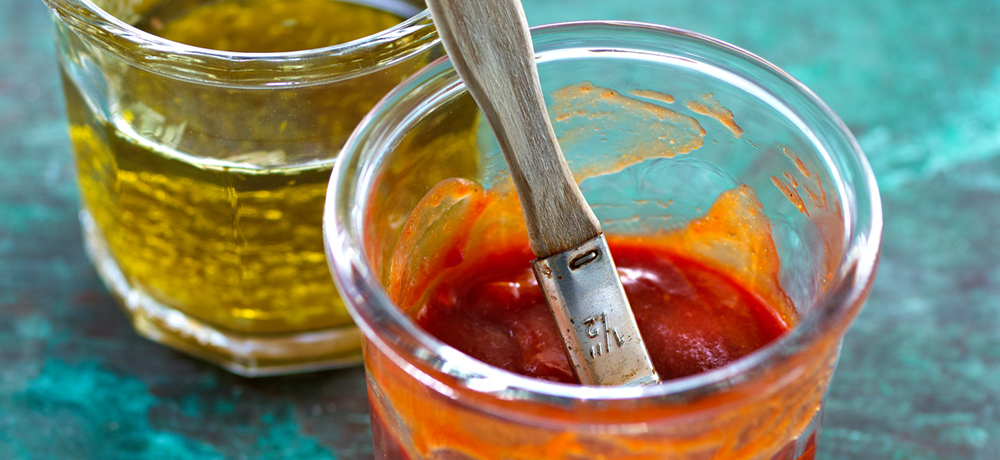 I love throwing a good flat iron or flank steak on the grill in these summer months. Whether you serve it with warm tortillas, over fresh salad greens, or just as is – it truly is one of my favorite summer suppers. Salt n Pepper does just fine – however, I often love to throw my favorite cut in with a quick morning marinade to add a little zip to the dish. After a full day of soaking up a marinade, that flat iron or flank becomes a perfect candidate for a hot sizzlin' grill.
This past weekend, while cruising through my July issue of Food and Wine Magazine, I came across a new marinade by Chef Bill Kim of Chicago restaurants Urbanbelly and Belly Shack. The ingredients of his Spicy Thai Marinade with Basil & Cilantro sounded right up my alley. With its elements of spice and citrus, I couldn't help to try it out on my weekend guests. Marinades are truly some of the best secrets to easy cooking. I certainly don't fancy myself as a 'cook' of sorts – usually, it's my job to bring the vino – yet, this past weekend- it was my turn to do the cooking.
After only two hours of soaking up its tangy additives, I decided to go right for the grill. With a fire nice and hot – the steak seared with delight the second it hit the iron. The bold chile and the zesty lemon notes quickly tickled my senses. My marinade, just only ten minutes to make, and grill time approx 10-15min, turns out was one of THE biggest hits on the grill this summer! Fast, easy & super delicious. The best part, taking credit (well, along with F&W Mag) for this fab summer plate. Realizing that my husband holds the coveted 'Grill Master' title in the family, I like to take credit for my rarities on the grill.
Spicy Thai Marinade with Basil & Cilantro
(Recipe on page 110 in Food & Wine Magazine)
1/4 cup basil leaves
1/4 cup cilantro leaves
8 peeled garlic cloves
2 tablespoons of Asian chile sauce (sambal oelek is best)
2 tablespoons Asian fish sauce
1 teaspoon finely grated lemon zest
1 teaspoon finely grated lime zest
1/2 cup vegetable oil (I used olive oil)
In a mini food processor, pulse the basil, cilantro, garlic, sambal oelek and fish sauce until finely chopped. Add the lemon and lime zests and oil; pulse until the marinade is fairly smooth. Refrigerate for up to 3 days. Marinade your favorite cut of steak, chicken or fish & away you go!
The best part – selecting the vino to match these intricate yet bold and spicy ingredients. I chose two for the nite and both ended up acting as Perfect Pairings.
Peterson 'IL Granaio' Sangiovese ~ Dry Creek, CA
A full, yet spicy Sangiovese with character. Acidic enough to brighten the citrus and chile elements of the dish – yet fat enough to cut the heat. Dark Bing Cherries and tobacco-like spice.
Pe're Alessandro Barbera d'Alba ~ Piedmont, Italy
Rustic and juicy all at once. Loved this pairing as well. The earthy notes of the Barbera, along with its plump youthful character came together to pair gorgeously to the spice and the citrus. Most importantly, had just enough soft plum fruit character to make friends with the chile.
Both wines – a great value! And, with the flank and its marinade – gorgeous. Served with a little grilled romaine salad on the side – a perfect summer nite's meal.