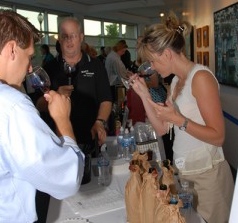 Ever wonder how sommeliers are able to stick their nose in a glass and then quickly give you an analysis of the wine from its tasting notes, country of origin, grape varietal, its food pairings to its actual vintage date?  Check out these fun & easy steps I list for ALDI readers this past month regarding the process I teach people when we sit down for a wine class.  Might help you understand your palate that much better!  
How to Taste Wine
December 23, 2014 – Written for ALDI, Simply Smarter Living by Sommelier Leslee D. Miller
Leslee Miller here again! Have you perfected your pairings yet? Today we're going to learn how to taste your wine. How many times have you said 'What does this wine smell like?' It smells like wine! It's true – unless you've been trained to smell through a wine, you might find yourself bypassing the aromas, the more intricate flavors and mouth-feel of a wine. To make it that much more enjoyable and easy, I've created a few simple steps to help you discover more about the wine in your glass:
Think & Drink. If you really want the most from your vino and truly want to intricately discover the real reasons why some wines taste and smell the way they do – we must engage our brains when sipping. By following these Deductive Tasting Method rules, you're more likely to understand how the wine in your glass translates to regions, styles, aromas and flavors.
Sight: Looking at the Wine
When looking at a wine, tilt it away from you on a white background or surface. This helps us look at the belly of the wine (the mid center of the liquid). Generally speaking, when wines (both white & red) come from European countries, otherwise known as Old World countries, they tend to throw less color into the body. Whites are lighter in color and reds are a bit more reddish in color. When wines come from all other countries that lie outside of Europe, otherwise known as New World countries, wines tend to throw more color into their body.  Whites are generally darker in color and reds are more purple, sometimes darker overall.
Sometimes the weight of the wine can translate into the clarity when looking at it on a tilted angle. In a red wine, if you can wiggle your fingers under the wine and see them clearly, this will give you an indication that the wine is lighter bodied versus not being able to see your fingers at all under a wine, showing much darker/opaque colors, leading you to believe that the wine is a bit heavier.
Nose: Smelling the Wine
This is the most important aspect as smell accounts for 90% of the taste. First, swirl the wine in your glass. Swirling releases the flavor elements attached to the alcohol molecules of the wine. Going back to the same rule of our Old World vs. New World country analysis…Old World wines tend to smell a bit more minerally (like minerals!) and can even smell more like dirt, damp earth, mushrooms or earthy spice. New World wines generally lead with fruit.
Palate: Tasting the Wine
Bring a bit of oxygen in your mouth at the same time you taste by sucking in air in the front of our mouth. Old World wines tend to lean on the more tart side for whites and reds, tasting more earthy, chalky or dusty. New World wines have a bolder, fruit first flavor, coating your mouth with round, full flavors of fruit and alcohol.
The Finish
Once you've confirmed the smells, flavors, weight and how it all lands on your palate, now you're ready to sift through what you like about the wines you've tasted. Do you like the more earthy, spice driven, mineral wines – maybe you're more of an Old World wine drinker. Do you like big, juicy, textured fruit flavors and aromas – you could be more of a New World wine drinker.
Happy tasting!
Leslee Miller is a dually certified Sommelier through the International Sommelier Guild and the Court of Master Sommeliers. She is the sole owner of wine consulting firm, Amusée, based in Minneapolis, Minnesota.