Slovenian Winemakers' Dinner!

The Slovenians are back!!
Piggy backing off of one of Amusée's most talked about events — our very popular SLO CRO Winemakers' Dinners — we've convinced a couple from this prestigious team of  winemakers to come back our way, JUST to visit Minnesota for ONE very exclusive wine event!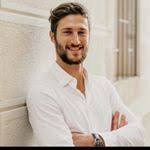 Grab your tickets today + get ready to welcome winemaker + owner of Kobal Winery, Bojan Kobal + winery owner, Matic Rodica of Rodica Winery, for a rare evening of food + wine pairings and education abound.  
If you've joined us for these wine dinners in the past, you'll be able to speak to the unbelievable value of these dinners.  This year is nothing short of EXQUISITE as we feature passed appetizers and 5 unique handcrafted courses created by the team at Create Catering carefully paired to 7 boutique wines of these two very prestigious wineries.  
Learn why the international wine spotlight is focused on Slovenia as Bojan + Matic lead you through the magical world of Slovenia's landscape + winemaking history while savoring some of most beautiful cuisine in the Twin Cities.  
Here we go! Oooooooopa!
Passed appetizers to begin at 6pm >>>>>> promptly followed by a seated 5 course dinner to commence at 6:30pm paired to 7 wines for enjoying!
Cost: $95 per person
Truly an experience of a lifetime, as this is the ONE public event this group will perform within the state of MN. This event is yours!
Not only am I humbled and extremely honored to have this opportunity with these winemakers, but to share such an incredible evening of culture, food and wine with all of you! A night, I promise, you will not forget.
Sign up today, space is limited!
Parking: There is a FREE large open air parking lot available for all.  Tickets are non refundable.