12th Annual Bubbles + Bites: The Brunch Edition
Join veteran teaching duo, Chef Mike Shannon + Sommelier Leslee Miller, for their annual Bubbles + Bites Class (their 12th year!) on December 19th at Roth Living!
You've seen them teach this sparkling class for years BUT this year, they're adding a little extra SPARKLE to your BRUNCH buffet!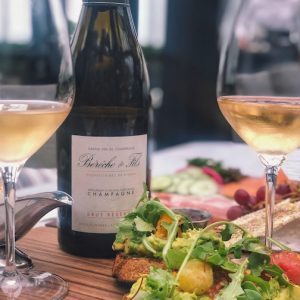 Leslee shows you the ins + outs to pairing with bubbles, entertaining with bubbles + ideas for gifting some of the best (at the best price-points) this holiday season!  In turn, Chef Mike teaches you a few culinary tricks in the kitchen for brunching your best while taking home a handful of new entertaining recipes.  Recipes + Tips — perfect for all your holiday gatherings or for fluffing up your very own dinner menus at home! 
Sip, nosh and enjoy an evening out with friends, your significant or pamper yourself with this sparkling explosion of flavors!  
When:  December 19th from 6-8:30pm
Where:  Roth Living, 11300 W. 47th Street, Minnetonka, MN 55343 
Menu:  Curried Deviled Eggs, Gravlax Avocado Toast, Seared Scallops with Easy Hollandaise + Asparagus Polenta, Chard + Prosciutto Mini Egg Bakes, Triple Ginger Cookies Dipped In Bittersweet Chocolate
5 International Sparkling Wines are served with Class
Note: Roth Living, not only one of the most beautiful SubZero/Wolf showrooms in the midwest, but also one that provides one gorgeous culinary teaching arena.
Cost: $75 per person
Tickets are non-refundable.