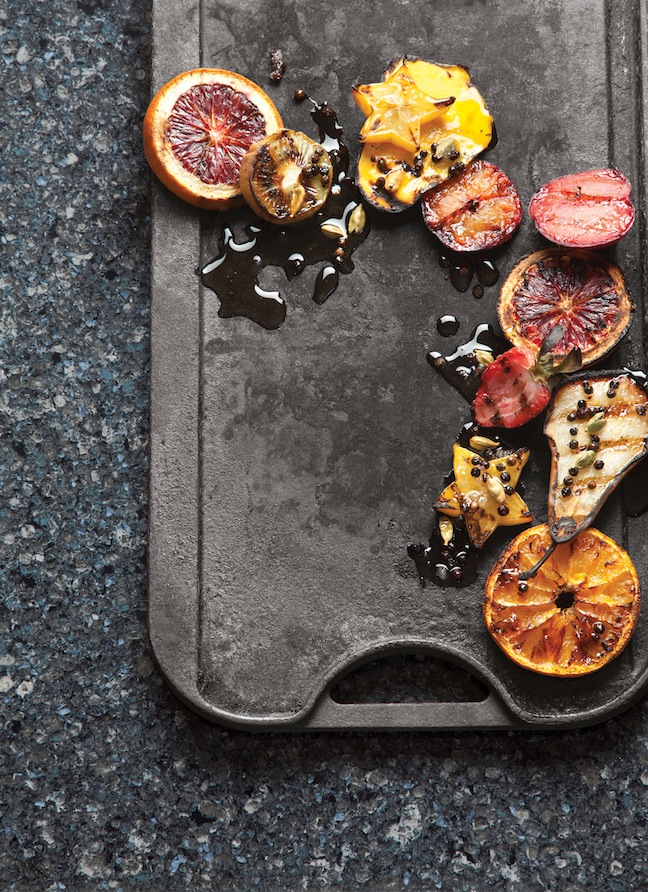 It's true, we're crazy for Sangria!  It's actually quite obvious these days that all we do is drink Sangria.  But hey, why not?  Which is why we're gonna keep the Sangria Recipes coming your way.  
Last night at our annual Kitchen in the Market Sangria Blending Class, we showcased three of our very popular Sangrias:  Mojito Sangria, Black n Blue Sangria & our Grilled Fruit Sangria.  
&  
Today, we give you the Grilled Fruit Sangria Recipe.  
Let's face it, not everyone is a fan of those big toasty California Chardonnays.  Any which way you shake it and no matter how many times I tell the story of Chardonnay (incidentally, one of THE greatest grapes in the world!), folks still turn up their nose at the usual suspects coming from the warmer growing regions of California.  
Burgundy, the motherland to Chardonnay.  She is the birthplace, the brilliance and the region in which Chardonnay reigns the Queen of all white grapes.  Here, Chardonnay is textured and luminous, glowing with a backbone of minerally goodness.  Alluring with notes of oyster shell and lemon blossom on the nose, Chardonnay has to be one of the sexiest white grapes alive.  Yet, many U.S. drinkers still get stuck on the fact that Chardonnay is 'oaky' 'buttery' and sometimes 'sweet'.  Fact is, if you keep reaching for the same styles, regions and producers – you may never see the brilliance to Chardonnay.  Let's clear one thing up…Chardonnay is not sweet.  It should never be sweet.  90% of the wines you'll taste in your lifetime are dry.  Often times, the supple fruit flavors of a wine over power the senses, making one think a wine is sweet, when in fact, it is dry.   Furthermore, not ALL California styles of Chardonnay are dripping with those toasty, oaky flavors that are turning you off.  In fact, many U.S. producers are leaning towards more neutral tones of oak in their Chardonnays today, keeping them cleaner and leaner for the consumer.  
I'm not here to tell you that there are not a number of heavily oaked styles of Chardonnay out there, I'm just asking you to keep your mind open to the fact that not all Chardonnay is vinified and created the same way.  
On the other hand, the toastier, more luscious styles of California Chardonnay are actually ideal for our Grilled Fruit Sangria!  Why?  When we grill the fruits, we pull in some of those more supple, round flavors, and sometimes–smokey–that the grill can give us.  
Grill smoke and oak barrel aged = a perfect pairing.  
In this recipe, we've selected a few options for Chardonnay.  A few that are not exactly 'over oaked', yet rich with nuances of caramel, nutmeg and toasted brioche, mmmmm.  Are you ready?
Grilled Fruit Sangria
Wine:  Your base wine needs to have a little heft here to hold up the fruit and grill smoke of your fruit, which is why new world Chardonnay is the natural answer to this sangria.  
Here are a few of my favorite Chardonnays for this sangria:  
Ingredients:
Grilled Lemons (cut into wheels)
Grilled Orange (cut into wheels)
Grilled Pineapple (can either be cut into smaller pieces after it is grilled, or left in larger chucks)
Grilled Peach (cut into wedges)
Grilled Pear
Fresh Mango
Basil (chiffonade)
Orange Simple Syrup
1 cup Grand Marnier to 2bts of wine
How to make Simple Syrup:
Making your own simple syrup is also more economical than buying it at the store. You can make as small or as large a batch as you wish and store it in the refrigerator in a well sealed bottle for approx 1 month. 
1 part sugar
1 part water
Bring the water to a boil.
Dissolve the sugar into the boiling water, stirring constantly.
Once the sugar is dissolved completely, remove the pan from the heat. (Note: Do not allow the syrup to boil for too long or the syrup will be too thick.)
Allow to cool completely and thicken, then bottle.
For Flavored Simple Syrups:
Simply add the ingredient you want infused into your simple syrup and let sit for your level of desired flavor.  Ingredients like lemongrass take a bit more time (up to an 1hr) to infuse.  Mint, rosemary, orange, lemon – all infuse fairly quickly (max 1/2hr for my desired level).  
Tip:  To prolong the shelf life of your simple syrup, add a little vodka – usually between a tablespoon and an ounce, depending on how large the batch of syrup is.
How to Grill Fruit:
In this summer's Cambria Style Magazine, I write up a number of delicious Sangria recipes for readers, and my pal Stephanie Meyer of Fresh Tart Steph, pens the perfect tips for grilling fruit HERE!
Let your Sangria sit for up to 24 hours and enjoy!