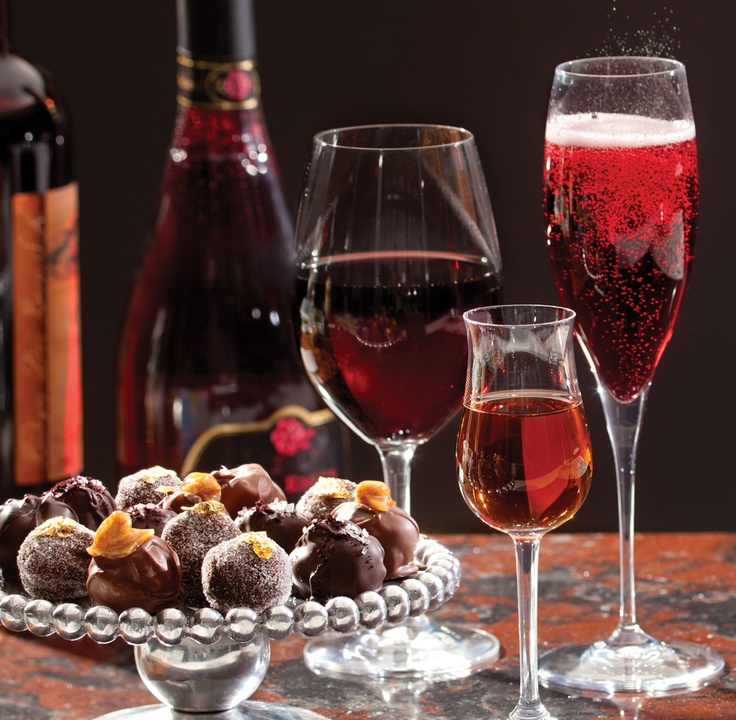 Tis the season to eat, drink and be merry!  
While you've spent oodles of time preparing appetizers, cookies and other treats for your arriving holiday guests – creating something tasty & unique from the beverage department shouldn't take hours of your time OR break the bank!  Here are a few fun ideas that I created for ALDI Markets, as a way to get crafty with your holiday entertaining budget AND make your beverage bar look like you spent hours of time putting it together!  
Wine Cocktails with Sommelier Leslee Miller
Leslee here from Amusée! While I can safely say that I'm absolutely smitten with wine, I must admit I like to mix it up by creating a variety of libation concoctions, especially when it comes to holiday entertaining! Did you know that sommeliers are certified not just in wine, but wine, tea, beer, sake, cigar and spirit?  So when it comes to pairing, creating and putting together a variety of sips for holiday guests, I like to be equipped with a number of beverages to keep all of my guests happy!
Black n Blue Sangria 
Yields: 3-4 servings
Total Time: 30 minutes
Ingredients:
1 bottle Flirty Bird Syrah from Spain
½ cup blueberries
½ cup blackberries
1 cup bing cherries
1 sliced plum
5-6 black peppercorns from Stonemill Essentials Peppercorn Grinder
3 sprigs rosemary
Cherry Simple Syrup (to taste – instructions below)
½ cup of your favorite brand, Cherry Brandy
Directions:
Simple Syrup
In a small saucepan, bring equal parts sugar and water to a boil; simmer until sugar is dissolved, 3 minutes.

When everything has dissolved, add whatever fruit, herb, spice you want to infuse your syrup with and let all ingredients steep together until you've reached your desired flavor level of that added ingredient.  (In this recipe, I added 2 cups of whole cherries lighted muddled to the syrup and let sit for 2 hours, before draining the cherries off for the final syrup.)

Remove from heat and let cool completely.

Once cooled, strain. The syrup can be refrigerated in a glass jar for up to 1 month.
Mulled Wine Cocktail
ALDI makes this one a snap!  Try any one of their Christkindl Mulled Wines (I love the apple/cherry), heated and toss an orange slice and cinnamon stick into a pretty holiday mug for enjoying, before or after your meal.
Classic Champagne Cocktail
Yields: 1 serving
Total Time: 2 minutes
Ingredients:
1 sugar cube
Angostura bitters
ALDI California Sparkling Brut
Lemon or orange twist, for garnish
Directions:
Soak the sugar cube in Angostura bitters and drop into a champagne flute or coupe.

Top with ALDI California Sparkling Brut and garnish with a lemon or orange twist.
Port Wine Cocktail
I LOVE playing with Port Wine to create really special 'after dinner' cocktails, especially when it's a bit chilly outside and you have ALDI Choceur Chocolate for pairing. Because I'm from the Midwest, I can't even hide the fact that I absolutely LOVE eggnog this time of year.  So, I've recently started creating a port-style eggnog with both brandy AND port!
Directions:
Fill a mug with 1 & ½ oz. Brandy, ¼ oz. Maynard's 10 Year Old Tawny Port*.

Just top with your favorite brand Eggnog and there you go! Enjoy cold or heated.
Cheers to a happy, healthy and tasty holiday season! #clinkclink
Leslee Miller is a dually certified Sommelier through the International Sommelier Guild and the Court of Master Sommeliers. She is the sole owner of wine consulting firm, Amusée, based in Minneapolis, Minnesota.