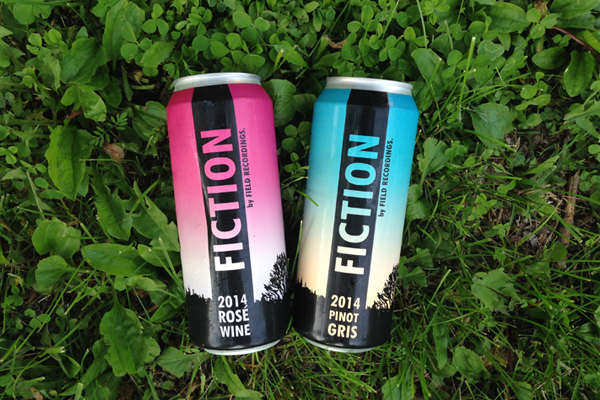 We're all about making wine an accessible pastime at Amusée, which is why wine in a can (YES) particularly appeals to us. Especially when it's as good as Field Recordings! This California winery's new portfolio of Fiction canned wines are brightly-colored tall boys of wine you can take to a picnic or an outdoor concert. Each one pours two very healthy glasses or is great sipped straight from the can.
With wine's fancy reputation and ancient history, it can be hard for grape-lovers to wrap their heads around wine poured from anything but a bottle. But Field Recordings proves that delicious wine can come in many forms, and that a cork shouldn't stand in the way of enjoying it.
Fiction Pinot Gris
This wine so aromatic that you won't miss drinking it out of a glass. Floral peachy strains jump right out of the can as you tip it back. And it's super refreshing on the palate. It's not the most crisp white you'll have all summer, but the medley of pretty honeydew melon, white peach, and apple have a nice mineral undertone and a miniature fizz that cleans up nicely. Picture pounding this one as you grill burgers or sipping it with some take-out Thai on a blanket outside. Or with fresh cut-up fruit, like a deconstructed sangria!
Fiction Rosé
This one would make an adorable beach bag accessory: the can's pink ombre design perfectly reflects that feeling of lazy summer evenings, when twilight seems to last forever. And it goes down so easy, tasting of strawberries and rose petals. As your hand warms up the can, a creaminess emerges to round out the fresh-squeezed finish.
Available at France 44 Wines & Spirits.
Also try Fiction Red, available at Sunfish Cellars and France 44.