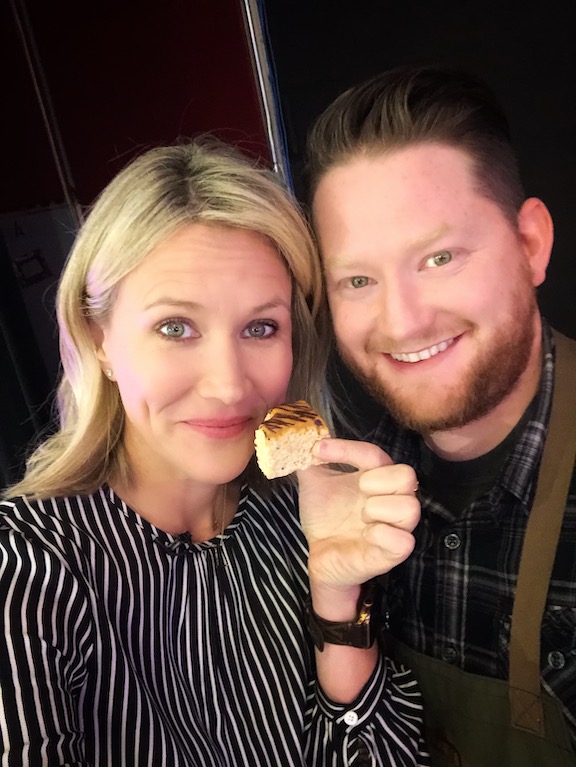 This week on Fox 9′s The Jason Show, I teamed up with one of my favorite Twin Cities' chefs, Corey Meier, of Create Catering for a spook-tacular combo of yummy adult Halloween treats paired to  wine.
Because who doesn't love a fun adult treat while the kiddos are out trick or treating?
Equipped with a list of recipes + wines, catch our segment for all the tips + tricks for making your Halloween extra FUN for even the adults in your household this season!
Pumpkin Spice Rice Krispie Bars
*Pair to an off dry style of Moscato like this ONE!
Makes 1 | 9×9 pan
Bar Portion
• 2 Tbsp Butter
• 1 Bag Marshmallow
• 1Tbsp Instant Coffee Granules
• 5-6 Cups Rice Krispys
Pumpkin-White Chocolate Ganache
• 2 Tbsp Pumpkin Puree
• 1 Cup White Chocolate
Spice Mix to Taste
• Cinnamon
• Ginger
• Nutmeg
• Ground Mace
Dark Chocolate Drizzle
• 4 Tbsp Dark Chocolate Chips
Method:
Bar
• Melt the butter and marshmallows together in a heavy bottom pan
• Once melted and the coffee granules and stir in
• Add the Rice Krispys, fold until combined
• Pack the Rick Krispy bar into a greased 9×9 pan, allow to cool
• Over medium heat melt the white chocolate, incorporate the pumpkin puree
• Add "your" signature spice mix and cover the top of the Rice Krispy bars
• Melt the dark chocolate chips and drizzle over the top of the white chocolate ganache
Salted Nut Rolls
*This salty treat needs a creamy round Chardonnay like this ONE!
Ingredients:
Marshmallow Candy Filling
• 1/2 Cup unsalted butter
• 7oz marshmallow fluff (store bought or made from scratch)
• 5 cups powdered sugar
• 1 teaspoon pure vanilla extract
•
Coating
• Rum Caramel
• 2 Cups Chopped Peanuts
Method:
For the filling
• Melt the butter and marshmallow cream in the microwave, about 30-60seconds, until butter is fully melted.
• In a large mixing bowl, combine melted butter and marshmallow to the powdered sugar and vanilla. Cream together until just blended.
• Drop onto a silpat (or large piece of parchment paper). Use your hands to knead the "dough" into a large ball.
• Divide the ball into small 1oz equal portions. You'll then want to use your hands to roll each portion into small golf ball sized balls
• Freeze two hours until firm
For the coating:
• Add ½ Tbsp dark rum to your carmel
• Dip each ball into caramel then roll in chopped peanuts
Whiskey Apple Hand Pies
*Did you know…apple pie + Riesling are a match made in heaven?  Try this ONE on for the perfect pairing!
Ingredients:
• 5 Local Apples Peeled & Diced
• ¾ Cup of Granulated Sugar
• ½ tsp Nutmeg
• ½ tsp Cinnamon
• ¼ Cup Ginger Beer
• ½-1 Cup Apple Butter or Caramel
• Empanada Wrappers
• Egg Wash
• Cinnamon Sugar Dust
Method:
• Place the apples in a heavy bottom saucepan over medium heat, cook them down with sugar, nutmeg, cinnamon & ginger beer until soft.
• Turn off heat and add apple butter or caramel
• Chill
• Fill the empanada wrappers with a spoonful of the apple filling
• Egg wash around the edge and press with a fork to seal
• Freeze until frozen, once frozen fry them at 325 degrees until golden and crispy
• Toss in cinnamon sugar