Social media sites declare a number of dates as #CabernetDay via Twitter, Instagram, FB and beyond (August 27, August 29, Sept 3rd).  At Amusée, we celebrate it on the same day every year – today, Sept 3rd!   Happy Cabernet Day, y'all!

To help celebrate this special day, I asked regular Amusée blog contributor Karina Roe from France 44 to write up a little something about the illustrious King of Grapes and to give us a few of her favorite Cabs from around the globe.  So, let's kick off our Labor Day and celebrate Cabernet Day all weekend long with a few great Cabs from around the globe!  Clink, Clink.
Hail The King: Happy Cabernet Day!
What do the United States, France, Spain, Italy, Chile, Argentina, Australia (*gasping breath*), Brazil, Uruguay, New Zealand, South Africa, India and even China all have in common? That's right: they all produce Cabernet Sauvignon—the King of Grapes that can produce some of the world's most stunning, awe-inspiring, longest-lived wine.
For as popular as it is, Cabernet Sauvignon doesn't have the longest history, compared with some other ancient grape varieties. Although its' exact "date of birth" is unclear and it was often confused with a lot of other varieties for decades, Cab as we know it today finally found its way into the limelight in the early 19th century… and has never left.
One of the coolest things about Cabernet is its' ancestry, which was recently unraveled in the late 1990s. Sometime before the mid-18th century in a region in Bordeaux, two grapes crossed spontaneously to make the King of Grapes. The parents? Cabernet Franc, a delicious red varietal that contributes slightly earthy, spicy, herbal characters, and… drumroll please… Sauvignon Blanc! What?! How in the world does a high-acid, light, crisp white wine help to create something as sumptuously rich and deeply colored as Cabernet Sauvignon? But when you think about it, one thing that Sauvignon Blanc gives to Cabernet Sauvignon is that boldness of flavor and wild character—or sauvage, as the French say. Sauvage à Sauvignon? I love when all the pieces connect…
It turns out, in fact, that most of the grapes we know and love from the Bordeaux region (Cab Sauv, Cab Franc, Merlot, Carmenere, Sauvignon Blanc and Semillon) are all pretty closely related, either as parents, offspring or siblings. And because they're all related, they get along pretty well when they're blended together. Yeah for family ties!
But what is it exactly that keeps drawing us towards this one particular grape? Out of the thousands of varieties out there in the world, why does Cabernet Sauvignon get its own special day? Why, even though it might be mid-July with sweltering summer temps, do we still choose a glass of this big, heavy red wine? Why, more often than not, do we choose to open a bottle of Cab on a special occasion, or give it as a special gift? Why is it heralded as the King of Grapes above all others? Let's make some cases for The King.  
Cabernet Sauvignon is the King of Flavor: You like big, dark, in-your-face fruit wrapped in a cloak of hedonistic pleasure? Cab. You like earthy, herbal nuances dancing around cassis and cherries? Cab. You like cigar box, fresh-ground coffee, dark chocolate and vanilla? Also Cab! It's more versatile than you think and can span a wide variety of flavors and styles, as we'll see in a minute.
Cabernet can be considered the King of Time: some of the oldest bottles of wine in existence today—we're talking 18th century for some—are blends from the Cabernet family from Bordeaux. Cabernet has a distinct tannic (i.e., the sensation of your mouth drying out when you drink it) character, which acts as a natural preservative to give the wine extra longevity. Are 100+-year-old Cabs really still drinkable? Most of us will probably never have enough cash to cough up to answer that question though, as Cabernet can also definitely be the King of Your Wallet. The Forbes family bought a bottle of 1787 Chateau Lafite (allegedly once owned by Thomas Jefferson) for a paltry $160,000. Or perhaps you're the market for some vintage Screaming Eagle? That'll be a cool half million, please.
Those are extreme examples, though; there are many great Cabernets on the market today for much more reasonable prices. One other place that does the Cab-blending-thing well is Washington State. Unlike California and especially Oregon where individual grapes are many times highlighted to portray the place it comes from, Washington makes its wines using a "painter's palate" of grapes, so to speak.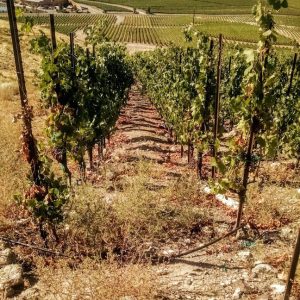 Last month, I was fortunate enough to go out to the Yakima Valley to visit the Hedges Family Estate, located in the small but stunning Red Mountain AVA. The Hedges family toes the line perfectly between an Old-World-New-World style, and has figured out how to showcase their unique soil and climate using Cabernet Sauvignon, Syrah and a few other supporting grapes. They are impeccable stewards of the land, and even became fully Biodynamically certified in 2011. (And if you ever make the trek out to Red Mountain for a visit, they'll provide one of the most memorable and hospitable experiences you'll ever have!) One of my favorites is their Hedges Red Mountain Blend ($30). (available at France44 and Ace Wine and Spirits)
Of course, one of the more traditional Cab-producing places that come to mind is the Napa Valley and California as a whole. Unfortunately, land is crazy expensive in Napa, and that expense usually transfers onto the bottles of Napa Cabernet that we love so much. But fear not! A few other places on the West Coast are quickly gaining fame for their great expressions of Cabernet. Check out producers from Alexander Valley to get well balanced, earth-toned Cabernets, or wines from Paso Robles to get fruit-forward, luscious styles of Cab. You'll be able to see just how stylistically versatile this grape is, just in the state of California!
And we've only hit just the domestic side of what Cabernet can do—there's a plethora of places around the world that have discovered Cab's magical qualities. For a great introduction to how the French do Cabernet at an affordable price, pick up a bottle of Chateau la Roque de By 2010 ($20), a blend of 50/50 Cabernet and Merlot. Its lean, sturdy structure is softened up just enough by the Merlot to make it a delicious wine. (available at France44)
A few other choice Cab picks from around the world for under $25 include:
Angulo Innocenti Cabernet Sauvignon, Argentina ($20) (available at France44 and Artisan Vineyards)
Val du Charron Cabernet Sauvignon, South Africa ($18) (available at France44)
Casa Lapostolle Cabernet Sauvignon Alexander, Chile ($20) (available at Surdyks, Haskells and France44)
Mazzocco Cabernet Sauvignon, Alexander Valley, California ($22) (available at South Lyndale Liquors, Haskells and France44)
Cane and Fable Cabernet Sauvignon, Paso Robles, California ($20) (available at Sunfish Cellars, South Lyndale Liquors and France44)
Jim Barry "Cover Drive" Cabernet Sauvignon, Australia ($18) (available at Sunfish Cellars, Surdyks and France44)
Clos La Chance Cabernet Sauvignon, Central Coast, California ($15) (available at France44)
Springfield "Whole Berry" Cabernet Sauvignon, South Africa ($24) (available at Sunfish Cellars, South Lyndale Liquors and France44)
Terra Blanca "Arch Terraces" Cabernet Sauvignon, Washington ($25) (available at France44)  
Happy Cab Day, Friends!