Hi!  I'm Karina—a lover of traveling, writing, and geeky, unique wines.  And, a new friend of Amusée's!  Catch me sharing a few of my favorite wines, tips, pairings and recommendations around this beautiful, mysterious & delicious world of wine on Amusée's blog from time time!
There's no reason we shouldn't celebrate father figures every day of the year, but the third Sunday of each June seems like a pretty ideal time to make it extra special—especially because it usually falls within Minnesota's precious few weeks of perfect weather. And what better way to celebrate fathers and glorious weather than outdoor cookouts?!
Whether your grill is loaded up with steaks, brats, kebabs, sweet corn or something more exotic, you'll need a hardy, refreshing drink to accompany it. From the traditional to the trendy, here are a few wine ideas for your Pop's Day Barbecue:
A spicy Zinfandel from Sonoma is a classic answer to mirror any sausage or pepper-rubbed steak with a little kick to it. Look for nicely-balanced Zinfandels that don't go extremely heavy on the alcohol, but still have enough fruit and spice to hold their own. Good examples include Dry Creek Zinfandel or Graziano Zinfandel from Mendocino.
[Dry Creek: Available at France 44, Sunfish Cellars, South Lyndale Liquors]
[Graziano: Available at France 44, Sunfish Cellars, South Lyndale Liquors]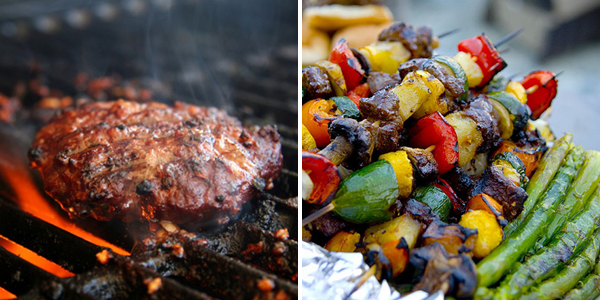 Malbec can be another great choice, too: a fruity little Argentinian number like Zuccardi Series A or, if you're feeling a little adventurous and your meat is going to have a nice, smoky char to it, check out something from Cahors, France, like this earthy Clos la Coutale.
[Zuccardi: France 44, South Lyndale Liquors]
[Clos la Coutale: France 44, Haskell's]
Speaking of earth and smoke, consider grabbing a Syrah from Washington, California or Australia! A New World approach on this age-old grape gives this wine a new lease on life, melding dark, juicy fruit with a bit of smoke, black pepper, tobacco and leather. (Hold on a minute—need to wipe the drool from my lip.) Current favorites include Hedges Cuvee Marcel DuPont Syrah from Washington and the luscious Leeuwin Estate Art Series Shiraz from Australia.
[Hedges: France 44, Ace Wine & Spirits]
[Leeuwin: France 44, Ace Wine & Spirits]
Personally, I love to give my barbecue a Germanic twist. A bit of baconed-up sauerkraut and some good sweet mustard are the keys to grilling success in my house. And what better to pair with a German meal than a beautiful, powerful-yet-sleek German Riesling?  Pick up one in an off-dry style—meaning with just a slight amount of residual sugar.  Remember, slight amounts of residual sugar doesn't mean that the wine is going to sticky sweet!  Unfortunately, most folks only see this grape as only being sweet.  In fact, Riesling does carry bits of natural sugar, but most importantly - acidity!  Often times, the two counter one another to create a fresh, balanced wine (not sweet) that really ends up pairing beautifully with a variety of food.  Like with sauerkraut, a brilliant pairing!  Prost!
Fun Riesling Tip:  Next time you're in the Austrian section, pick up a Riesling!  Did you know that Austria has never created a sweet Riesling?
Finally, if you're going with a bit lighter fare, dry Rosé is a tried-and-true pairing. Make sure you throw some sweet onions and peppers on your kebabs (alongside those ears of sweet corn!) to complement the gentle, fresh fruity quality of a good Provençal Rosé like Commanderie de la Bargemone or a refreshing, zippy Rose of Pinot Noir like Horse and Plow Rosé from Sonoma.
[Commanderie: France 44, Sunfish Cellars]
[Horse and Plow: France 44]
May your grill be always hot and your glass always full!