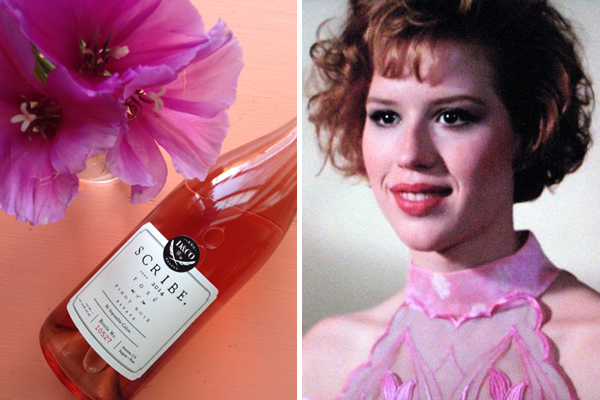 What's more intoxicating than a pretty glass of rosé? Not much…beside the arrival of spring and summer in Minnesota. It's finally the perfect time to drink pink! And as rosé gains momentum in the United States (it's more popular by the second!), wine shelves are beginning to bust with more and more bottles of that rosy glowing stuff.
We decided a great way to try them all would be to pair them with some classic summertime movies. Imagine pulling into an old-school drive-in, popping the cork, and reclining that front seat to snuggle in with your partner or best friend and a greasy bag of popcorn. It's gonna be a great summer!
Scribe Rosé + Pretty In Pink
This delicate rosé of Pinot Noir is a creamy treat. It has a floral, watermelon-laced scent and a fresh, mouth-filling quality with notes of sea salt and a gentle minerality. It's the perfect rosé to drink while reminiscing with the 80s classic Pretty In Pink. Scribe is produced by a group of young people in California with poetic ambitions. And just like the kids in the film, Scribe's rosé is neither dry nor sweet, but a delicate delight trying to find its way in the world. Its round, creamy finish makes for a happy ending, and its clear pink-salmon color recalls the many blushing hues in the movie, from Molly Ringwald's bubblegum lipgloss to her makeshift prom dress.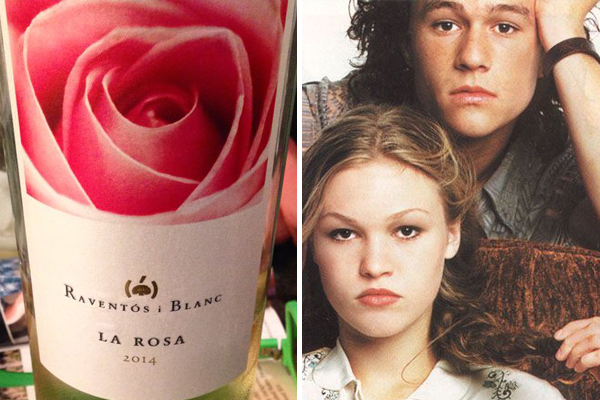 Raventos i Blanc La Rosa + 10 Things I Hate About You
This rosé is made for summer-long drinking, just like 10 Things I Hate About You was made for multiple (aaaand multiple) viewings, preferably projected on a screen in the backyard on a balmy summer night. As you watch the grungy-cute Heath Ledger and headstrong Julia Stiles gradually warm up to one another, the Raventos will slowly shine in your glass. It's a subtle gem with notes of fresh rose petal, Oregon strawberry, and mandarin orange that will delight you until the sun goes down.
Red Car Rosé + Back To The Future
This tangerine-tinged Sonoma Coast stunner from Red Car is the perfect pair for Back To The Future antics. It's full of ripe peach skin, zesty blood orange, and yellow watermelon flavors that kick it into high-fruit gear, while still retaining a bone-dry edginess. Sip it with gusto as Doc and Marty steer the DeLorean into the past to make things right, all set to the rhythm of some good old Huey Lewis & the News.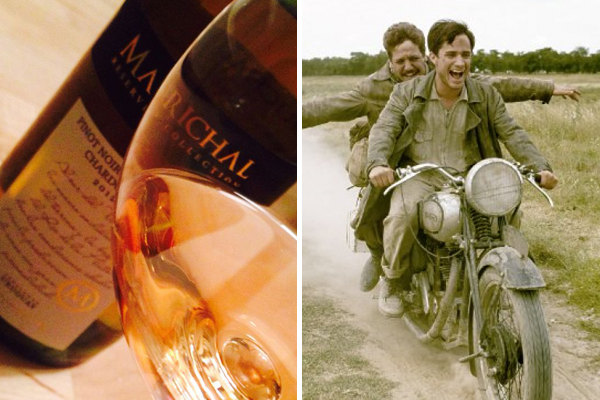 Marichal Pinot Noir/Chardonnay + The Motorcycle Diaries
Yep, this one's from Uruguay! And it's a fantastic union of Pinot Noir and Chardonnay that yields one of the sexiest colors we've ever seen in a glass: salmon skin with flashes of copper and gold. Its plump nose of apricot, basil, and strawberry and fresh cherry, vanilla, and tangerine flavors makes this wine a gorgeous compliment to the lush South American landscapes of The Motorcycle Diaries. The movie tells the story of Che Guevara before he was a political activist and still just a budding young man on a transformative road trip.
For more pink recommendations, check out Amusée's Pinterest page! Updated weekly.