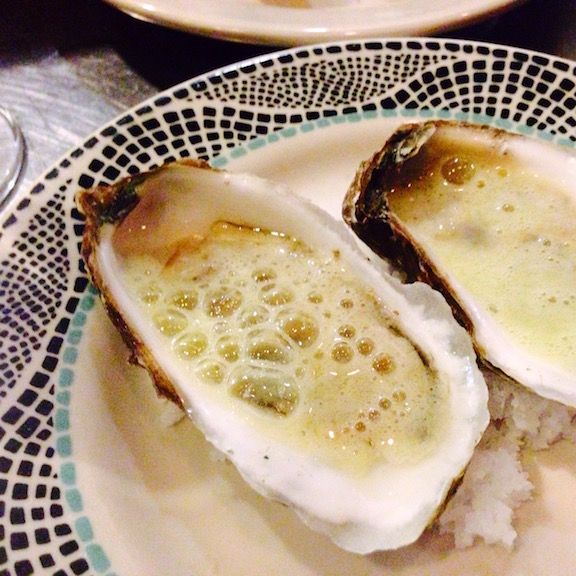 Is there a better way to get you in the mood for Valentine's Day than sampling a few Aphrodisiac Food & Wine Pairings?  Amusée's resident blog contributor, Karina Roe, recaps a night of tasty pairings Team Amusée tried on to find the best!
Back in the day, "aphrodisiac foods" were basically anything that looked… well… provocative. You know—cherries. Strawberries. Oysters. Powdered rhino horn. Or, it was some kind of food or concoction to stimulate the blood, the brain, or the heart. Chilies to heat up the blood. Chocolate for its rarity and unique flavor. Wine, for extremely obvious reasons.
Today, science tells us there are a bunch of chemicals that explain why certain foods and drinks make us feel all lovey-dovey. Caffeine. Flavonols. Serotonin. But you know what? In order to feel the benefits of those things, we need to be at a healthy base level ourselves. That means more vitamins and nutrients coming from healthy foods and balanced diets! Hence, many foods might be considered aphrodisiac foods just for their insane levels of "good for you" things like Vitamin A, zinc, iron, protein, and a slew of other stuff.
Well folks, the Amusée team has done the hard work for you! We've put together a smorgasbord of aphrodisiac food and wine pairings and have brought you the best of the best in order to spice up this Valentine's Day (or any other day, for that matter) like never before!
Oysters with Weingut Brundlmayer Kamptaler Terrasses Grüner Veltliner 
This high-acid, minerally wine was a great pairing with raw oysters splashed with a squeeze of fresh lemon! We compared East Coast oysters with West Coast oysters, and found that we loved the finish of the East Coast oysters paired with the wine most. Lemon skin, white pepper notes and great, refreshing acidity… Two thumbs up! Find this wine at Surdyks.
Guacamole with Anton Bauer Gmork Wagram Grüner Veltliner
Yep, another Grüner! This shows you just how well this Austrian grape pairs with a wide variety of foods, including avocado! This Gruner had a bit more tropical and stone fruit notes to it than the Brundlmayer did, and the acid and tiny bit of effervescence helped to cut through the creaminess of the guacamole. Be sure to add an extra squeeze of lime to your guac for a truly magical pairing with this wine! Find this wine at Haskell's, Sunfish Cellars or Solo Vino.
Strawberries with Basil-infused Cream Sauce with Bernard Rondeau Bugey Cerdon
This pink sparkler made with Gamay has just enough sweetness to balance out some tart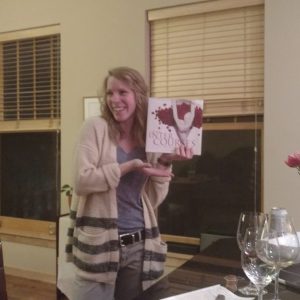 strawberries. And who can resist pairing bubbles with any cream sauce? We found that this sauce was super versatile with almost everything we dunked in it—from other fresh fruit, to avocado chocolate truffles (YUM), to cookies. Because nothing in this pairing is uber-sweet, you could use it as a starter course or as a light dessert course! The recipe for this sauce was found in a ridiculously fun cookbook called: "The New Intercourses: An Aphrodisiac Cookbook". Find this wine at France44.
Arugula salad with Michael & David "Petite Petit"
This one came out of left field! I bet you'd never think to pair a big, juicy, teeth-staining red wine with a salad, right? But this is what I love about exploring crazy food and wine combinations: there are instances when you can be completely knocked off your feet if you let yourself think outside the box. This salad had a ton of aphrodisiac ingredients: blueberries, pepitas, olive oil, mint, and feta. The dressing was a whirlwind of flavors using pomegranate juice, Dijon mustard, apple cider vinegar, serrano peppers and salt and pepper. The wine provided a great balance of intensity, and matched the blueberries perfectly, while the spiciness from the arugula helped to temper the juicy, full-bodied character of the wine. We declared this a truly "wintery" salad because of the fresh fennel/anise notes that came from the pairing. Incredible! Find this wine at Surdyks, Haskell's, South Lyndale Liquors and France44.
Chocolate chip shortbread cookies with Klinker Brick Old Vine Zinfandel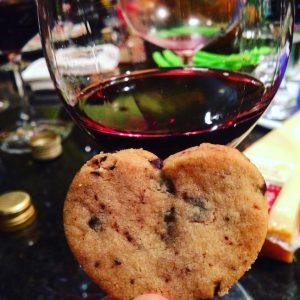 Another "wow" moment! This Zin has a smoky woodfire character wrapped all around it. But it also has those luscious dark chocolate notes lingering in the background, and that's all that's needed for some cute little heart-shaped chocolate chip shortbread cookies to come onto the scene. What a great way to end your Valentine's Day dinner! Find this wine at France44 and Haskell's.
You can get a list of the aphrodisiac foods we used for the basis of this tasting here and why they're considered as such!
Other pairings tried:
Avocado Chocolate Truffles coated with Vanilla and Coconut + Vecchia Modena Lambrusco (Find this wine at Sunfish Cellars, South Lyndale and France44)
Celery & Apple Salad with Dill, Hazelnut, Honey, & Dijon Vinaigrette + Gamling & McDuck Chenin Blanc (Find this wine at Sunfish Cellars, South Lyndale and France44)
Arugula Salad with Molasses, Honey, Olive Oil, Lemon, Red Wine Vinegar Vinaigrette and Pomegranate Seeds and Parmesan + Scribe Pinot Noir Nouveau (befriend Leslee if you want to get a hold of this wine!)
Parmesan Cheese & Sicilian Olives + Lamuri Nero d'Avola (find this wine at France44)
Chocolate Covered Frozen Bananas + Andrew Quady Essensia California Orange Muscat (find this wine at Surdyks)